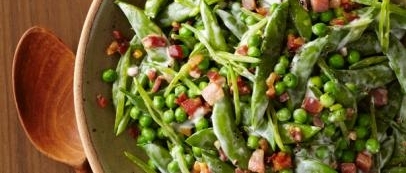 ---
Creamy Spring Peas with Pancetta
Recipe by Donna Levy
Yields 6 servings
2 cups ENGLISH PEAS
1 pound SUGAR SNAP PEAS, trimmed
4 ounces SNOW PEAS, trimmed and thinly sliced
4 ounces PANCETTA
2 tablespoons ALL PURPOSE FLOUR
12 ounces CHICKEN STOCK
1/2 cup HEAVY CREAM
1 each LEMON, juiced
Cooking Instructions
Bring a large pot of salted water to a boil over high heat. Fill a large bowl with ice water. Add peas to the boiling water and cook until tender, about 1 minute. Add the snap peas and cook until bright green, about 2 minutes, then add the snow peas and cook 30 seconds. Drain the peas and plunge into the ice water to cool. Cook the pancetta in a large skillet over medium heat until crisp, 8 to 10 minutes. Transfer to a paper towel lined plate with a slotted spoon. Add the flour to the drippings in the skillet and cook whisking, until toasted, about 1 minute. Whisk in the chicken stock and cream and cook until reduced by 1/3, about 6 minutes. Drain the peas, shaking off the excess water, then add to the skillet. Cook, stirring, until heated through, 3 to 5 minutes. Stir in the lemon juice to taste and season with salt and pepper. Transfer to a serving bowl and top with the pancetta.
» BACK TO RECENT POSTS
---
2018 Culinary Adventures Dining Series
Click to provision a complete passport for the 2018 Culinary Adventures Dining Series
Shop Valentine's Day
Free LOCAL delivery when ordered by February 5th!
+Categories
+Blog Archive