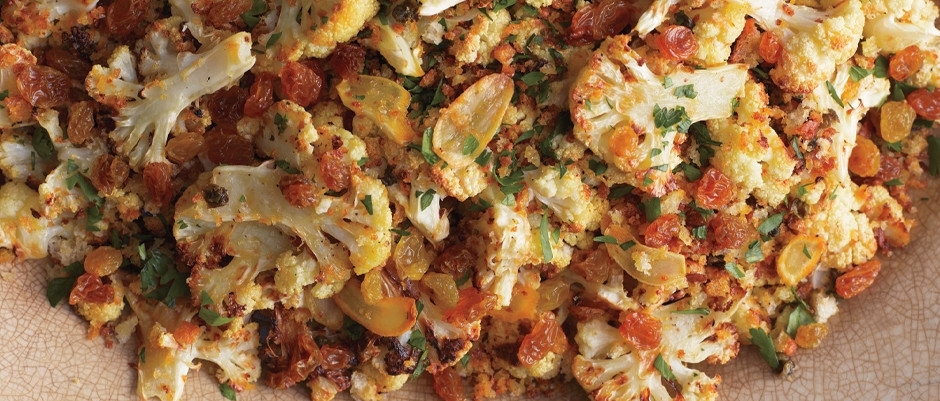 ---
Recipe by Donna Levy
Yields servings 4
1 each CAULIFLOWER, about 2 pounds; cut into 2' florets
6 tablespoons OLIVE OIL
1 tablespoon GARLIC, chopped
2 tablespoons CAPERS
1/2 cup ITALIAN BREAD CRUMBS
1/2 cup PANKO
8 ounces CHICKEN STOCK
1/3 cup GOLDEN RAISINS
1 tablespoon WHITE WINE VINEGAR
2 tablespoons FRESH PARSLEY, chopped
Cooking Instructions
Toss cauliflower florets with 3 tablespoons olive oil in a large bowl. Roast cauliflower in a single layer on a prepared sheet pan until golden and crispy. Heat remaining 3 tablespoons olive oil in a small saucepan over medium low heat. Add garlic and cook, stirring occasionally, until just golden, 5‑6 minutes. Add capers and cook until they start to pop, about 3 minutes longer. Add breadcrumbs and toss to coat. Cook, stirring often, until breadcrumbs are golden, 2‑3 minutes; remove from saucepan and set aside. Add chicken stock to same saucepan and bring to a boil. Add golden raisins and white wine vinegar and cook until almost all liquid is absorbed, about 5 minutes. Remove from heat and set aside. Toss raisin mixture with cauliflower to distribute evenly. Season to taste with salt and pepper. Sprinkle breadcrumb mixture over top. Garnish with chopped parsley.
» BACK TO RECENT POSTS
---
2018 Culinary Adventures Dining Series
Click to provision a complete passport for the 2018 Culinary Adventures Dining Series
Shop Valentine's Day
Free LOCAL delivery when ordered by February 5th!
+Categories
+Blog Archive