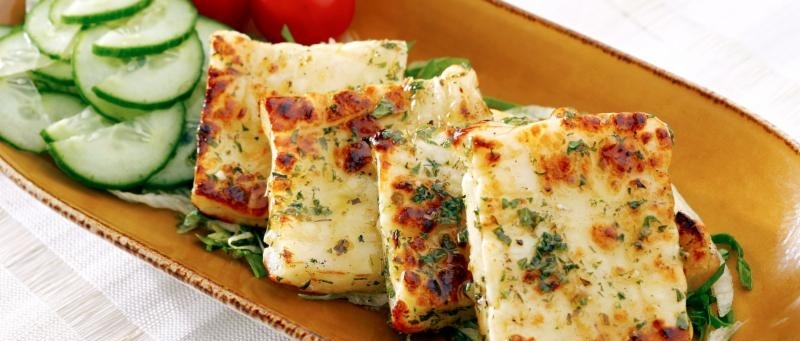 ---
Grilled Haloumi with Arugula Salad
Recipe by Donna Levy
Yields 4 servings
2 each TOMATOES
1/2 each ENGLISH CUCUMBER
4 1/2 ounces ARUGULA
1/2 cup KALAMATA OLIVES
1/2 loaf CRUSTY WHITE BREAD OR BAGUETTTE, unsliced
5 tablespoons OLIVE OIL
1 clove GARLIC, cut in half
13 ounces HALOUMI CHEESE
1 tablespoon LEMON JUICE
1 tablespoon FRESH OREGANO, chopped
Cooking Instructions
Preheat the oven to 350 F. Heat the grill to high. Whisk together the lemon juice, oregano and 3 tablespoons of olive oil for the dressing. Season to taste with salt and pepper. Reserve until ready to dress the salad. Cut the tomatoes and cucumber into bite sized pieces and combine with the arugula and olives. Slice the bread into (8) 1/2 inch wide slices, drizzle with 1 1/2 tablespoons of the olive oil, and season with salt and pepper. Grill until lightly golden, then rub each slice thoroughly with a cut side of the garlic. Wrap loosely in foil and keep warm in the oven. Cut the haloumi into 8 slices. Rub with the remaining 1/2 tablespoon of olive oil. Grill the haloumi 1/2 minutes per side. Remove from the grill and cool briefly. Toss the salad with half of the dressing. Arrange on individual plates. Arrange the haloumi on top of the salad and drizzle with the remaining dressing. Serve immediately with the warm garlic bread.
» BACK TO RECENT POSTS
---
2018 Culinary Adventures Dining Series
Click to provision a complete passport for the 2018 Culinary Adventures Dining Series
Shop Valentine's Day
Free LOCAL delivery when ordered by February 5th!
+Categories
+Blog Archive