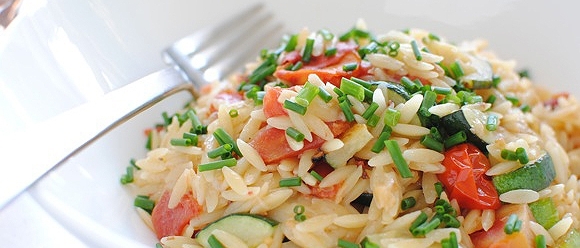 ---
Orzo with Gruyere and Garden Vegetables
Recipe by Donna Levy
Yields 4 servings
4 tablespoons SALTED BUTTER
1 each SHALLOTS, minced
1 tablespoon GARLIC, chopped
2 cups ZUCCHINI, diced
1 cup GRAPE TOMATOES, halved
14.5 ounces FIRE ROASTED TOMATOES, canned
2 cup ORZO PASTA
3/4 cup GRUYERE CHEESE, grated
2 tablespoon FRESH CHIVES, chopped
2 tablespoon FRESH PARSLEY, chopped
Cooking Instructions
Heat 2 tablespoons butter in saute pan. Saute shallot and garlic till soft. Add in zucchini and saute another 4 minutes. Add grape tomatoes and canned tomatoes. Reserve vegetable mixture. Cook orzo according to package directions. Reserve 1/4 cup of the pasta water. Combine pasta, reserved water, veggie mixture, cheese and remaining butter. Toss well. Adjust seasoning. Garnish with chopped chives and parsley.
» BACK TO RECENT POSTS
---
2018 Culinary Adventures Dining Series
Click to provision a complete passport for the 2018 Culinary Adventures Dining Series
Shop Valentine's Day
Free LOCAL delivery when ordered by February 5th!
+Categories
+Blog Archive