Posted to: General News on Feb 29, 2016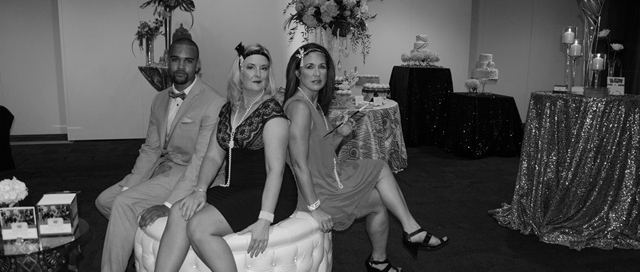 The Roaring Twenties was a time of over the top, flamboyant parties ~everyone was riding high. Women got the vote and they kicked up their heels and threw away the rigid code of Victorian dress in favor of bobbed hair, silk stockings, rouged cheeks and shortened hemlines.
Prohibition led to speakeasies and criminals like Al Capone, Lucky Luciano, and Meyer Lansky proliferated because there was so much money to be made in the illegal selling of alcohol.
Catering Works sales team played the part by dressing in period costumes, and utilizing the amazing make-up talents of Carmen Carmen Salon & Spa featuring Aveda cosmetics. Check them out! They offer free wedding attendant make up with a bridal booking and do an excellent job.
Catering Works played off of this "Great Gatsby" theme, when planning for the Museum of History's Bridal Show in August 2015 ~ from the men's wingtip shoes to the flapper dresses, long cigarette holders and feathers everywhere, we had it all. The wedding cakes, by our talented Pastry Chef Anthony, reflect the glitter that was so much a part of this era, with rhinestone brooches and beautifully swaged ribbons on the cakes. We had mini Dessert Bites and Petite Coconut Cream Cupcakes that were displayed on vintage cake stands dripping with crystals; along with yummy open face tea sandwiches.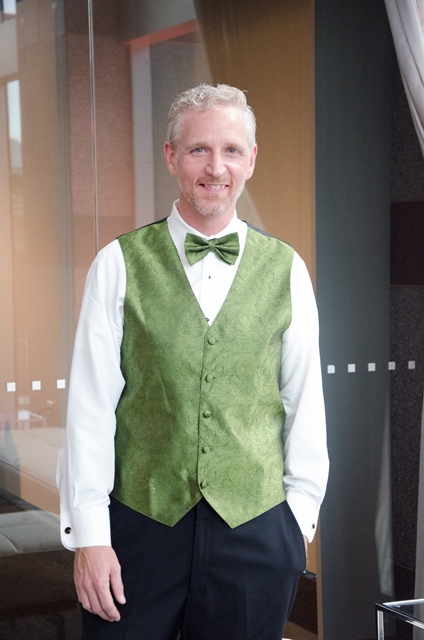 The flowers were opulent with sprayed gold branches and leaves to offset the beautiful white hydrangeas and touches of green with crystals draped on them designed by our fabulous, in-house florist, Joseph Barnes.
The linens reflected the Art Deco feel that was also so much a part of the Roaring Twenties. Out with the old and tired, in with the sleek and shiny.