Posted to: Weddings by Meme Khalaff on Aug 2, 2018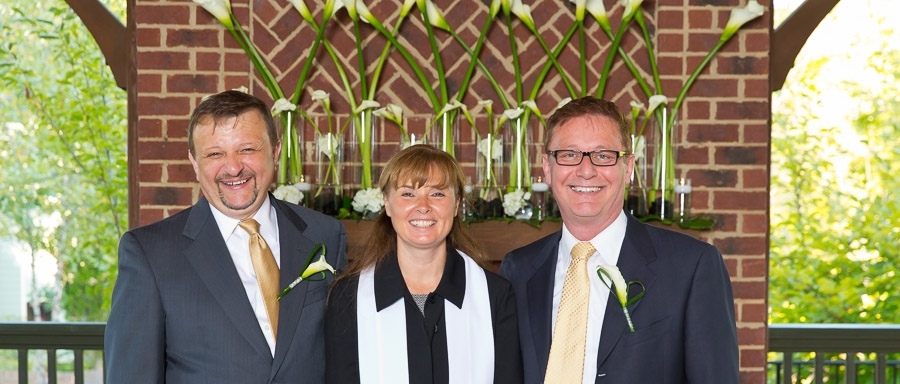 Jeff Hetrick and Mark Knaggs tied the knot on September 17, 2016, in an outdoor ceremony at the Woodcreek Clubhouse. The ceremony was on the deck in front of a brick fireplace. The reception was indoors at the clubhouse.
Design Time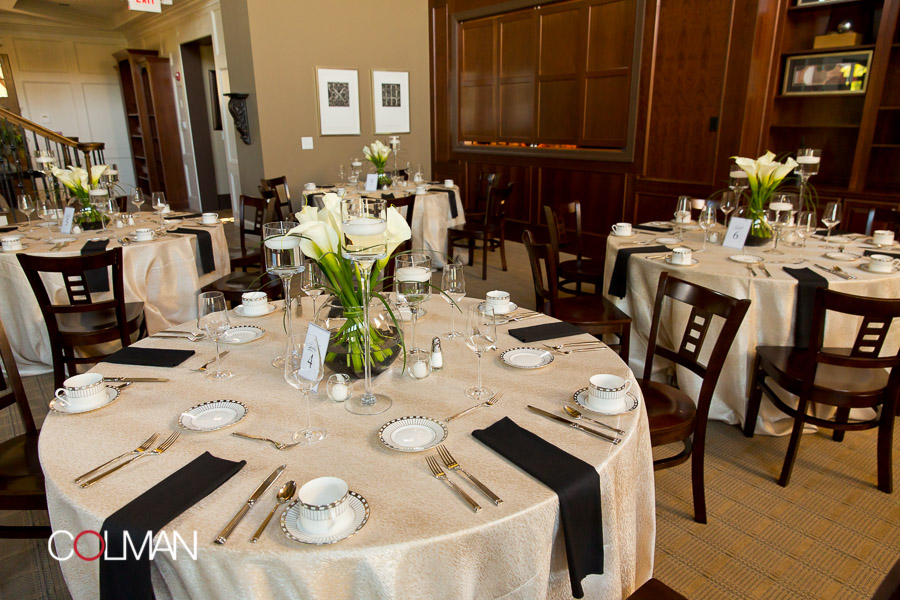 Jeff and Mark went with a black and white motif with accents of purple and silver for the décor and florals. Clear glass cylinder vases with white calla lilies and black river rocks were set on the mantle of the fireplace. White calla lilies were the primary bloom in the seating table centerpieces and other arrangements, accented with green and white hydrangeas, white orchids and roses, purple iris, and tropical leaves. Both Jeff and Mark wore white calla lily boutonnieres with touches of silver.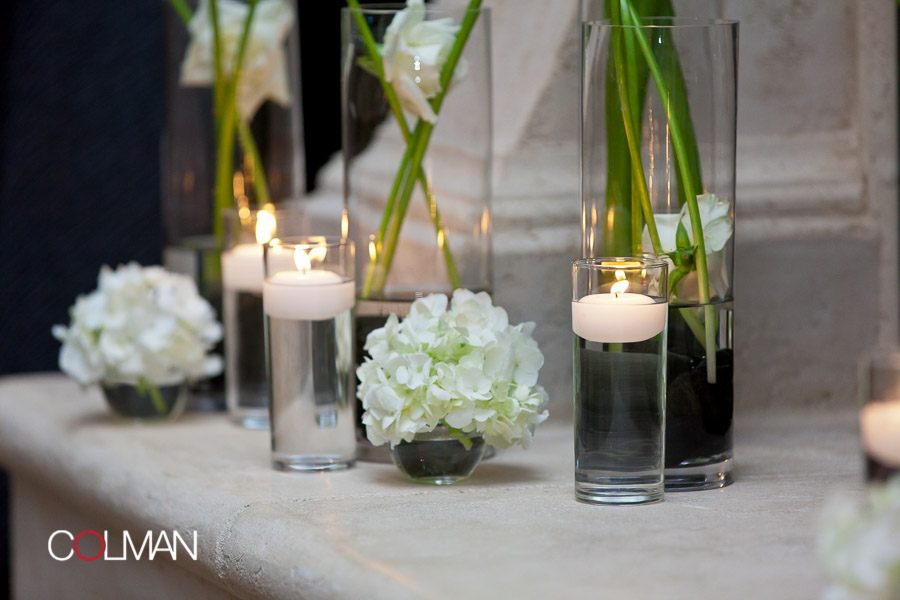 Photography by Jim Colman
Florals by Bloom Works
Cake by Pastry Works
On the Menu
Jeff and Mark pulled out all the stops when choosing their menu and presented their guests with a fun and flavorful menu. There were both passed and displayed hors d'oeuvres during the cocktail hour and choice of entrée for the guests for dinner.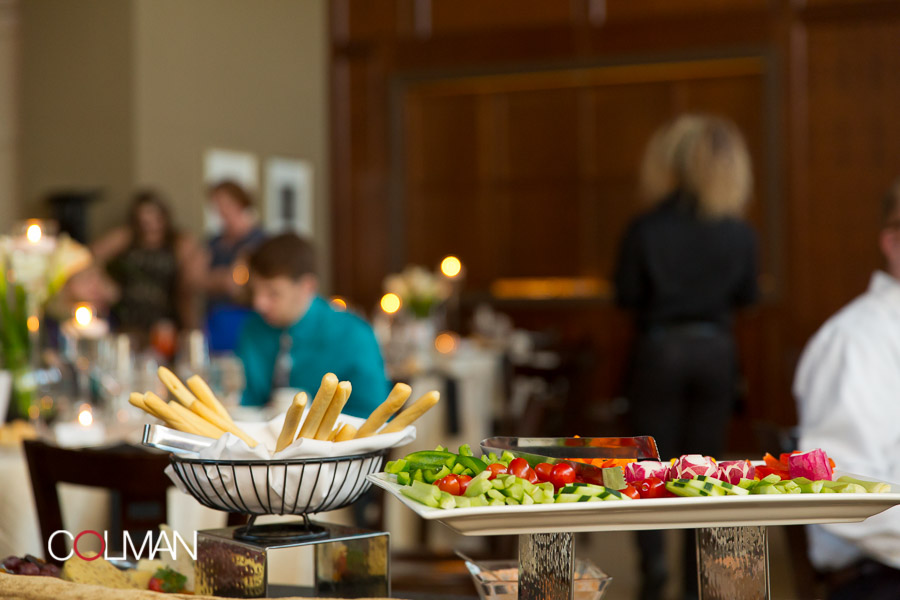 COCKTAIL HOUR HORS D'OEUVRES
Wonton Tuna Crisps - Seared tuna perched on a crispy wonton with yum yum sauce.
Spicy Shrimp Poptail - Shrimp glazed with sweet and spicy chili sauce and topped with "popping sugar"
Dates Wrapped in Bacon - Medjools wrapped in apple smoked bacon
Goat Cheese and Strawberry Flatbread Bites -Bite size flatbreads with local Goat Lady Dairy chevre, strawberry balsamic jam, and fresh basil.
International Cheese Display - Imported and domestic cheeses garnished with dried fruits and seedless grapes
Crudite with Roasted Red Pepper Dip - Garden fresh vegetables served chilled with creamy roasted red pepper dip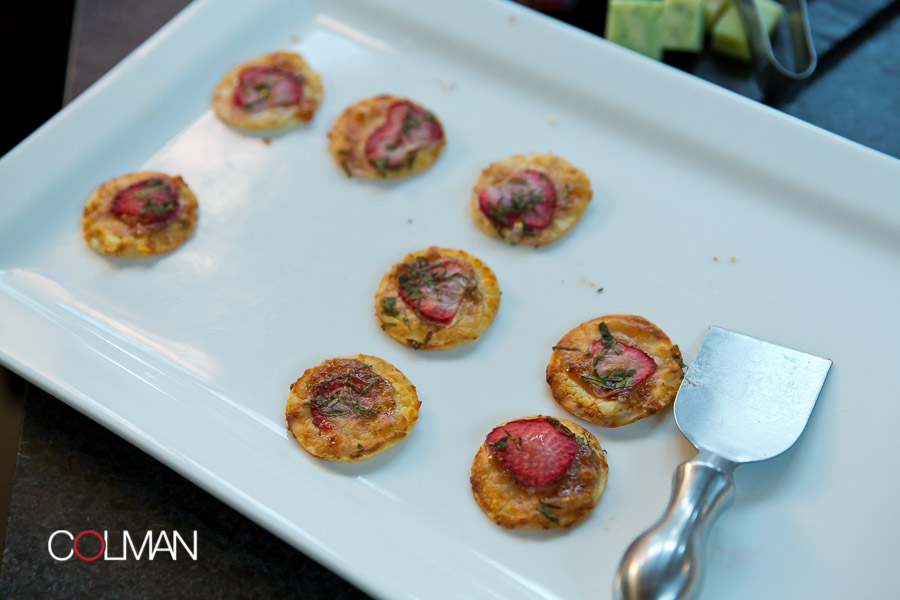 SALAD COURSE
Mixed Greens, Baked Chevre, Roasted Figs & Pears - Mixed gourmet lettuce greens topped with a baked Chevre round, roasted pears and figs topped with an Apple Cider Vinaigrette
DINNER
Beef Filet with Red Wine Mushroom Sauce with Duchess Potatoes and Grilled Asparagus - Beef Filet, grilled and topped with a red wine, portobello, and wild mushroom sauce accompanied by whipped herbed mashed potatoes piped in a decorative rosette and grilled whole asparagus with a balsamic drizzle
Chicken Cordon Bleu with Whipped Potatoes and Haricot Vert - Frenched breast of chicken stuffed with Black Forest Ham, Gruyere cheese, topped with a light chicken demi-glace accompanied with whipped garlic potatoes and roasted haricot verts
Bishop Rolls - Portuguese yeast bishops roll served with a butter
THE ICING ON THE CAKE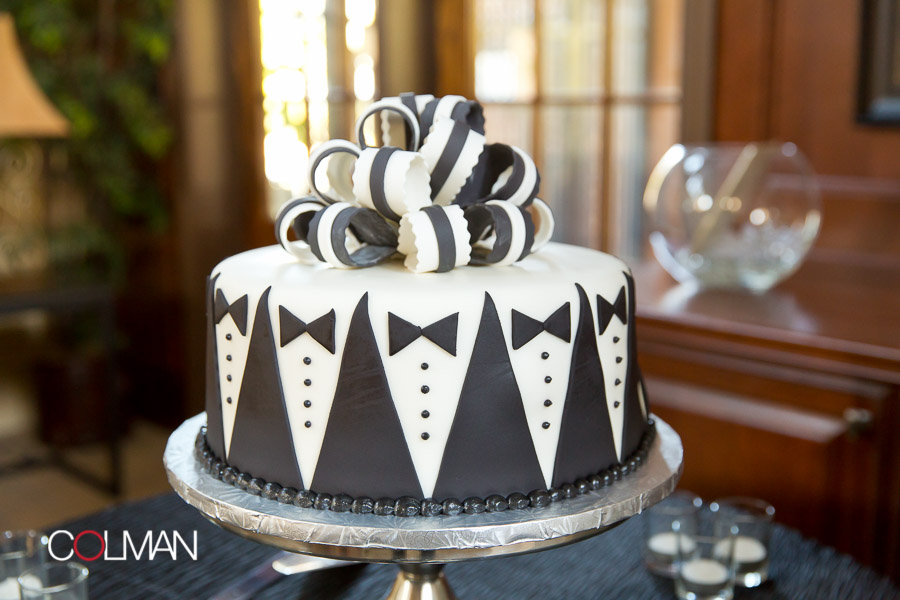 A delicious single tier wedding cake made by Pastry Works featured a repeating tuxedo motif in fondant on the sides, with a looping, gum paste gift bow on top. The cake was midnight chocolate cake with both raspberry jam and chocolate ganache fillings.
ENTERTAINMENT
DJ Bill Baucom provided music for both the ceremony and reception.
A PICTURE IS WORTH A THOUSAND WORDS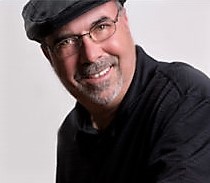 Jim Colman did an awesome job covering the event! All the details were beautifully captured. Thank you, Jim, for sharing these gorgeous images.
And they wined, dined & lived happily ever after!