Posted to: Events on Mar 29, 2016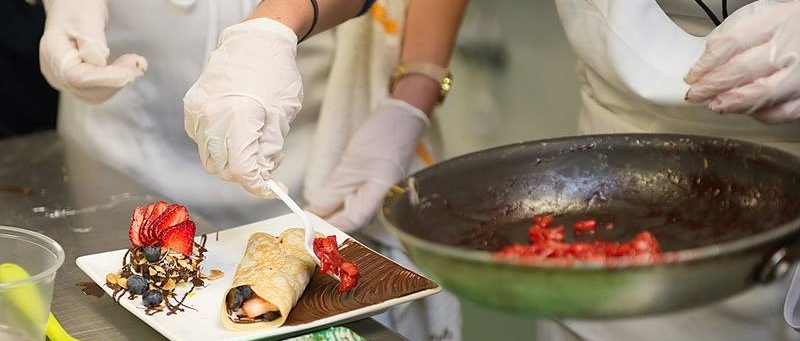 Catering Works had so much fun hosting the September 2015 NACE Chapter Meeting. The title of the evening was "NACE Chopped" and that is just what our members did! We started the evening with a cocktail hour where we served a special Peach Jalapeno Sangria and passed hors d'oeuvres of Watermelon Feta & Mint Cubes, Mini Lobster Rolls and Spicy Burgers. The buffet consisted of a Corn & Blueberry Salad, Spinach Apple Salad with Maple Vinaigrette, Salmon Glazed with Raspberry and Tamarind, Chicken Stuffed with Manchego & Quince, Brown Rice Quionoa and Coconut Pilaf.
Erin McLean of Erin McLean Events created the design for this event choosing playful, brightly colored linens by CE Rentals and accented with colorful flowers by Joseph of Bloom Works. This was all enhanced with lighting by Dave Watson of Get Lit Lighting
After the meal, we divided the members up into teams and invited 2 teams, at a time, into the kitchen to whip up a dessert using crepes. The dish had to be visually attractive, creative as well as tasty. These desserts were then judged by a panel of experts. Ryan of SPIN DJ was in the kitchen offering a running commentary of what the teams were doing ~ adding energy & fun to the competition.
Photos by Halftone Studios