Posted to: Weddings by Lorin Laxton on Sep 23, 2015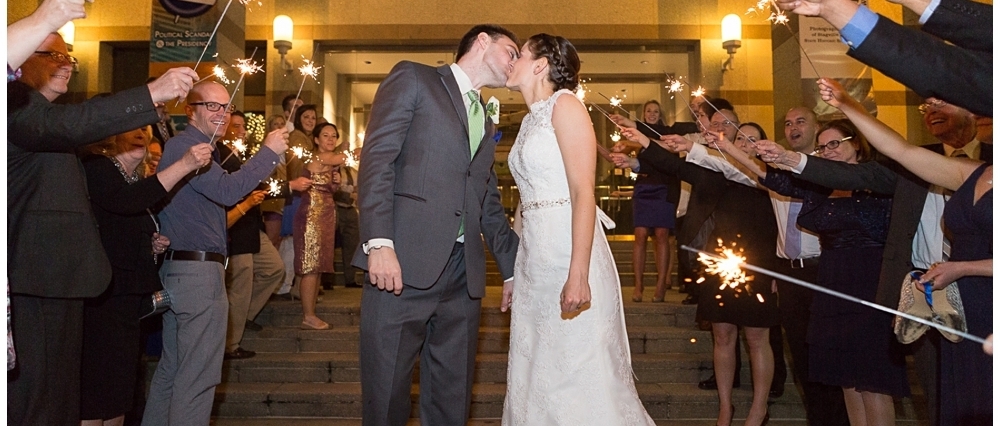 Photography by: Bow Tie Collaborative
A beautiful couple and romantic day downtown! We were fortunate enough to work with this happy couple, and create a comprehensive plan for their big day. In addition to a delicious menu, Joseph Barnes created stunning floral designs, and Caitlin Nugent created a whimsical and colorful wedding cake, part of a eye catching dessert display. John and Alysia were wed at the Fairmont Methodist Church on April 5th, 2014, then proceeded to the NC Museum of History for their reception.
Design Time
Alysia chose gorgeous Peacock Blue, Ivory and a delightful Kiwi Green accent shade to work with for her wedding palette. The flowers incorporated lots of Ivory, texture and pale green hydrangea (it's so nice when Mother Nature can provide the colors that so accurately match our bride's vision!). Beginning with the bridal bouquet, Ivory Roses, Lysianthus, White Hydrangea, Stargazer Lilies, Fragrant Stock and ___ were hand tied and embellished with pearl jewelry to create this stunning bouquet.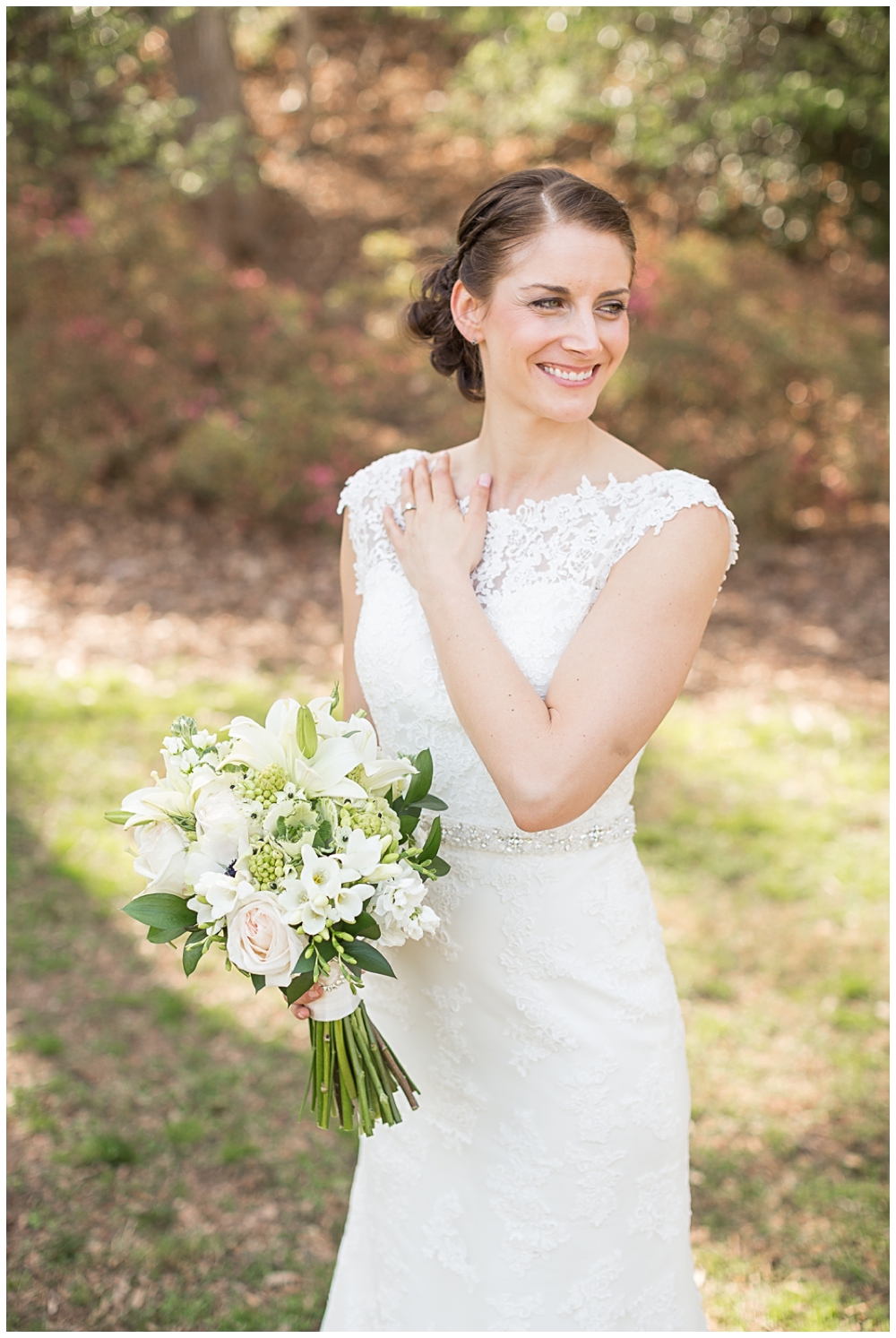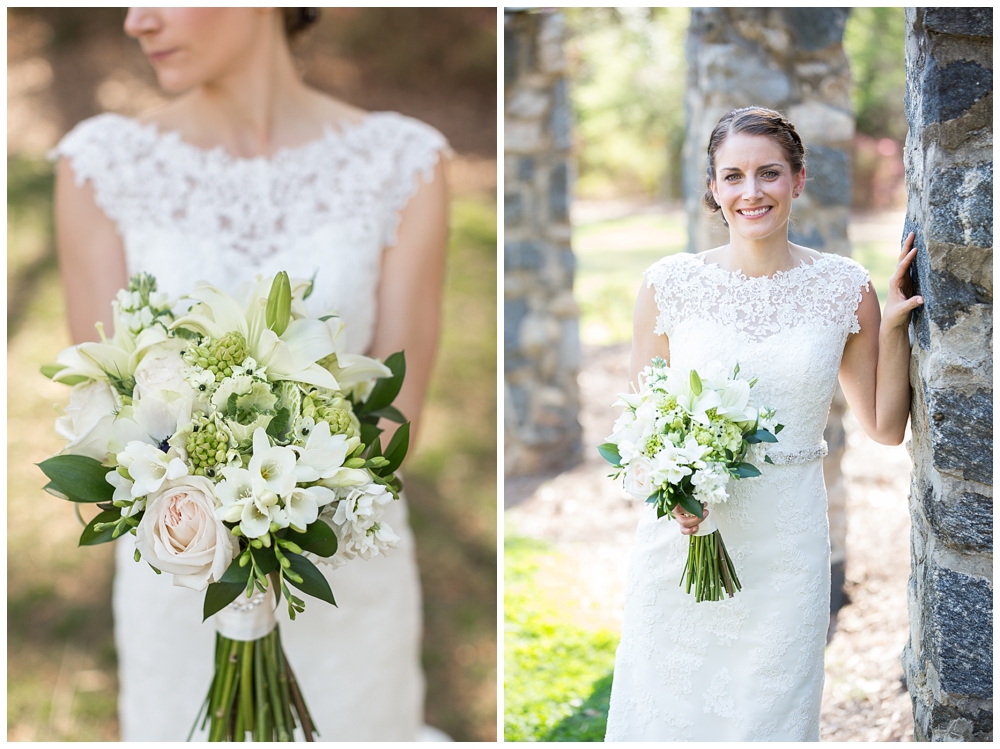 The Bride's maids incorporated many of the same blooms, with more pops of pale green hydrangea, what a pretty shade to complement the saturated blue dresses!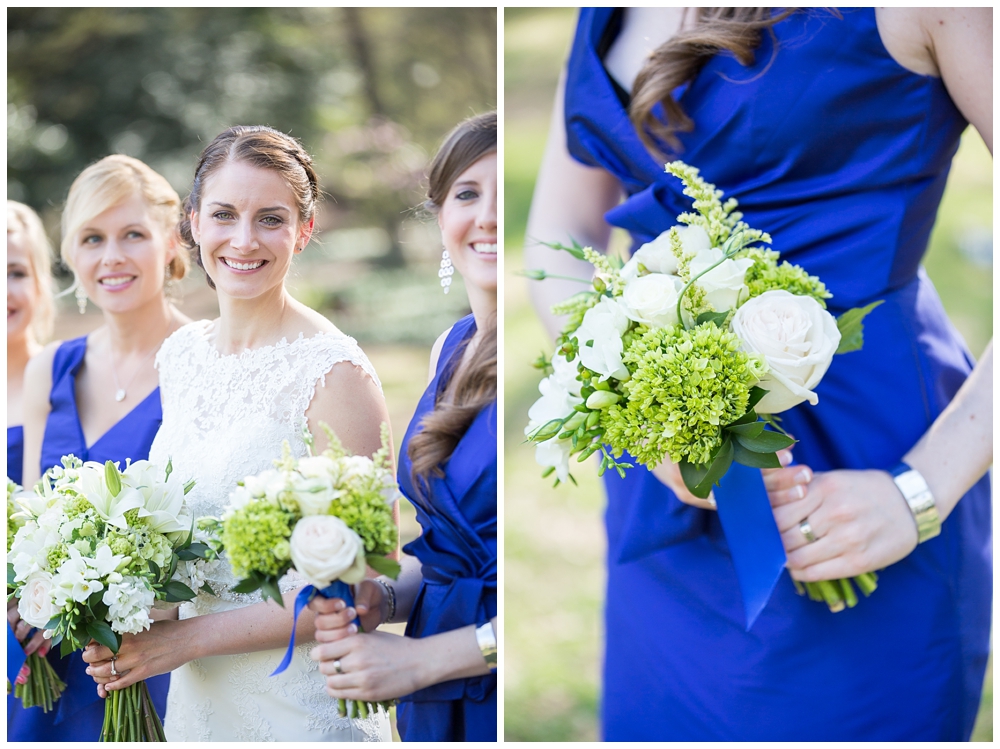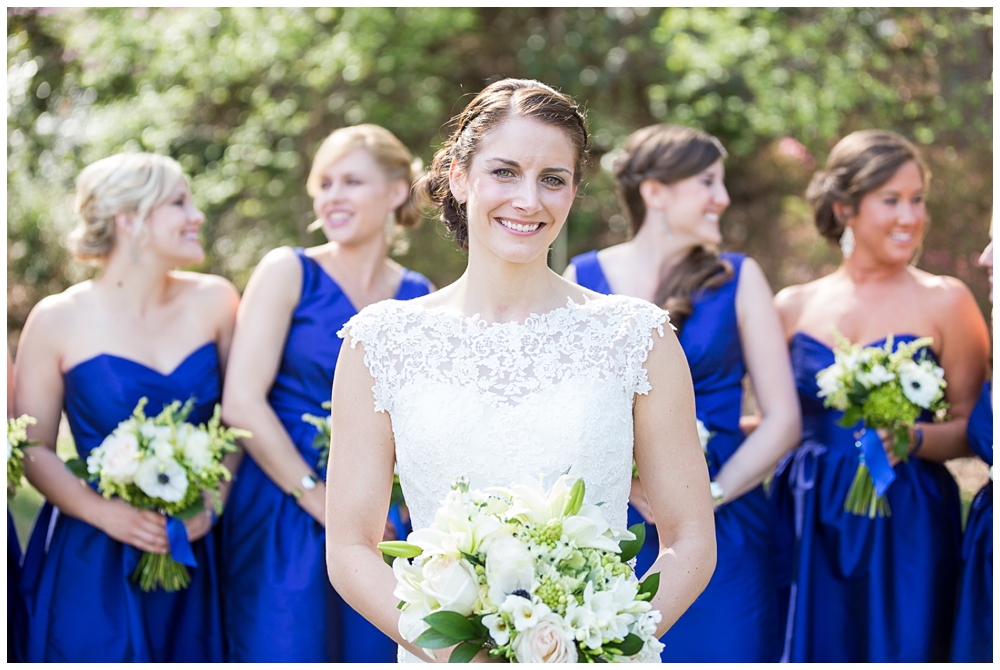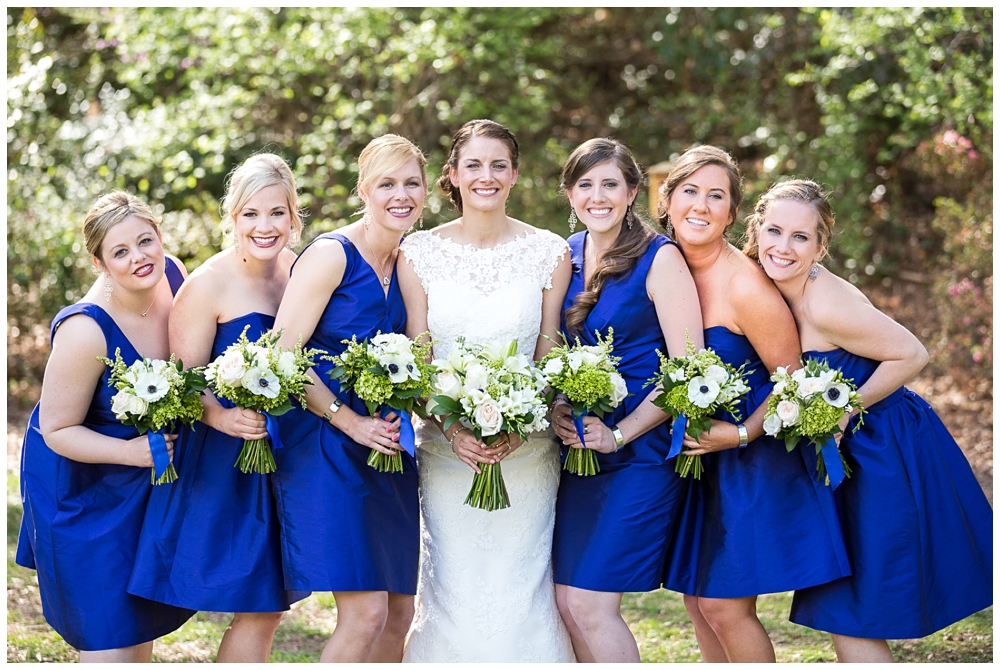 The Groom and Groomsmen were equally decked out!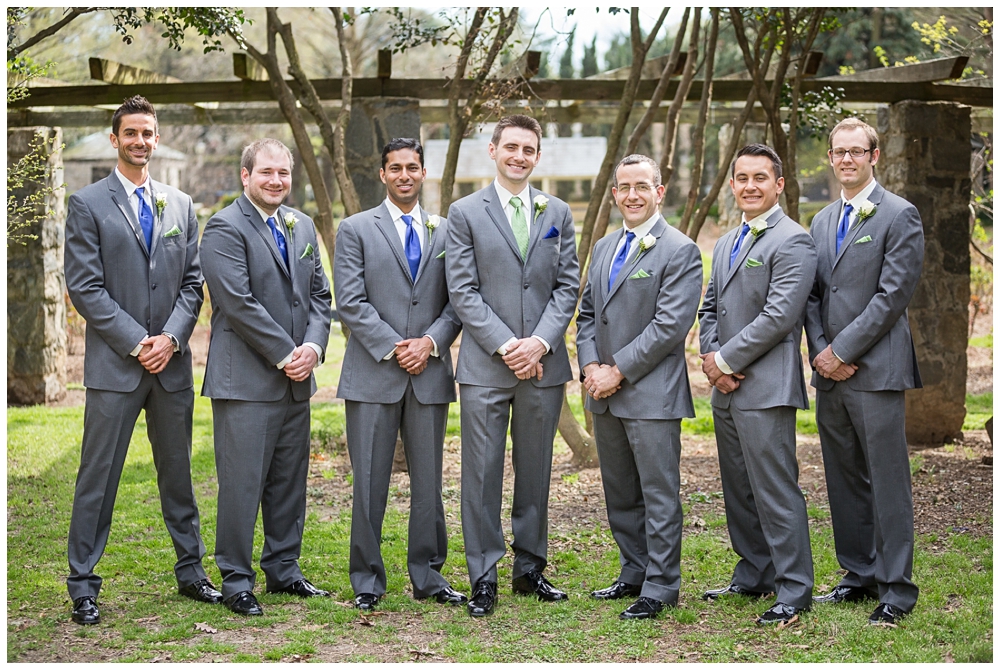 Down to their toes!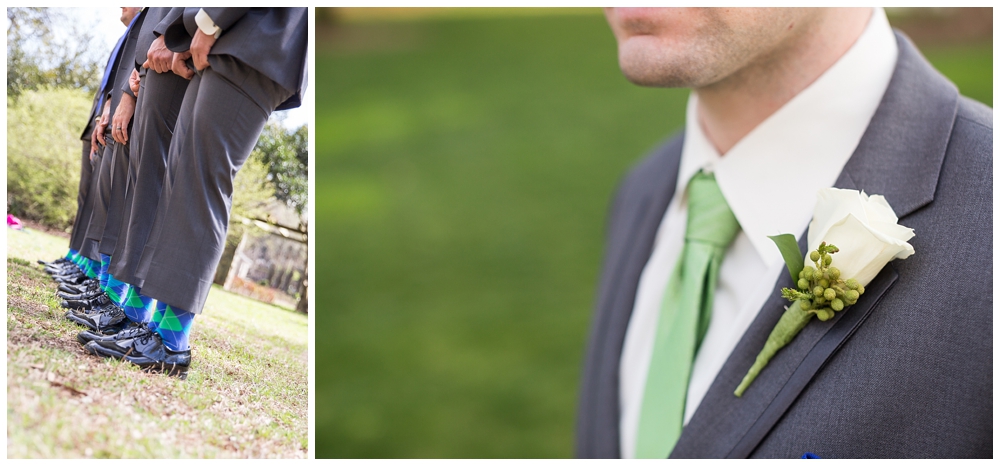 On the Menu
Classic Southern style deviled eggs.
Shrimp & Grit Cakes Nicely spiced Carolina cheese grits studded with shrimp and topped with pepper jelly.
Brie Crostini Chapel Hill Creamery New Moon Brie topped with field fresh local berry salsa on a crisp baguette crouton.
Fresh Seasonal Fruits to include: Golden Sweet Pineapple, Melons, Berries, Kiwi, Grapes and more served with our creamy Key Lime Dip. International cheeses to include a variety of soft ripened cheeses, hard cheeses and blue veined cheeses adorned with crostini and crackers.
Salad Course
Mixed Greens with Strawberries and Candied Almonds
Buffet
BBQ Chicken - Fryer chicken pieces, slow roasted and basted in this old fashioned recipe.
NC BBQ - Fresh smoked pork chopped and served with our zesty homemade vinegar style bbq sauce(gf) . Rolls on the side.
Grown Up Mac & Cheese - Cork Screw Pasta tossed with a homemade Cheddar cheese and Monterey Jack sauce and baked.
Green Beans Sauteed with Italian Herbs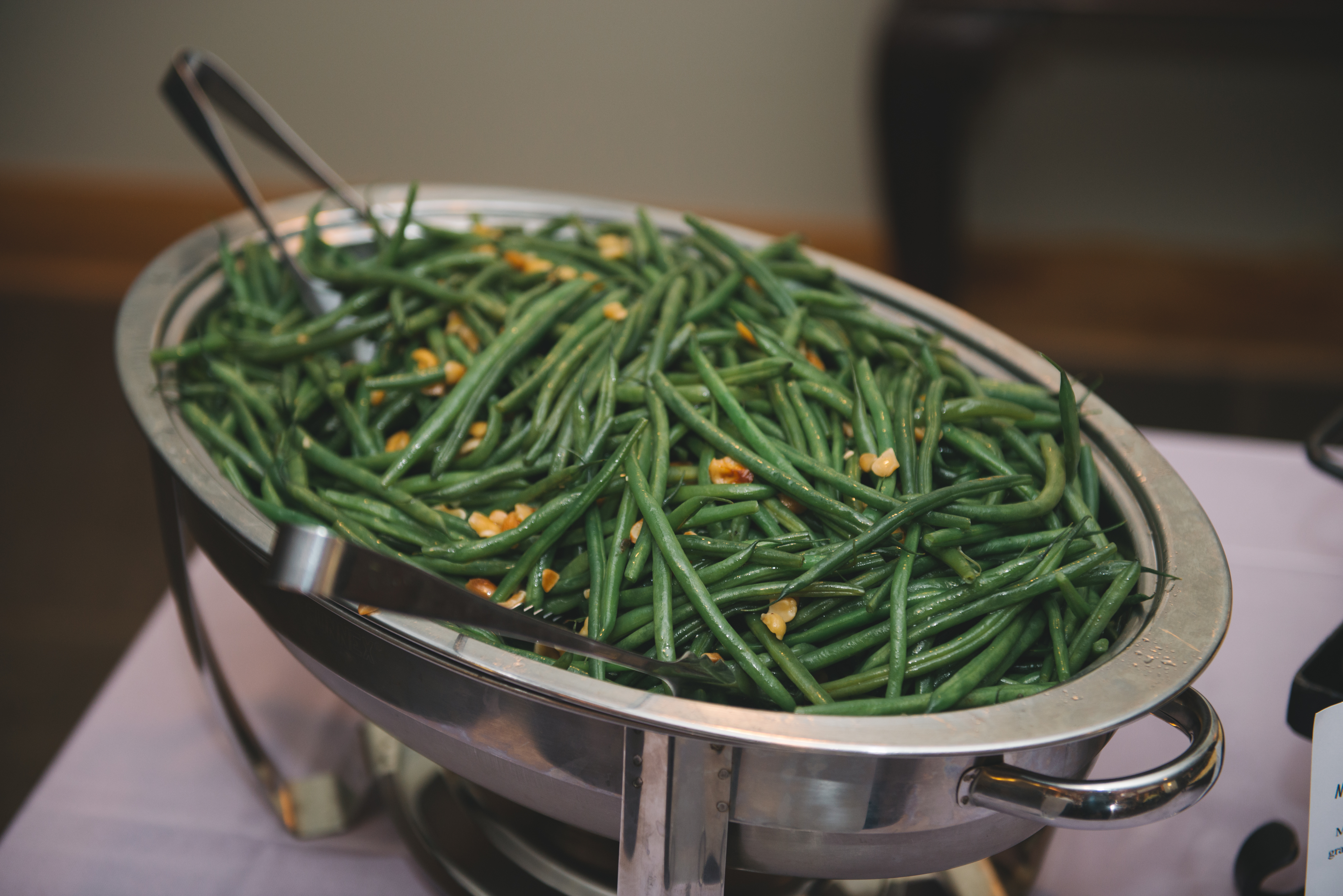 House made Chipolte Baked Beans with Molasses and White Beans
Carolina Bread Basket A bountiful basket of bishops rolls, corn muffins, buttermilk biscuits and sweet potato biscuits. Served with whipped honey butter.
Dessert Display
A delightful assortment of cupcakes sized for a delicate bite and perfect on a petit four tray. Flavors may include Turtle, Blackberry Lemon, Mexican Chocolate and Red Velvet. Large glass apothecary jars are filled with pastry, candy, confections, floral & decor accent pieces.
The Wedding Cake Topper was stunning! A second baseball themed groom's cake was a tribute to John's love of America's Favorite Past time!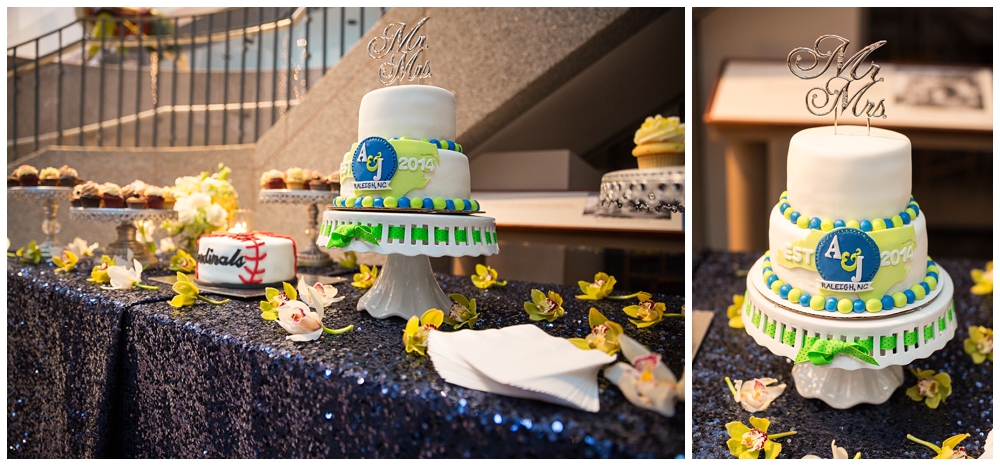 At the Venue
We love the NC Museum of History! It's neutral space allows for a myriad of design styles and colors. Check out our VENUE SPOTLIGHT page to learn more about the North Carolina Museum of History.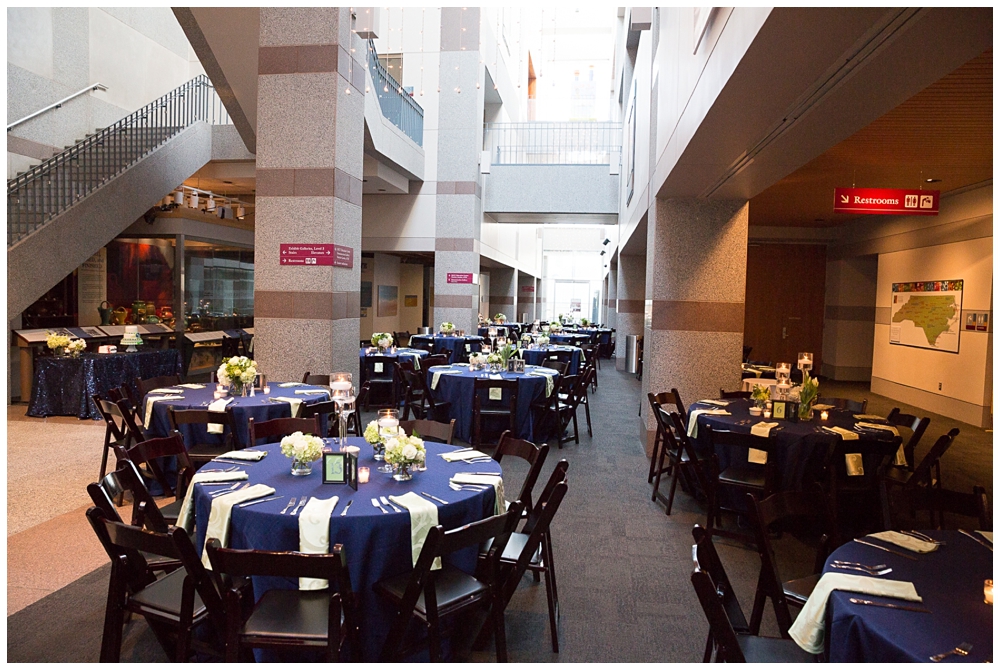 A Picture is worth a Thousand Words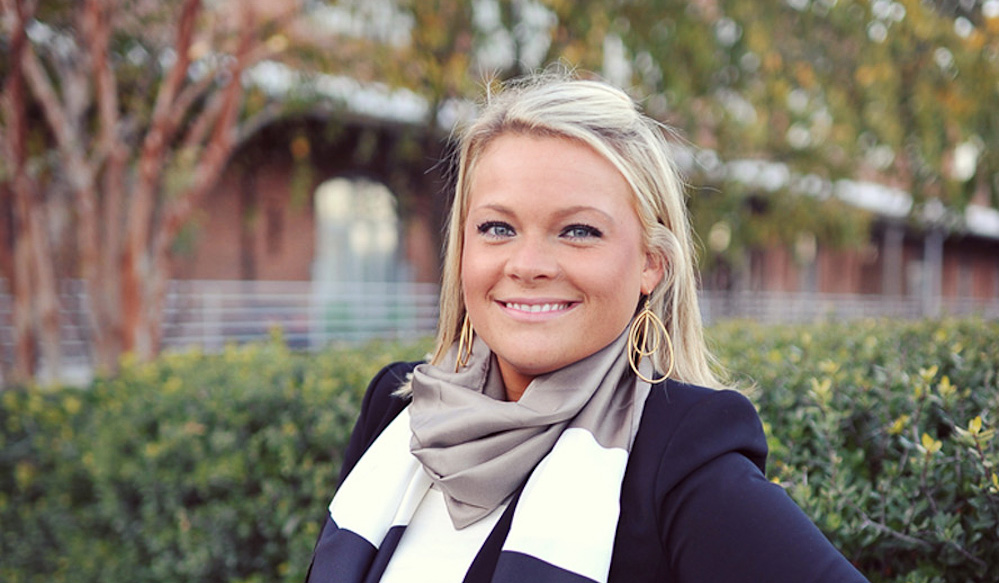 The beautiful photography from gorgeous portraits to the exciting highlights of the day were expertly provided by BOW TIE COLLABORATIVE. Ashley Green is top notch. Coincidentally, Ashley is a former client of Catering Works. We were so delighted to work with her and husband, Austin a few years ago. We had the opportunity to cater her beautiful wedding reception at American Tobacco Campus Bay 7, and rehearsal dinner held at DPAC's starlight lounge. Both affairs were, in a word, awesome!! It is nice to be able to reconnect with a bride on the other side of the camera, and what a talent! We highly recommend!!