Posted to: General News by Lorin Laxton on Mar 19, 2015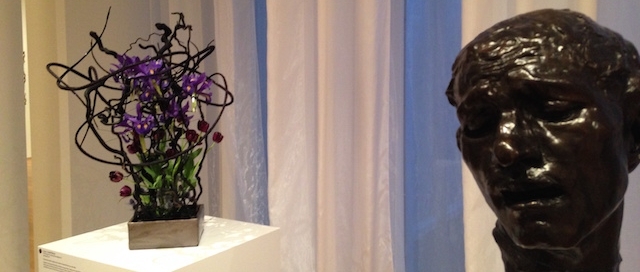 Joseph Barnes, our very talented floral designer, was asked to participate in the North Carolina Museum of Art's "Art in Bloom", NCMA's inaugural festival of art and flowers. Floral designers from across North Carolina and beyond bring springtime into West Building by interpreting masterworks from the permanent collection in 45 breathtaking flower displays. At first it seemed a daunting challenge to interpret Rodin's Monumental Head of Pierre de Wissant, what Joseph came to refer simply as "The Monumental Head". All we could imagine was a brown blob, but he took time to study and become quite acquainted with this very important piece in the NCMA collection. With some absolutely stunning works of art filled with a bounty of nature's colors, many designers opted for a more literal translation of the artwork, carefully matching colors and textures to the paintings which they were assigned. Joseph's piece required introspection, thought provocation and an emotional connection to the work itself. In our humble opinion, his thinking outside the box and capture of the feeling of the piece is one of the many qualities that set him apart from other designers, and contributes to his unique and creative style.
The sculpture, and floral interpretation are showcased in the Rodin Gallery. On the Art In Bloom map, it is stop #35. Art in Bloom hosts a full weekend of events, including everything from Ikebana design presented by Hitomi Gilliam, bringing the garden indoors presented by Watered Garden's Steve Terrace, a course in edible flowers by Jennifer Hicks, and special guest Shane Connolly, Royal Warrant of Appointment to HRH the Prince of Wales (among many endeavors was responsible for the stunning floral designs at the wedding HRH Prince William and Catherine Middleton, TRH the Duke and Duchess of Cambridge). His new book, A Year in Flowers, will be available and Shane will be signing. For a whole list of this weekends' activities, check out NCMA Art in Bloom.