Posted to: Weddings by Lorin Laxton on Jun 9, 2015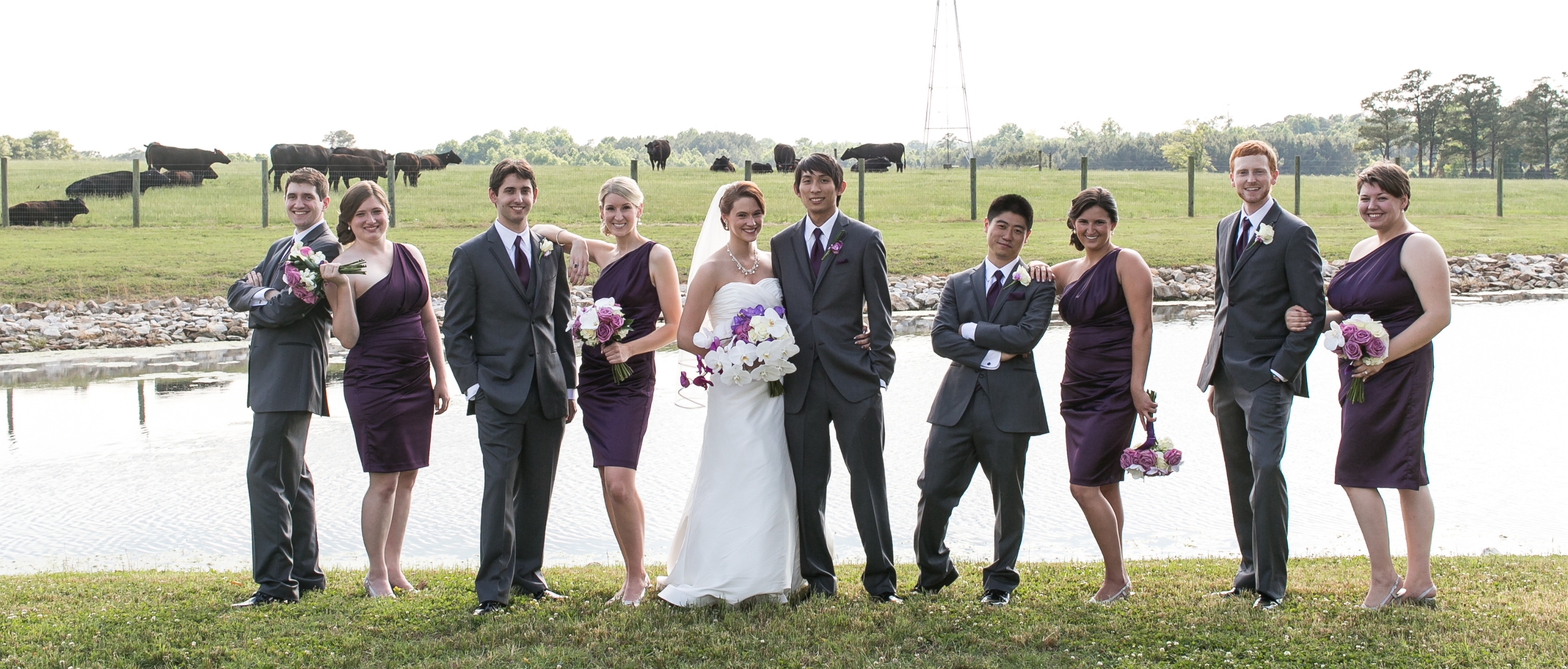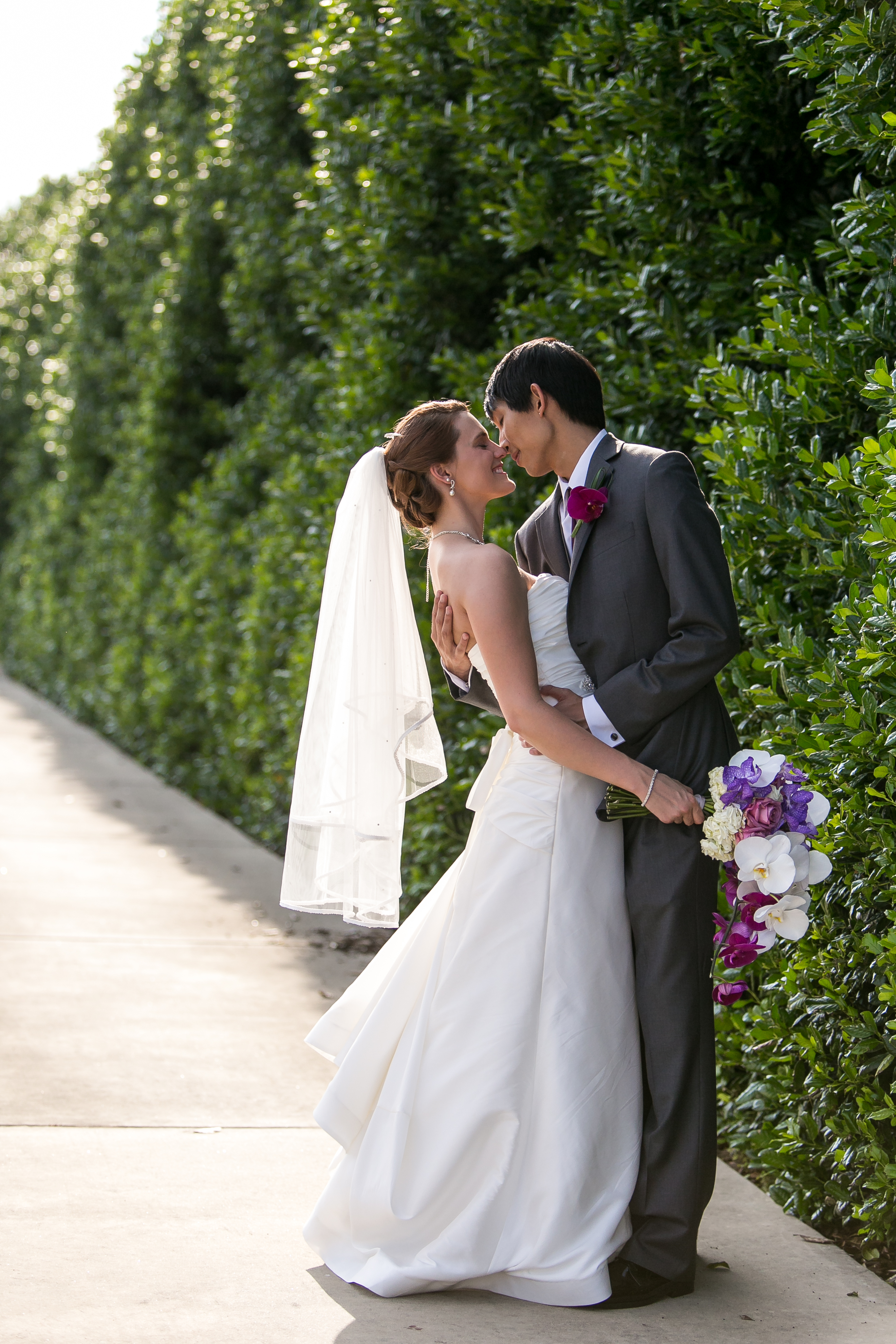 Photo Credit: Renee Sprink Photography
Brooke and Tien Cheng were married on May 31, 2014 and held their reception at a gorgeous country estate in Angier. The property was expansive, featuring a lovely pond and working cattle farm. Brooke's family had built a lovely enclosed pavilion where the majority of the reception activities took place. We were fortunate to begin working with Brooke and Tien in December of 2013. From the beginning, they wanted to create a design style and menu that merged their cultural heritage, featuring elements from both. Tien is originally from Taiwan, and Brooke was raised in North Carolina. She was in school in Philadelphia, so as we have done with many brides, a lot of the planning was done over the phone and through emails.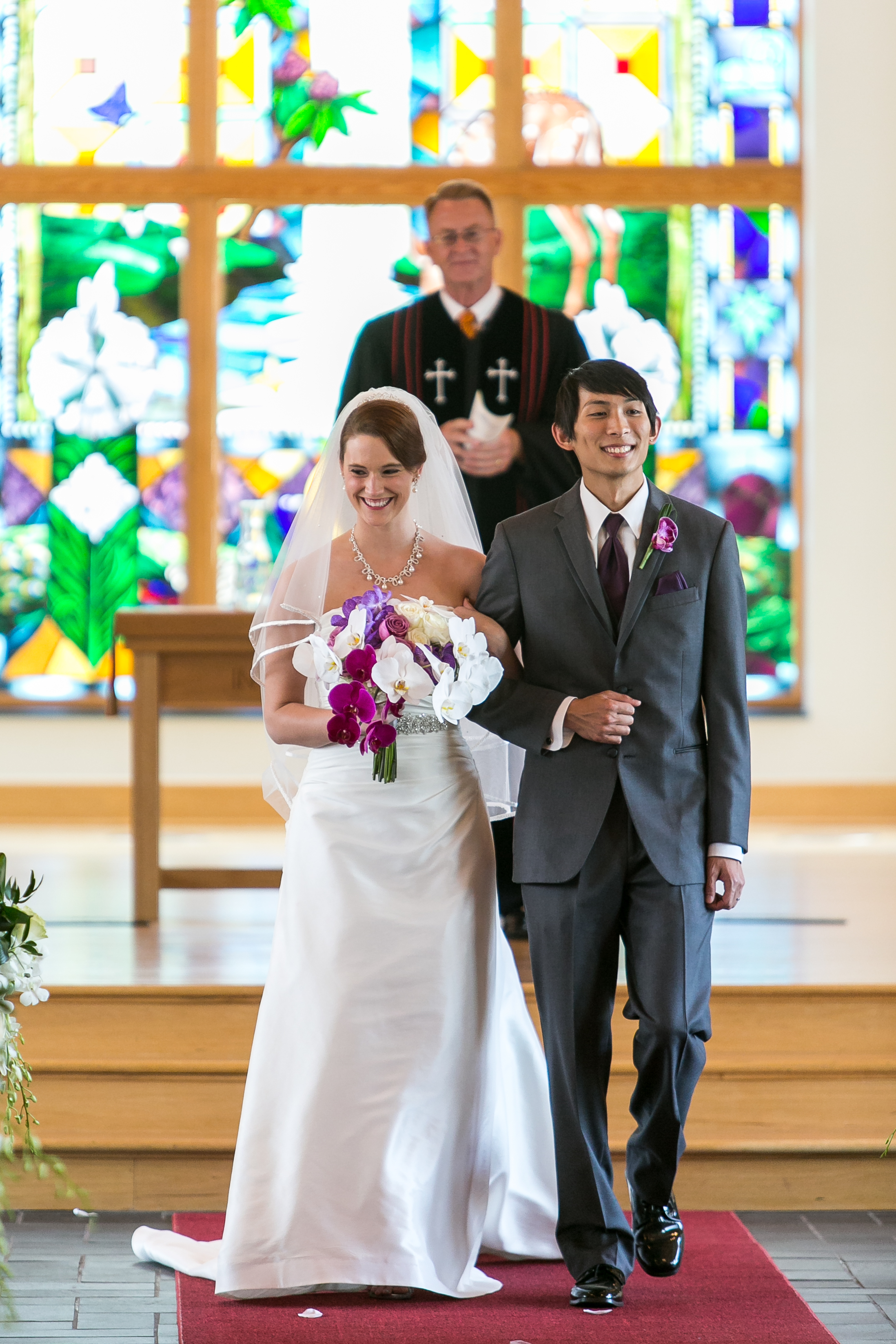 Design Time
Brooke sent lots of photo inspiration to floral designer, Joseph Barnes. She wanted some Asian influences in the flowers, so we found some gorgeous White and Fuschia Phalaenopsis and Purple Dendrobium Orchids. Also, Ivory Roses and Magenta Roses were used. Brooke's bouquet had a lovely cascading effect, and her bridesmaids coordinated wonderfully with their wine colored dresses.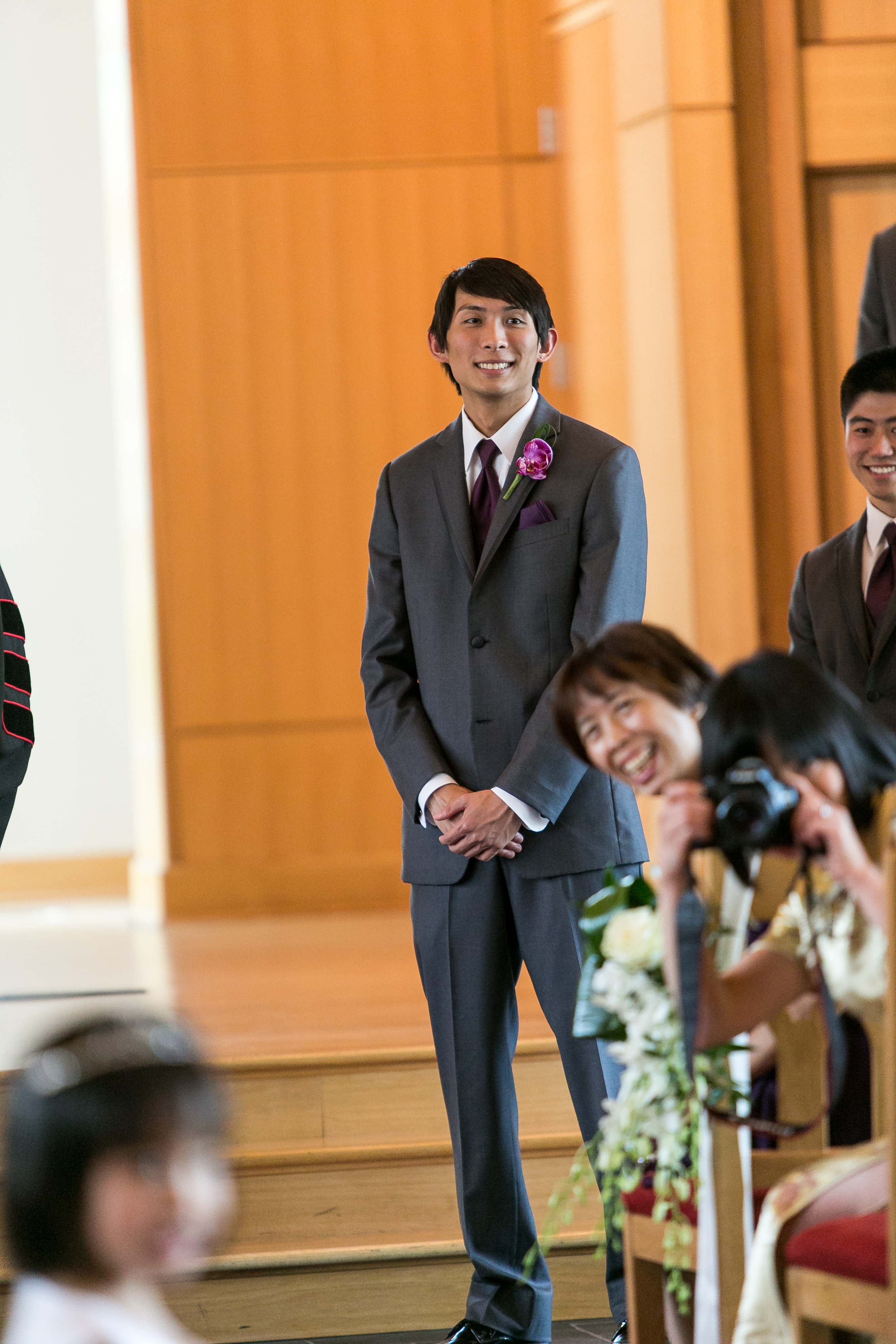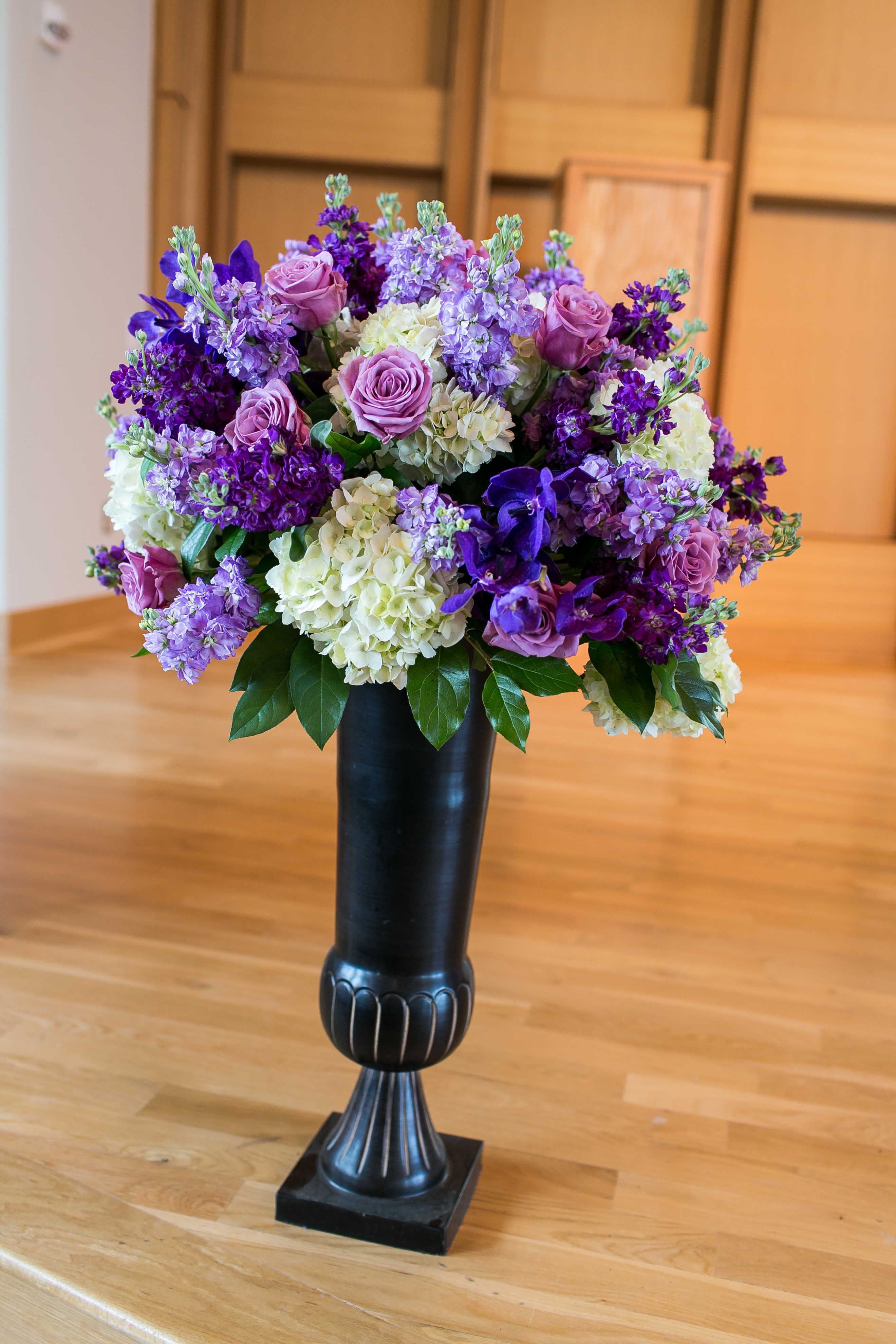 Tien wore a stunning single orchid boutinniere. Composed ceremony arrangement featured Ivory Hydrangea and Purple Stock as well. Bringing the decor inside for the reception, Joseph added some floating candles and pops of blooms that were very striking on the Ivory Damask Linens provided by CE Rental. Mirror bases were used to add interest and reflectivity.
On The Menu
During the Cocktail Hour...
Vegetable Empanadas
Savory little pastry pockets filled with fresh vegetables and cheeses. Served with salsa.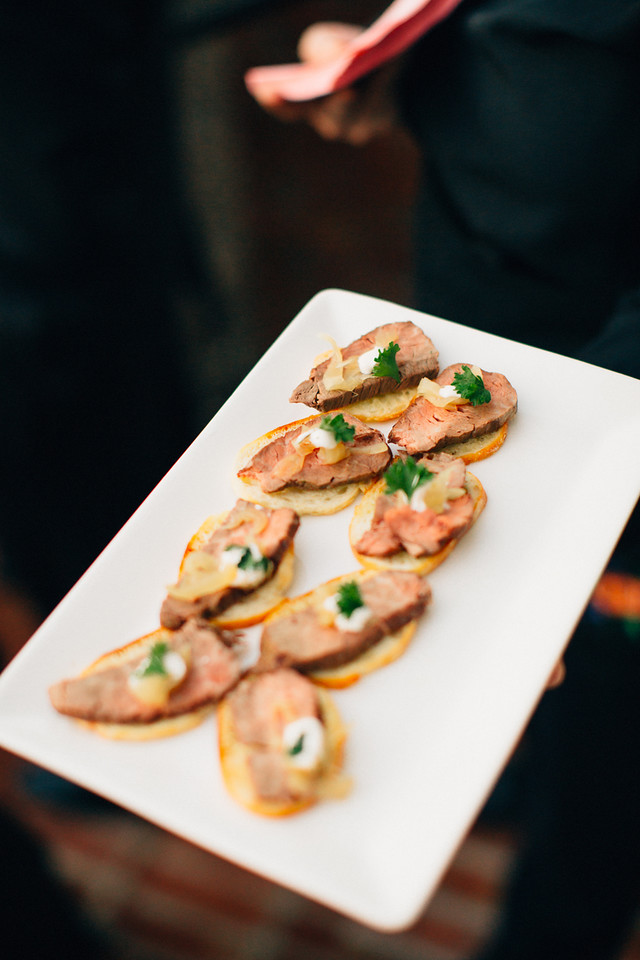 Kentucky Bourbon Steak Bites
Tenderloin of beef marinated in Kentucky Bourbon and roasted, sliced and topped onto a crispy baguette crouton with caramelized Vidalia onions and horseradish sauce.
Scallop Ceviche Tostada with Sweet Onion Mole
Fresh citrus marinated scallops served on cocoa dusted tortilla chip with a sweet and smoky onion mole.(gf)
Basil Cheese Torta
Italian appetizer of Provolone, pesto cream cheese, toasted pine nuts and roasted red peppers served with toasted baguette croutons and crackers.
Fresh Fruit Display
Seasonal fresh fruits to include; pineapple, melons, grapes, strawberries, mango, kiwi and more served with key lime dipping sauce.
Vegetable Spring Roll
Cabbage,carrots, onions wrapped in won ton wrapper and deep fried, served with spicy Chinese mustard.
Chicken Skewers with Apple Butter BBQ Sauce
Grilled chicken skewers, glazed with our homemade zesty apple butter bbq sauce.(gf)
Pork & Shrimp Dumplings with Ginger
Pork and shrimp dumplings pan fried and served with Sesame Ginger Dipping sauce.
Honey Ham & Cheddar Scallion Biscuits
Honey ham on our famous buttermilk biscuits loaded with cheddar cheese and scallions served with creole honey mustard.
Mixed Greens with Strawberries & Candied Almonds
Mixed greens gently tossed with candied almonds, strawberries, chevre in a light raspberry vinaigrette.?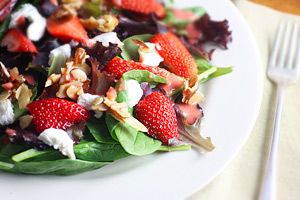 Asian Noodle Bar
This interactive Chef station features choice of the broths-Seafood,Chicken, Beef or Vegetable accompanied by Rice Noodles or Soba Noodles, Bean Sprouts, Cilantro, Basil, Lime, Sambal, and choice of Sauteed Chicken, Shrimp or Beef.
Mashed Potato Bar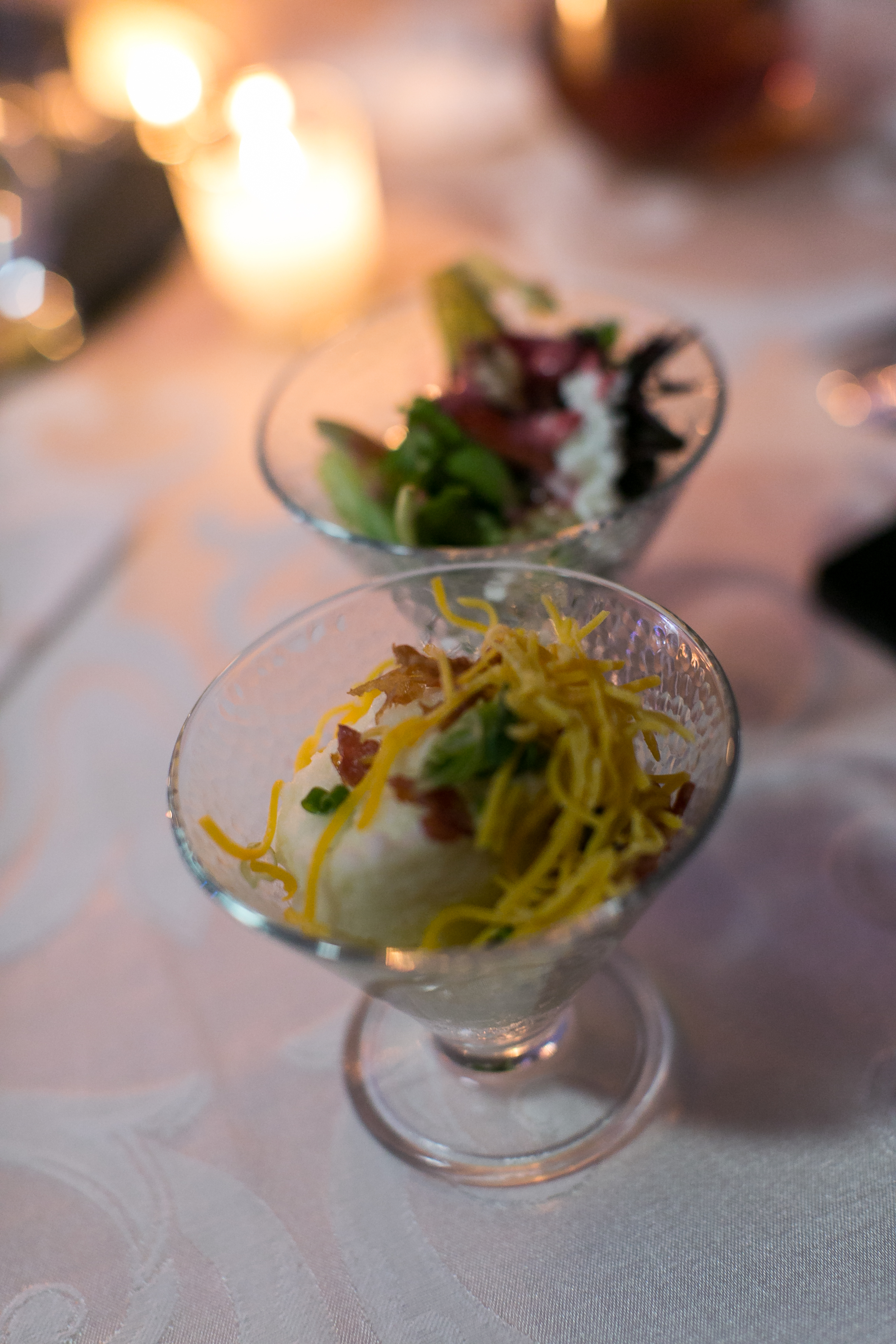 A self-serve station including Mashed Potatoes and Mashed Sweet potatoes served hot with a variety of toppings to choose: bacon bits, brown sugar, butter, green onions, pecans, honey, cheddar cheese, sour cream, carmelized onions and roasted garlic.
Worth a Thousand Words....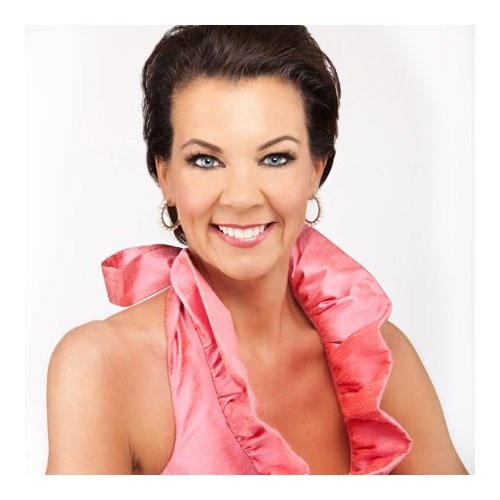 Without the incredible eye and talent of Renee Sprink, this blog would not have been possible. Her beautiful images of the big day really capture the feel of Countryside Elegance, as well as the charming personalities of the couple and friends. We thoroughly enjoyed working with her.
See the complete gallery on her blog TICKLED PINK. Follow her on social media!
FACEBOOK Renee Sprink Photography
TWITTER @ReneeSprink
PINTEREST Renee Sprink Photography
INSTAGRAM reneesprink
Video Higlights
Watch the heartwarming montage by Daniel Rode.
GOOGLE PLUS Daniel Rode
Happy Endings!
How cool is this? We love it!!