Posted to: Recipes by Jill Santa Lucia on Jul 18, 2014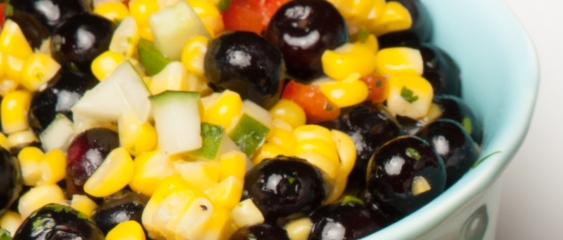 Directions: Steam corn and cut off cobb. In a serving bowl combine corn, blueberries, cucumber, red onion, cilantro, and jalapeño. For dressing, combine lime juice, oil, honey, cumin, and salt. Add to salad; toss. Cover and refrigerate.
For Salad:
6 CORN COBBS
1 Cup BLUEBERRIES
1 ENGLISH CUCUMBER, sliced
1/4 cup RED ONION, finely chopped
1/4 cup CILANTRO
For Dressing:
4 TBSP LIME JUICE
4 TBSP OLIVE OIL
2 TBSP HONEY
1 tsp CUMIN
1/2 tsp SALT
Tip: Use a screw top jar or small mason jar to shake dressing ingredients, refrigerate and use for serving.