Posted to: General News by Donna Levy on Sep 13, 2019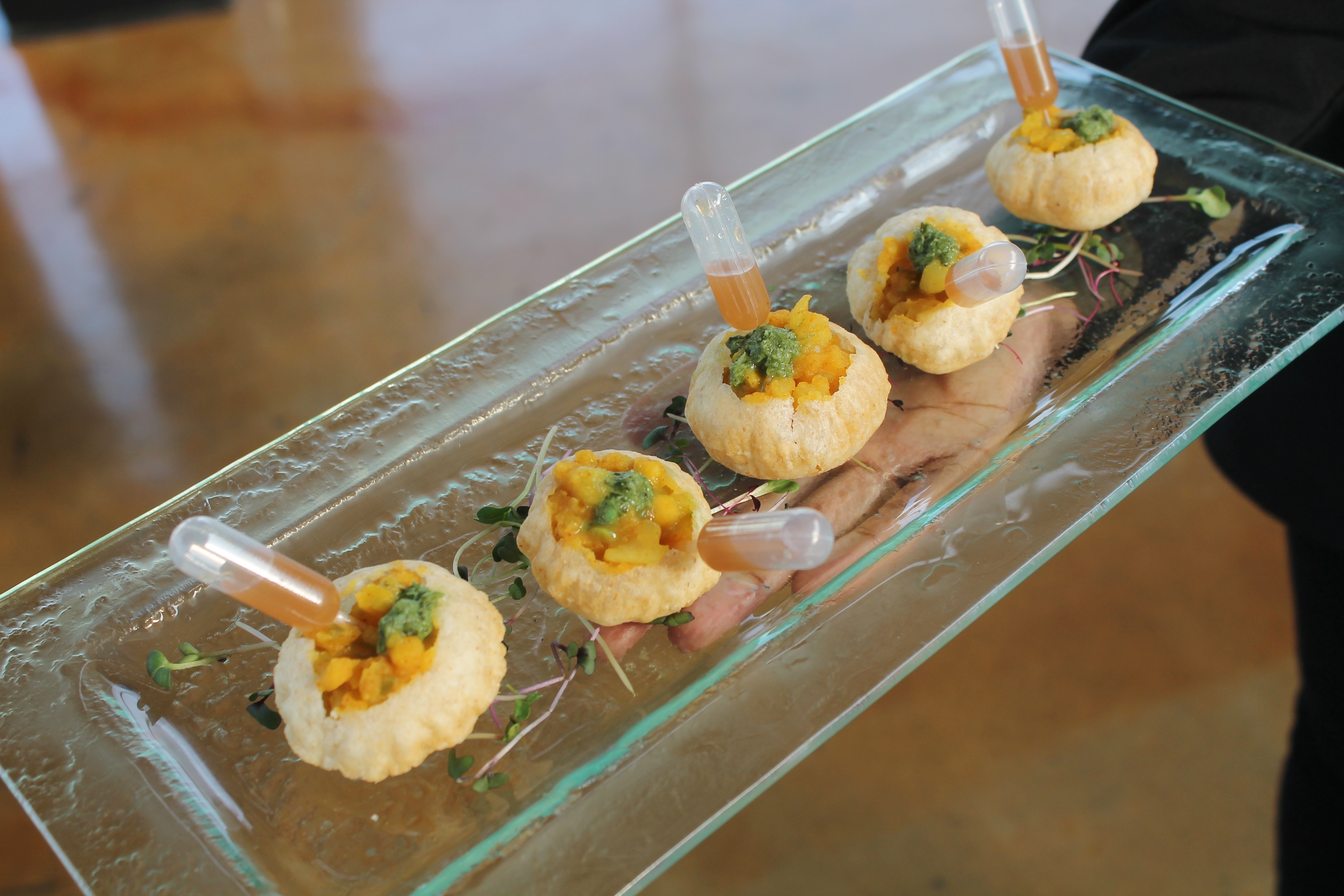 Popular with locals and tourists alike, street food can be found the world over. Chaat, derived from the Hindi word, cāṭ which means tasting or delicacy, is India's contribution. Originating in Uttar Pradesh and sold from little stalls and carts, it has spread across the Indian subcontinent and beyond with minor regional variations of ingredient and name. For example, one region's gol gappa is another's pani puri. In Japanese culture, there is umami; the Indian equivalent is chapata, the flavor profile and combination of salt, sweet, sour, and spicy. Chaat is the manifestation of chapata. Typically, the chaat is centered around fried dough with other ingredients to hit all the right notes of crispy, tangy, sweet, and spicy. Vendors set up their stalls near high traffic areas-offices, schools, rail stations, beaches, and markets. There, they cook their made-to-order chaat on grills, tawas (heavy flat griddles), or karahis (woks). Chaat is not limited to snack food status; its favored for breakfast, lunch, dinner, and especially at festivals. There are many different types of chaat and proper practices for eating.
Here's the basic recipe for a few of the most popular types. The base starts with a crispy carb and can range from papdi, to puffed rice, to samosas-neutral or spiced. Next come the toppings. For crunch, there may be crispy fried potato bits (sev) or fried and spiced chickpeas. Including a second crunchy element is key since the initial base often gets a little soft from the sauces or chutneys. Potatoes, onions, and tomatoes are often used, with the latter two included raw to provide even more crunch and texture. For the sauce, chutney is the most common, especially cilantro mint and tamarind. Plain yogurt is used too, to provide a cooling note. And for the final finishing touch, most chaat is topped with a sprinkle of garam masala, the omni-present Indian spice blend.
Bhel puri, savory with puffed rice, vegetables, and a tamarind sauce with garnishes of onion, coriander, and lemon juice, is often associated with the beaches of Mumbai. This has spread to most parts of India where modifications have been made to fit local tastes. It's often served in a folded paper cone and is consumed with either a paper spoon or papdi, crispy fried dough wafers served with it. Those in the know advise ordering this dish "all the way" and consuming it quickly. There's nothing worse than soggy bhel puri.
Pani puri, also known as gol gapppa, literally translates to "water bread". It's spherical, hollow, fried crisps filled with potatoes, chickpeas, onions, and chutney, and served with a flavored water, usually tamarind or cilantro and mint. To eat, you need to spoon a little bit of the water into the center of the crisp, then pop the whole thing into your mouth at once. Don't bite it, as you're likely to wind up with a bit of a mess if you do.
Samosa chaat's base is diced samosas (fried savory pastries with a spicy potato and pea filling), with toppings that can include chutney (both green and tamarind), yogurt, chopped onions, coriander, sev, and a sprinkling of chaat masala-a spice powder mix consisting of dried mango powder (amchoor), cumin, coriander, dried ginger, salt (usually Himalayan black), black pepper, asafoetida, and chili powder. Then, just dig in with a spoon!
Similar to samosa chaat, sev puri take all of the samosa elements and subs out the samosa base for fried puri crackers made from wheat. This chaat originated in Mumbai, and the basic ingredients are the same as samosa chaat but garnished with raw mango (when in season) or a hint of lemon and chaat masala.
Aloo tikki is a small spiced potato and onion cutlet-sometimes with peas, sometimes not-that has been pan-fried. Think of it as the Indian take on a potato latke or hash brown. It usually comes with sauces on the side for dipping instead of dolloped on top. Yogurt or chickpeas can also accompany the aloo tikki. India's McDonald's restaurants have even gotten into the act by offering a McAloo tikka burger which has gained legendary status with an aloo tikka patty, sweet tomato aioli, onion, and tomato.
Dahi vada are fried flour balls swimming in a yogurt sauce and crowned with a liberal dusting of a pungent spicy blend of black pepper, chili powder, and chaat masala. Don't let the leftover sauce go to waste; drink it or at least dip something else into it. The yogurt will help cool you down after the rush of the spices.
The simplicity of the base recipe lends itself to variations of regional taste and seasonality of produce. Its portability and universal appeal increased its popularity at home and abroad. And as people have moved from India to other parts of the world, chaat has traveled with them, making it a unifying comfort food. Everyone is familiar with butter chicken and naan, but chaat gives you a real peek into Indian tastes and culture. Don't miss out on the Indian streetfood movement.
https://www.omagdigital.com/publication/?i=594140#{%22issue_id%22:594140,%22page%22:72}