Posted to: Weddings by Lorin Laxton on Jan 10, 2016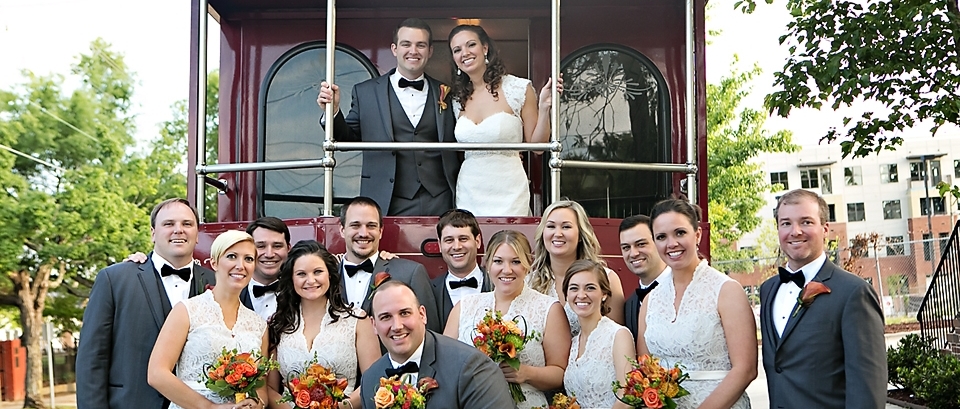 Meghan Harris & Mike Emmerth were wed on May 2, 2015 at the All Saints Chapel, with reception following at The Stockroom. We truly enjoyed working with this trendy couple! From design to menu to the icing on the cake, this was a picture-perfect day. Meghan & Mike's wedding blog on the Knot.
Design Time
Meghan was not afraid to show her trendy and out of the box style. Opting for saturated orange and sunset colors and clean modern lines of Cala Lilies, Joseph Barnes set to the task of creating gorgeous bouquets, boutonnieres, altar arrangements and a beautifully dramatic aisle design at All Saints Chapel.
Photography by Megan Kime
Florals by Joseph Barnes, Catering Works
Cake by Catering Works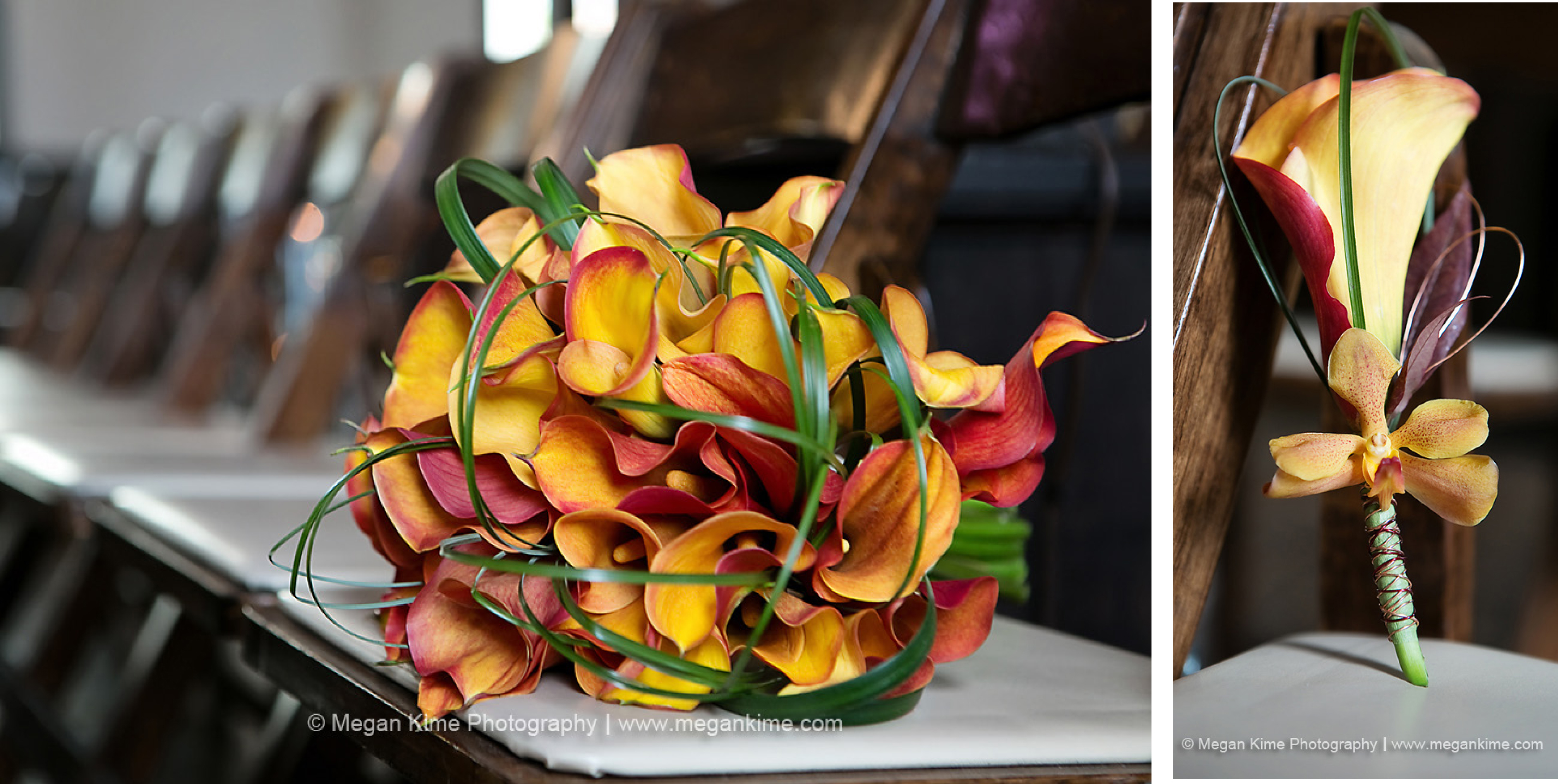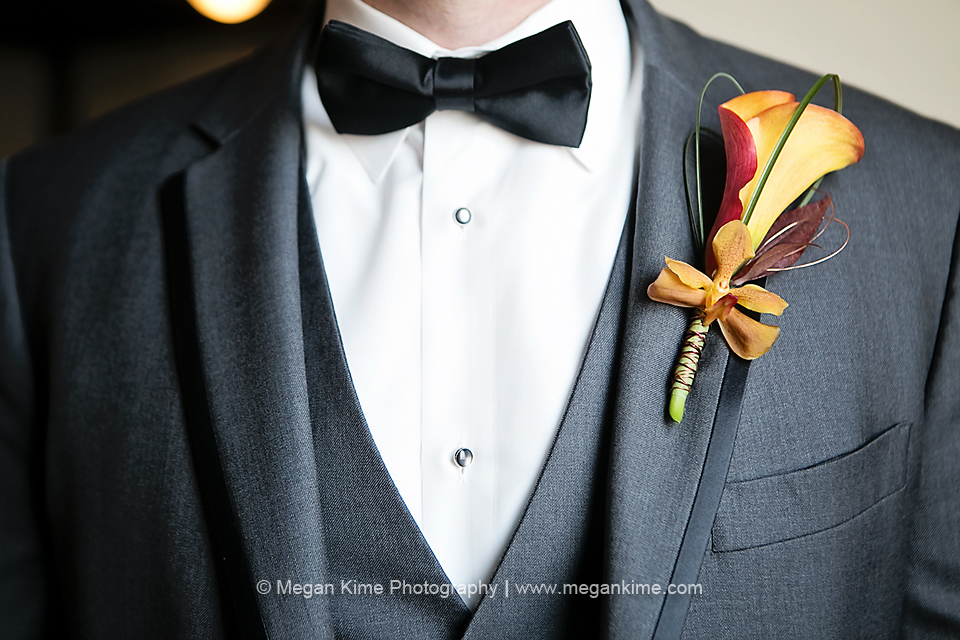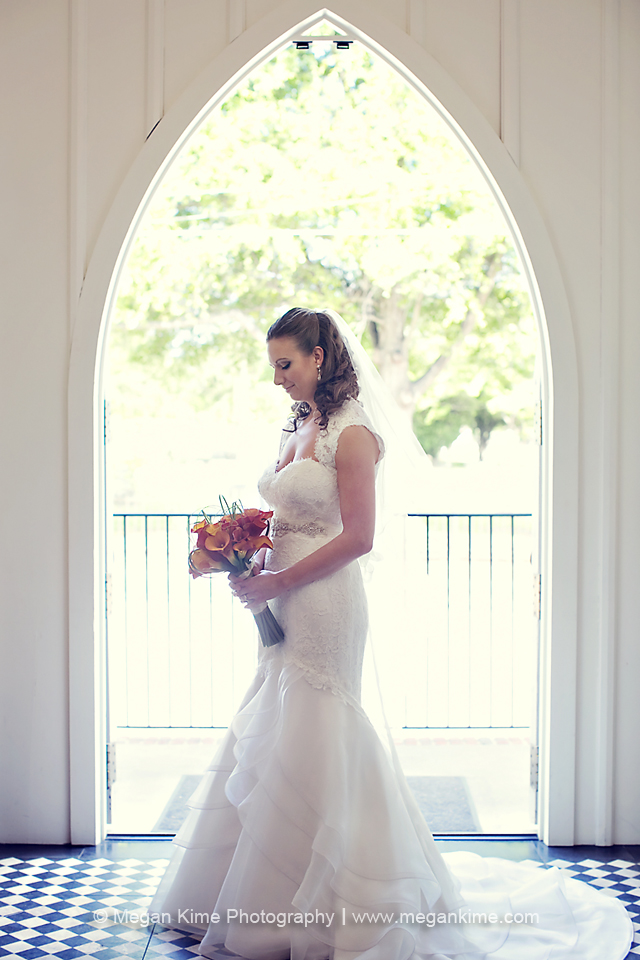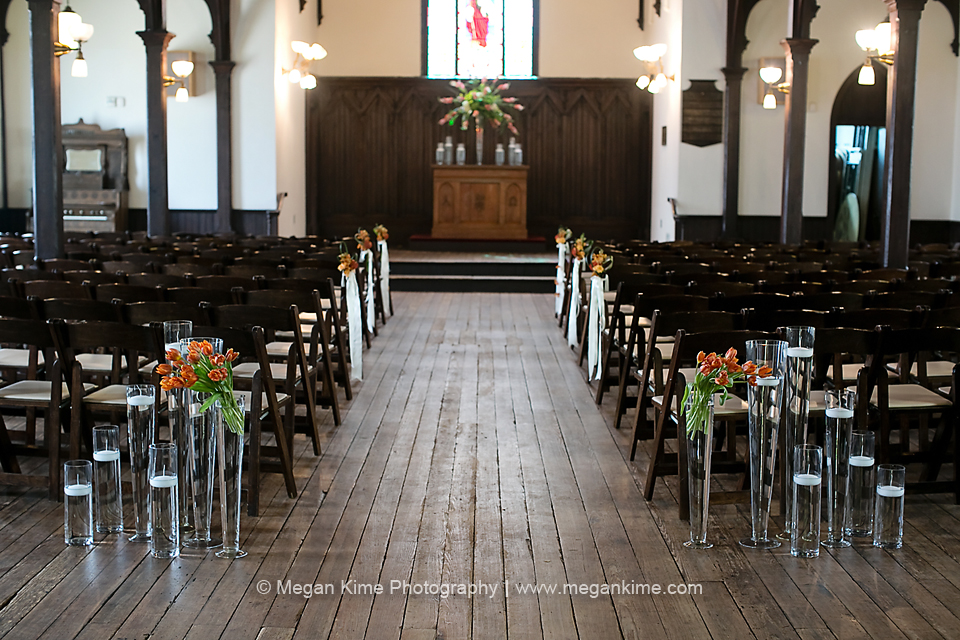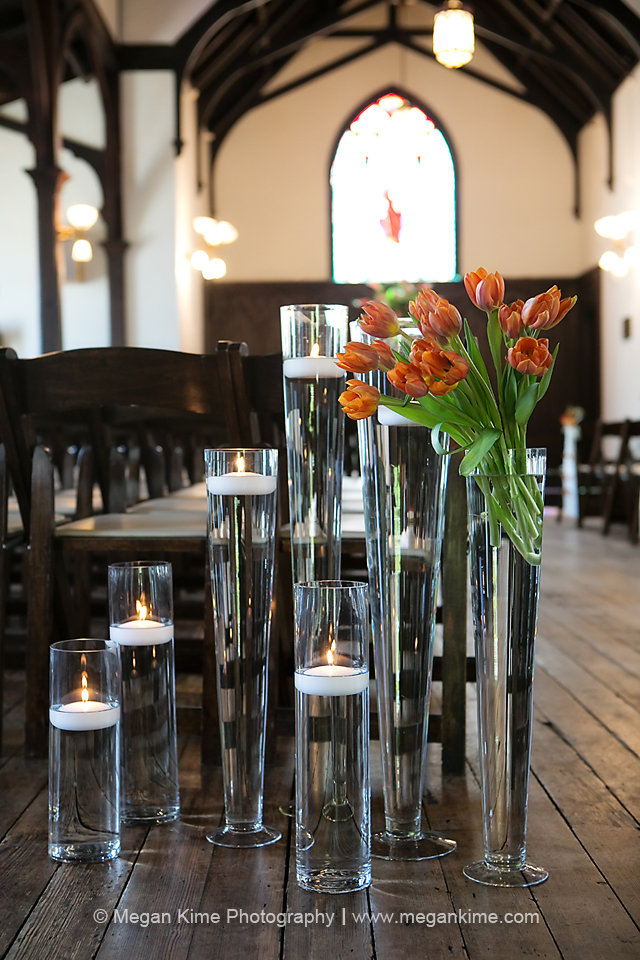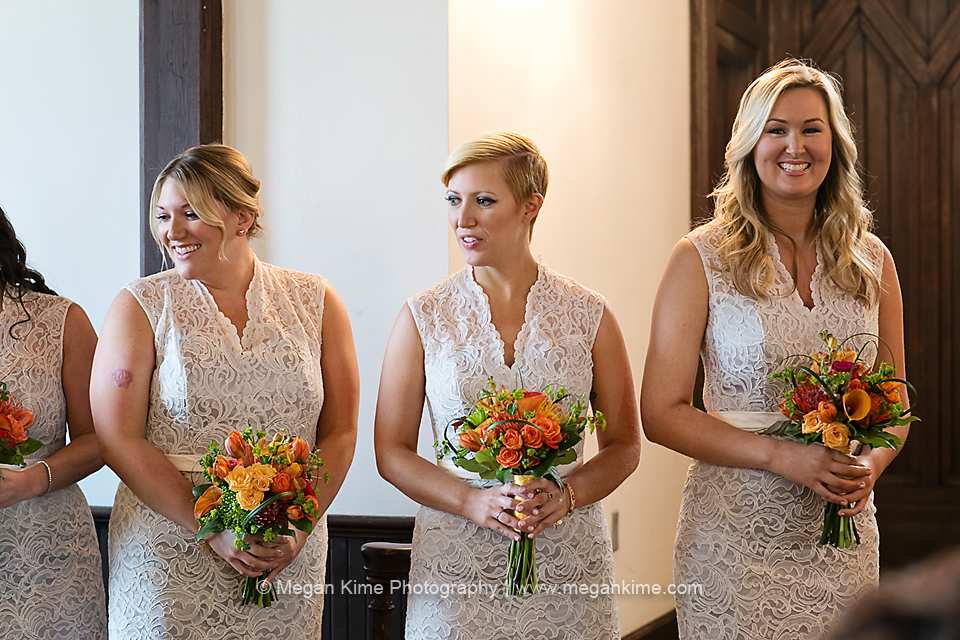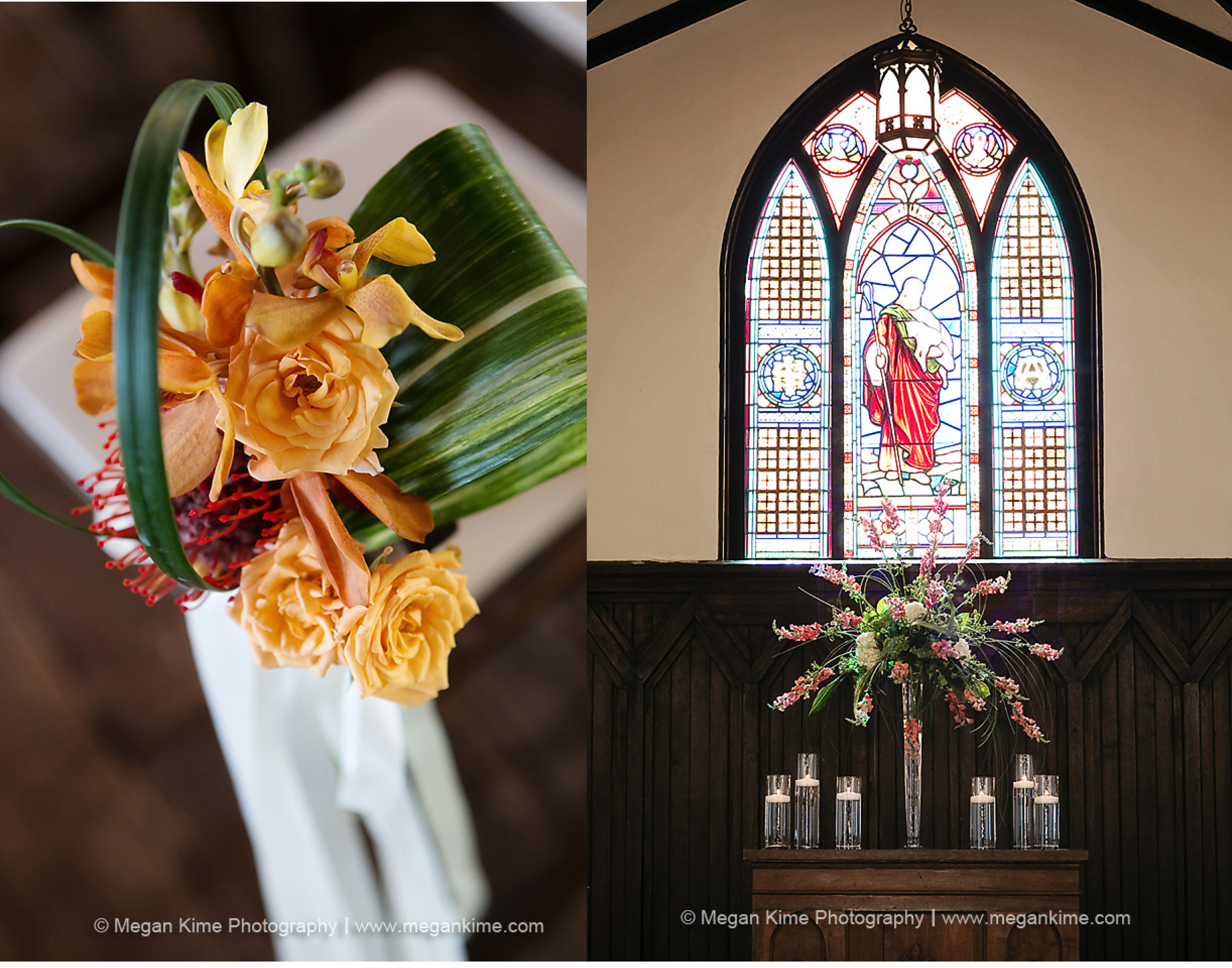 On the Menu
While Meghan is a vegetarian, she created a menu with mass appeal - carnivores included!
COCKTAIL HOUR HORS D'OEUVRES
"Chicken and Waffles" Miniature house rendition of classic chicken and waffles served with a maple horseradish sauce.
Shrimp Rumaki - Gulf shrimp wrapped with smoky bacon and skewered.(gf)
Mashed Potato Spring Roll with Sour Cream Chive - Buttermilk mashed potato and cheddar cheese in a crispy fried spring roll wrapper served with sour cream and chive dip.
SALAD COURSE
Mixed Greens with Tomatoes and Honey Pecans- Baby fresh greens topped with toasted honey pecans, fresh cherry tomatoes, green onions and our famous raspberry vinaigrette dressing.
DINNER
Chicken breast stuffed with Prosciutto ham, Sun Dried Tomatoes and fresh Basil with a light sherry jus.

Beef Filet Caramelized Onions and Horseradish- Beef Filet soaked in Bourbon, grilled and topped with caramelized onions and horseradish sauce.
Grilled Asparagus-Fresh asparagus marinated in balsamic vinaigrette and grilled to perfection!
Mac N Cheese with Condiments - Macaroni and cheese made with bow tie pasta and presented with a variety of condiments for topping; blue cheese crumbles, bacon bits, sour cream, salsa and green onion.
Cornbread, Sweet Potato Biscuits and Yeast Rolls - Homemade Southern cornbread, sweet potato biscuits and mini yeast rolls served with honey butter.
THE ICING ON THE CAKE
A delicious three tiered wedding cake made by Catering Works featured a textural icing pattern and bright orange Gerbera daisies gave a real punch! The cake was lemon flavored as was the lemon butter cream icing and lemon cream filling.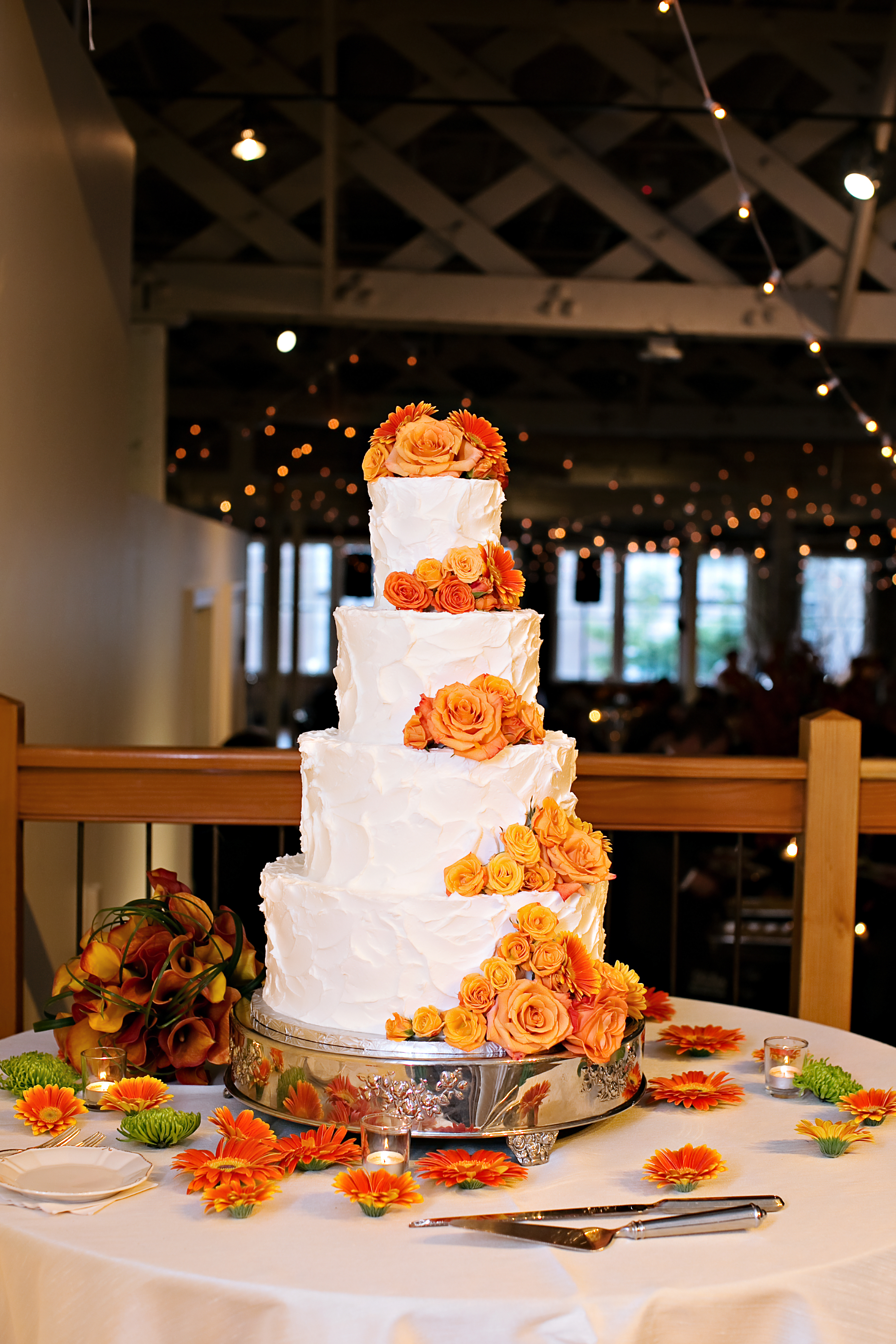 A PICTURE IS WORTH A THOUSAND WORDS
Megan Kime did an awesome job covering the day! All the details were beautifully captured. Thank you, Megan, for sharing these gorgeous images. www.megankime.com