Posted to: Weddings by Lorin Laxton on Jun 16, 2014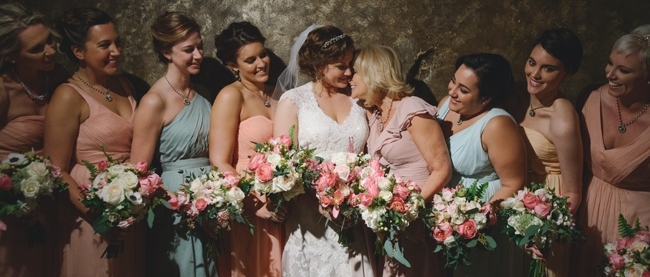 This beautiful wedding held at the Stockroom in January, was recently featured on the Southern Bride & Groom Blog for the Wedding Feature Wednesday section. EW Fulcher was the lead planner on the event, and coordinated all the details as well as put the design plan into action. We were so excited to work with Katelyn & Nathaniel, on their catering, ceremony & reception flowers, event design & decor and wedding cake. They selected some delicious fare and we enjoyed working with their color scheme and design inspiration for the big day at the Stockroom. Here are a few of our favorite photos, one in particular will be driving around Raleigh on the back of one of our box trucks. The menu selections were:
cocktail hour
Sweet & Spicy Pork Belly
Shrimp & Bay Scallop Risotto spoons
Vegetable Pot Stickers
Plated Salad Course
Mixed Greens with Cranberries, Pears & Walnuts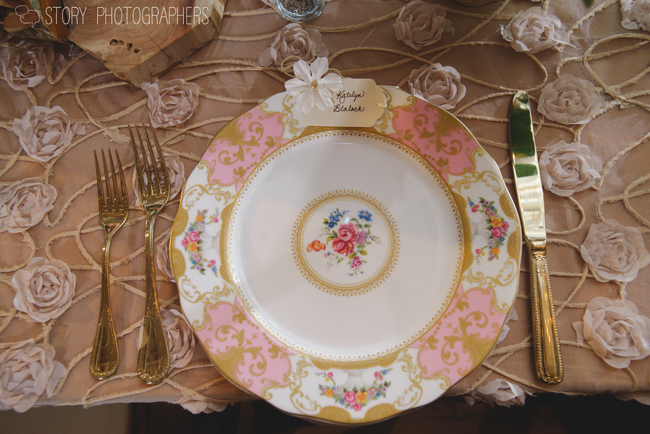 dinner stations
Roasted Chicken with Maple Thyme Reduction
?Beef Tenderloin with Fried Green Tomatoes
Southern Style Tater Station
Green Beans with Cashew Butter
Carolina Bread Basket
Wedding cake
Alternating tiers of cake included:
Chocolate Chip Cake with Chocolate Ganache Filling
Cinnamon Chip Cake with Almond Buttercream Filling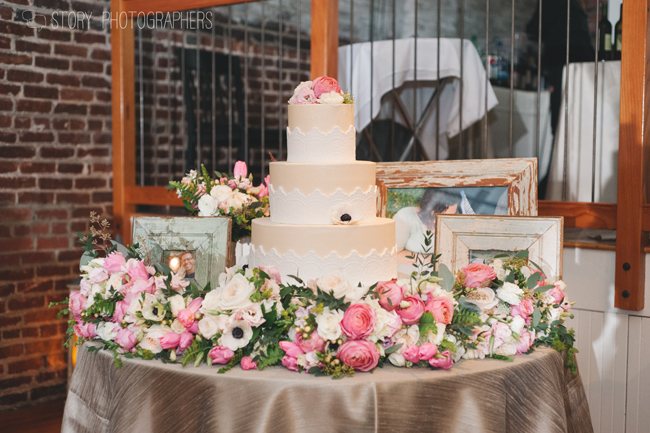 Flowers by Joseph Barnes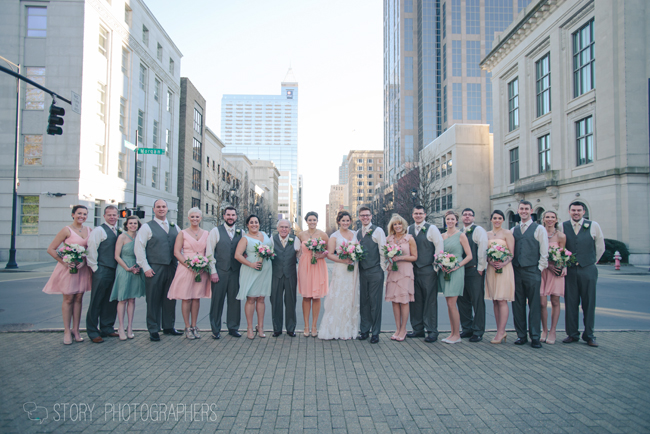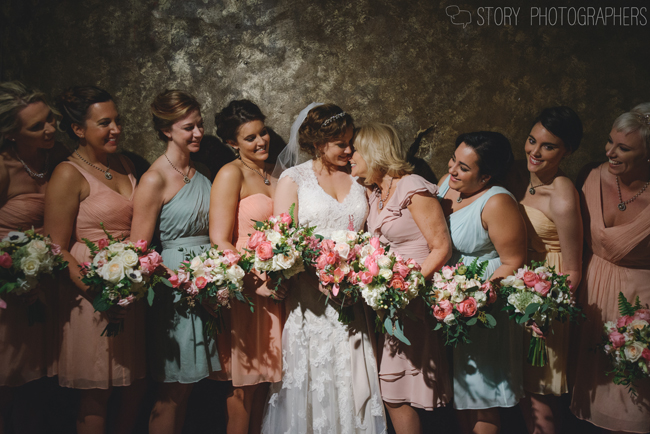 Katelyn carried a hand-tied bouquet of ivory and blush blooms, garden roses, lisianthus, astilble, and hand crafted paper flowers were incorporated into the bouquet; the stems are wrapped in champange ivory ribbon with lace.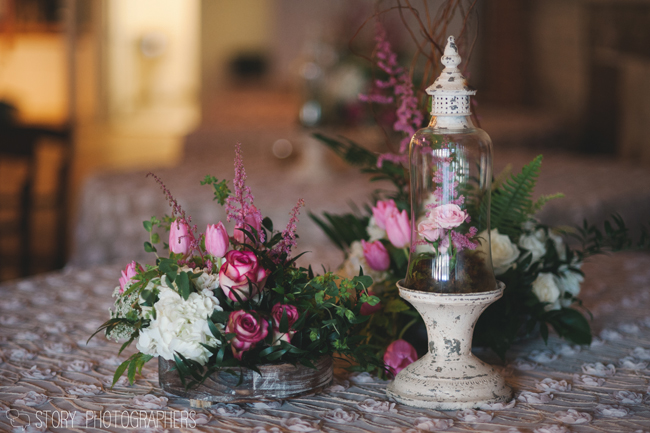 The centerpiece designs were varied from table to table, the head table featured a magnificient long style tablescape and Joseph utilized lots of terrarium style pedestal urns.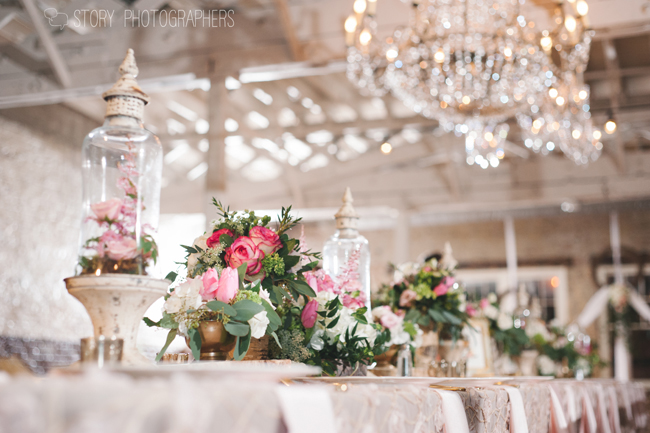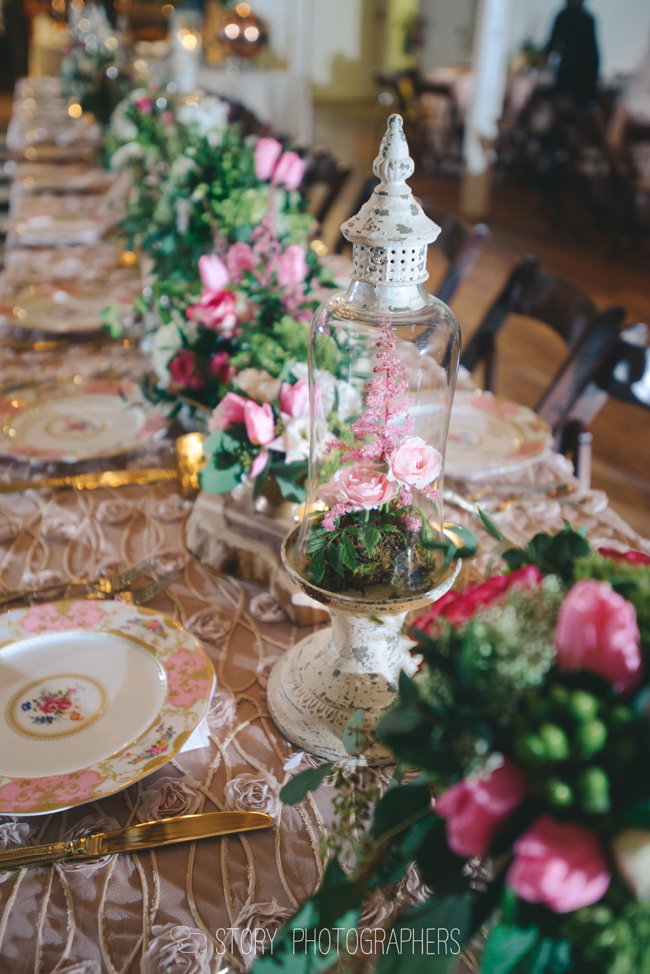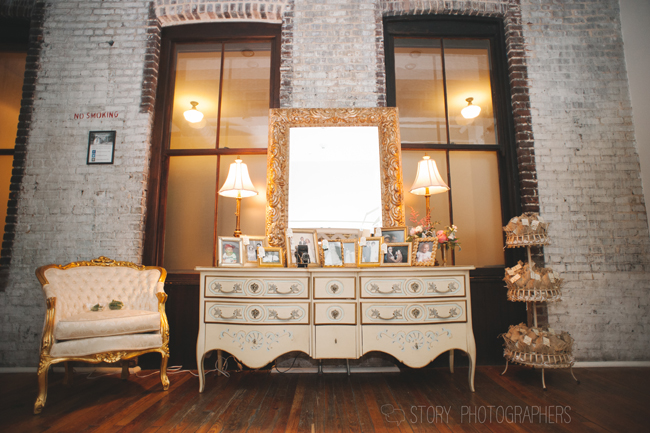 Specialty furnishings and decor provided by Theme Works, used to display family photos and wedding favors, as well as set the stage for a beautiful reception!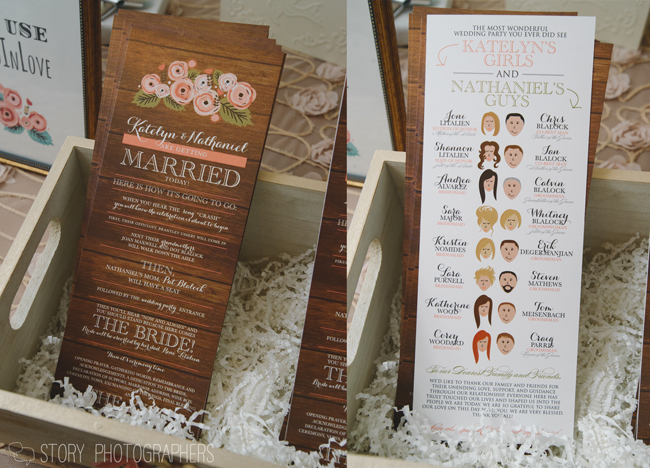 We LOVED these programs, the bride created the most unique format utilizing cartoon avatars for each of her wedding party members - super cute and very memorable!!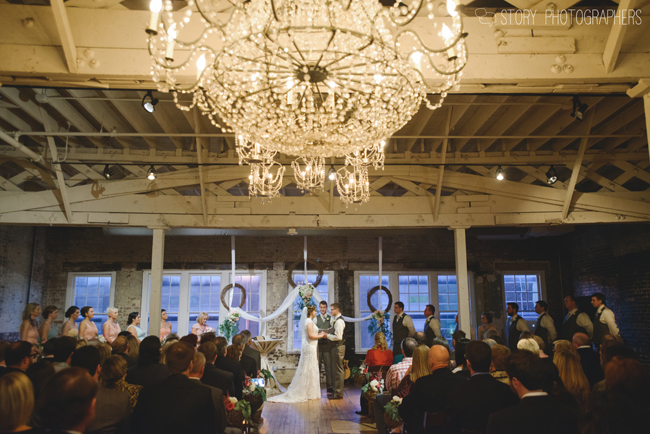 Overall a beautiful day for Katelyn & Nathaniel. Both the ceremony and reception were held at the Stockroom. To see more photos by the most talented and fabulous photographers - Storyphotographers, check out their blog and read the Southern Bride & Groom feature as well for more details and the story of Katelyn & Nathaniel.