Posted to: Weddings by Lorin Laxton on Mar 4, 2015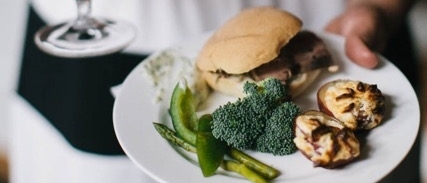 Catering Works celebrates their 25th birthday this year, and over the past 2 decades, we've seen all sorts of issues with wedding industry professionals, most of them are very positive, but every once in a while we hear stories that are heartbreaking and cause much undo stress for the bride and groom. We recently received a testimonial from one such bride, and wanted to share how Catering Works saved the "day-t".
Hi! My name is Christina Carnes Ananias and my husband and I used CateringWorks for our wedding in July of 2013. We had originally signed a contract with another caterer, who disappeared 3 months before our wedding. When we were left without a caterer and without our $3,000 deposit, Catering Works stepped in and did an AMAZING JOB. The food was absolutely amazing, the service was impeccable and it was obvious that you were bending over backwards to help us in this dire situation. My husband and I needed someone to trust in the midst of this incredibly stressful moment and Catering Works was just the ticket. We didn't worry about anything from the moment we had our first conversation with you! And it was more beautiful and more delicious and more luxurious than I could have imagined. Thank you! I am emailing now is because my best friend in Durham is planning a wedding for October and we have sent her your way. We told her not to even consider using anyone else because you guys are absolutely the best in the area. Hands down! Thank You!
The wedding was held at the King's Daughters Inn, in Durham. Christine's cocktail hour featured:
Deviled Egg's Classic Southern
Classic Southern style deviled eggs.
Chicken Salad Canape
Mini phyllo shell filled with our signature tarragon chicken salad. Our all breast chicken salad is prepared with grapes, tarragon mayonnaise, and pecans.
Passed Tomato Basil Bruschetta
Garlic toasted croutons topped with Middlesex tomato, fennel and basil
Mini Stuffed New Potatoes
Bite sized, red skin new potatoes filled with herbed cheese and baked golden to perfection!
Opting for a Station Style presentation, Christine chose these items for dinner:
Flank Steak with Mini Rolls & Sauces
Beef flank steak marinated in our special marinade of brown sugar, garlic, red wine and herbs and grilled to perfection. Sliced and served with rolls, Dijon mustard and tarragon mayonnaise.
Fresh Fruit Display
Seasonal fresh fruits to include; pineapple, melons, grapes, strawberries, mango, kiwi and more served with key lime dipping sauce.
Crudite & Dip
Fresh garden vegetables to include; carrots, tri-colored peppers, mushrooms, cherry tomatoes, broccoli, zucchini, and fresh asparagus served with a roasted red bell pepper dip.
Tomato Bisque with Mini Grilled Cheese Bite
Our creamy Tomato Bisque soup butlered to your guest with a mini grilled cheese bite.
Honey Lemon Rosemary Chicken Skewers
Breast of chicken marinated in sweet honey and fresh herbs. Grilled and served with chutney yogurt sauce.
Baked Brie Topped with a Brown Sugar, Cinnamon and Walnuts Topping.
Baked Brie Topped with a Brown Sugar, Cinnamon and Walnuts Topping. Served with sliced apples and pears.