Posted to: General News by Lorin Laxton on Jun 2, 2015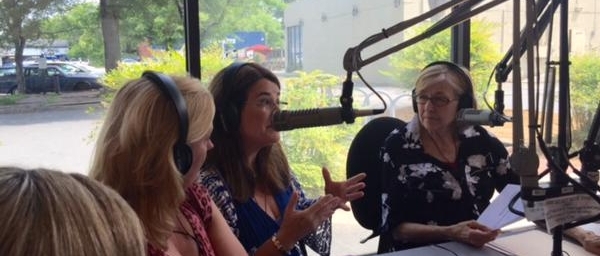 Teaming up with Jenna Parks Olender and Donna Parks from the Southern Bride & Groom magazine, we were thrilled to appear on WCOM FM 103.5 radio. We were all invited to discuss food and beverage trends and wedding catering. Chef Janice Escott and Chef Kelly Taylor co-host the weekly segment "Say Yes to the Chef", which airs Tuesdays from 11am to Noon. The show covers a variety of food and beverage related topics, from recipes to food photography, health trends to NC exclusive trends and ingredients. Guest speakers include local chefs, restauranteurs, farmers, food producers and cookbook authors (and now add caterers and wedding industry experts!). This was fun and exciting experience for Lorin and Jill, and as always, we enjoy the company of our good friends Donna and Jenna at SB&G. Janice and Kelly put us at ease with their delightful personalities, and a bit of humor that definitely took the edge off the pre-radio jitters. Have a listen to Show #61 - Here comes the Food and the Bride...
Visit the Say Yes to the Chef website for more information about the show, the very talented and knowledgeable chefs Janice and Kelly, and peruse the recipe database and blog for some fabulous flavors and food education. Follow them on social media and don't forget to SAY YES TO THE CHEF!
@yestothechef
https://www.facebook.com/sayyestothechef