Posted to: General News by Lorin Laxton on Feb 6, 2015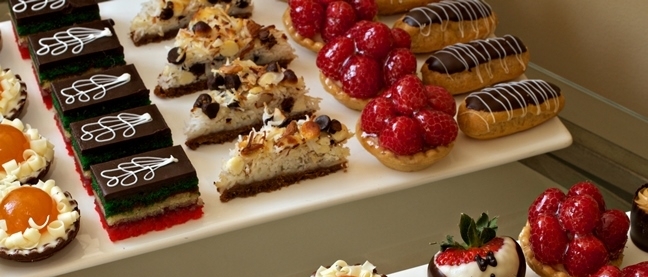 Our Sweet Socials Campaign is Sah-Weet!
Catering Works turned 25 years old on August 1, 2014! We have many loyal customers and employees to thank for contributing to this milestone. Rather than throwing an anniversary party, we decided to celebrate and express our gratitude through a year long effort of appreciation campaigns. The Quarterly Sweet Socials events have been a big hit.
October 2014 Winner - Leticia DeOliveira of Rex Healthcare
Leticia was excited to share this event with her co-workers at Rex Healthcare. This event included our Gourmet S'mores station; a fancy twist on an old favorite! This interactive station includes premium chocolate dipped graham crackers, with a variety of toppings such as crushed pistachios and dried cherries, heath bar crunch, salted caramel and others can be customized. Our station attendant adds a silky meringue marshmallow fluff and torches the s'more before your eyes. This is a delicious presentation and perfect as a wedding favor or end of the night treat. Mulled Cider was also served.
January 2015 Winner - Amy Burton of Bayer Crop Science
Amy also decided to share her event with her co-workers at Bayer Crop Science. Her menu featured a gourmet cookie & confection and hot cocoa station. As assortment of homemade mini cookies to include: chocolate chip, chocolate mumbo, M&M, Peanut butter and sugar cookies and assorted mini confections coconut kisses, melting moments, raspberry linzers, brownie triangles, chocolate mousse cups and lemon curd fruit tarts.
The April social event will include a Strawberry Trio Station and July features an Ice Cream Social. Thank you again to all our loyal customers, friends and staff for making our 25th extra sweet!