Posted to: General News by Lorin Laxton on May 4, 2015
Catering Works proudly supports The Green Chair Project. The organization was launched in April of 2010, by co-founders Jackie Craig and Beth Smoot. In their respective real estate careers, they both saw the trend of excess furnishings people often donate or re-allocate prior to selling their homes. Many of their clients were hesitant to get rid of their items, and a feeling that "someone" could use it. The pair formed The Green Chair, as a receptacle for donating these items and making them available to individuals and families that are transitioning from homelessness or disasters and have secured sustainable housing. The organization relies on many volunteers, from weekly regulars that oversee departments to students, church and professional groups, or individuals and families which want to serve the community. Without the volunteers the mission couldn't be accomplished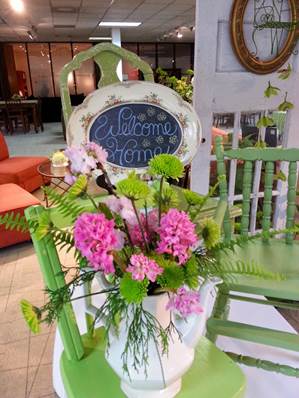 They have developed a very unique system for reallocating the donated items, one which empowers families to prioritize their choices. Their clients work with case managers from partnering agencies, and for a small fee, they are awarded Green Points. The point system allows them to select furniture, linens, cookware and accessories to outfit their new homes. The reusable gifts are cleaned and repaired by volunteers and are presented in a way that promotes dignity and respect.
Every year, The Green Chair Project hosts a fundraising event, including live music, a silent auction, and other fundraising activities. This year, Catering Works was honored to provide food, beverage and some unique decor for the event. Their was also an artist on site that painted a portrait during the event, which was then later auctioned off, as well as live music, the silent auction and specifically a "chair" auction. A unique variety of very stylish chairs were selected off the floor, and guests were able to bid on them. This annual fundraising party is held at the facility itself, so the guest patrons are able to see many of the items available for donation, and get a sense of how this wonderful organization benefits the community. Many of the vendors involved with the event donate all or a part of their services in order to support this organization and assist with their fundraising efforts.
On the Menu...
Cocktail Hour featured butlered hors d'ouevres
New Moon & Brie Strawberry Crostini: Chapel Hill Creamery New Moon Brie topped with field fresh local berry salsa on a crisp baguette crouton.
Fried Green Tomatoes with Chevre & Tomato Relish: Bite sized fried green tomatoes topped with locally made Chevre and spicy tomato pepper relish.
"Chicken & Waffles": Miniature house rendition of classic chicken and waffles served with a maple horseradish sauce.
Food stations were artfully designed to complement the furnishings and designated to emulate specific areas of a person's home.
Station One - "The Front Door"
Utilizing TGCP white picket fence and Catering Works' standing door decor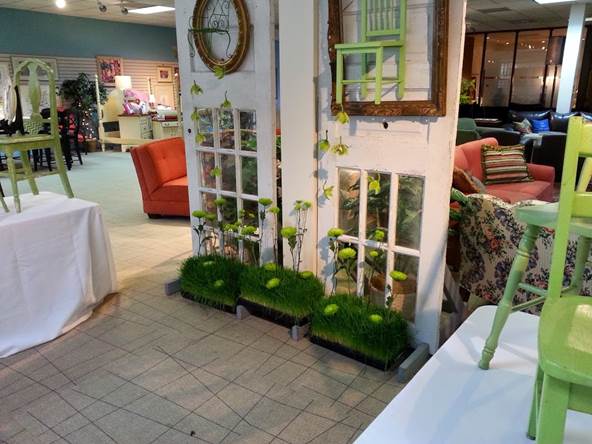 Tenderloin of Beef with Crispy Fried Onions- Beef tenderloin seasoned with garlic, rosemary and oven roasted, sliced and displayed with crispy fried onions: small yeast rolls, horseradish balsamic glaze, tarragon mayonnaise. Beef, tarragon mayonnaise and balsamic glaze are gluten free.
Farmer's Market Crudites - Farmers Market of Crudite to include; baby carrots, cucumbers, grape tomatoes, broccoli , asparagus and yellow pepper strips, buttermilk ranch dip and our creamy cucumber dip and House made pickles.
Shrimp & Grits Napoleons (served in TGCP punch cups - a fun and unique presentation) Local stone ground yellow and white grits layered with shrimp, our rich country ham gravy and vegetable confetti, grated cheese and chives.
Station Two - "The Bedroom"
TGCP provided a sleigh bed frame around banquet tables and utilized dresser end tables for condiments
House Smoked Pork with Cocoa Coffee Rub - House smoked pork butt rubbed with our cocoa coffee rub and simmered in a flavorful vegetable stock with chopped dates. (gf)
Southern Style Tater Station - This station features Roasted garlic mashed potatoes and Mashed Sweet potatoes with your favorite topping: Asiago cheese, chives, apple smoked bacon, sour cream and for the sweet tooth mini marshmallows, brown sugar, and pecans.(gf)
Station Three - "The Foyer"
In the entryway, a large round table was setup with a whimsical display of coffee cups and dessert offerings, it was a welcome entry for the party
Atlantic Beach Pie Bites - Saltine cracker crust with lemon lime baked custard and sea salt whip cream.
Mini Peanut Butter Tarts - Mini sweet tart shell filled with our decadent peanut butter and milk chocolate cream and topped with chocolate dipped peanut butter mousse, sprinkled with roasted peanuts.
Petite Coconut Cream Cupcakes - Our delicious coconut cake made into petite cupcakes filled with coconut pastry cream topped with buttercreme and toasted coconut.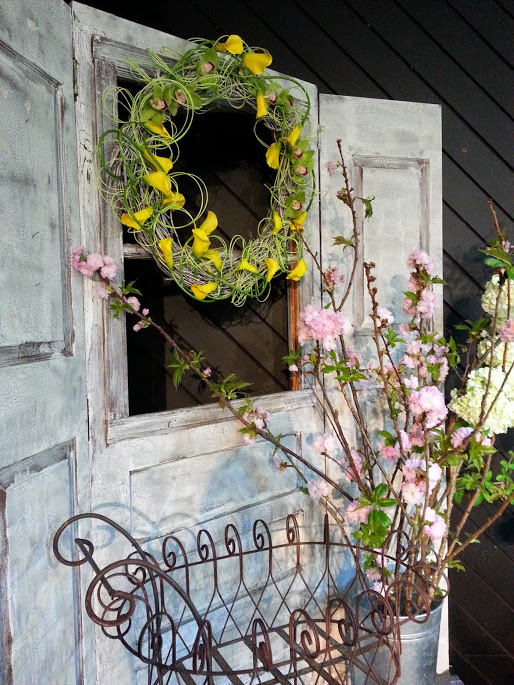 Station Four - "The Dining Room"
TGCP utilized a bookshelf to display wine glasses and we featured bar service that included a variety of red and white wines, domestic and imported beers as well as Iced Tea and Spa Water.
All of the glass and china were TGCP donation items, another feature of the event which emphasizes the re-use and "upcyling" mission. A team of volunteer students collected and carefully washed over 1200 pieces of glassware over the course of the party, then returned them all as pieces of the TGCP donation inventory.
Catering Works Floral Designer, Joseph Barnes, was able to re-allocate some excess floral inventory that we donated, and create some unique designs for the party!