Posted to: Weddings by Lorin Laxton on Apr 1, 2019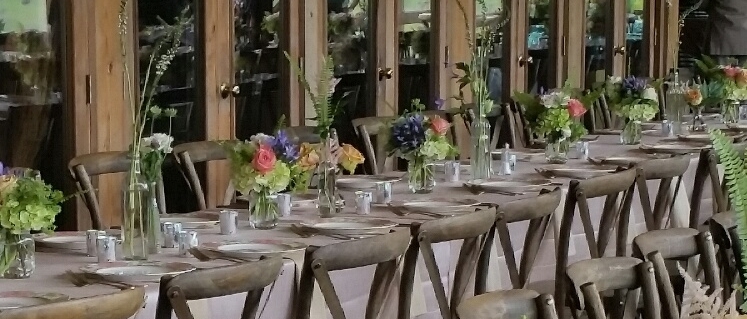 No matter how big, how small, where it's located, what you want served, seen, sipped or savored, every wedding and special event has an associated price tag and desirable budget goal. It is often overwhelming to brides, at the onset of planning, when there are so many variables to consider that affect the bottom line. It is advisable to prioritize the things that are most important to you, and keep your eye on the prize. Some of the tactics we recommend to economize are:
1.) Manage the guest count, every person coming through the reception doorway has a dollar sign over their head, and you need to keep that in mind first and foremost. If your budget is a concern, opt for a smaller affair with close family & friends, and create a very special and memorable event that incorporates everything you want, as opposed to compromising on selections to try to accommodate a huge crowd.
2.) Buffets aren't always the least expensive way to go, it depends on what you are serving. Typically plated dinners are the most expensive due to the service involved with them, however, there is less food waste associated with that type of meal, it is a more formal affair and often the timing of the reception can be vastly impacted by the speedier method of service - which is the plated style.
3.) The venue is key. Many provide rental items, many don't. Many have commercial kitchens on site which may lend it self to a more cost effective catering bill and on the other hand, some are so rustic that additional cooking equipment and kitchen tents are required. When researching typical wedding cost allocations (ie - how much should you spend on catering, venue, dress, etc.) consider that the definitions of what is included vary from source to source. In some magazines "catering" will mean food only, others may translate to food, beverage (including alcohol) and waitstaff, and in some cases the term "reception costs" will encompass food, beverage, waitstaff, linens, table settings, florals, wedding cake and rental items....etc. In general, however, food, beverage & waitstaff are the most significant portion of the budget.