Posted to: Recipes by Donna Levy on Feb 23, 2018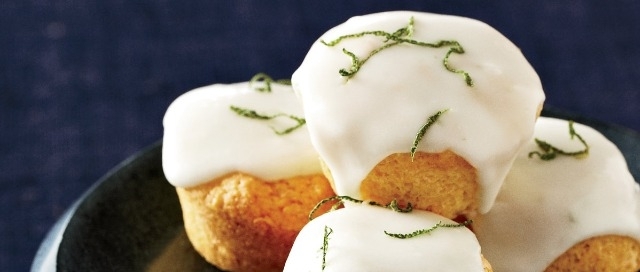 Almond Elderflower and Lime Mini Cakes
Recipe by Donna Levy
Yield 24 mini cupcakes
10 ounces ALMOND PASTE, broken into 1" pieces
3 each EGGS
2 1/2 tablespoons CORNSTARCH
1/4 teaspoon IODIZED SALT
4 1/2 tablespoons UNSALTED BUTTER, melted and cooled
1/2 ounces ST. GERMAIN ELDERFLOWER LIQUEUR
2 cups POWDERED SUGAR, for the icing
2 1/2 tablespoons HEAVY CREAM, for the icing
2 1/2 ounces ST. GERMAIN ELDERFLOWER LIQUEUR, for the icing
1/2 tablespoon LIME JUICE, for the icing
1 each LIME, zest only, for the icing (1/2 teaspoon of zest for the icing, additional zest for garnish)
Cooking Instructions
Preheat the oven to 350° and spray 2 mini?muffin pans with vegetable oil spray. In a food processor, pulse the almond paste several times until broken into small pieces; don't over-process or the paste will become oily. Add the eggs and pulse until smooth. Add the cornstarch and salt and pulse until smooth. Add the butter and St. Germain and pulse until incorporated.
Portion the batter into the muffin cups, filling them about two?thirds full. Bake for approximately 22 minutes, until the cakes are golden, puffed and firm to the touch. Transfer the pans to a rack and cool for 20 minutes, then invert the cakes onto the rack to cool completely.
In a bowl, mix the confectioners' sugar, cream, St. Germain and lime juice. Using a mixer, beat at low speed until smooth. Beat in the 1/2 teaspoon of grated lime zest. Spoon the icing over the cakes, allowing it to drip down the sides. Garnish with lime zest before serving.