Posted to: Recipes by Donna Levy on Jul 14, 2016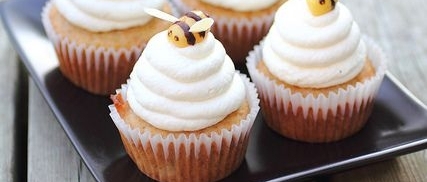 Recipe by Donna Levy
Yields 16 cupcakes
7 ounces UNSALTED BUTTER
8 ounces BROWN SUGAR
3 each EGGS
6 tablespoons HONEY, warmed
2 1/4 cup ALL PURPOSE FLOUR
1 tablespoon BAKING POWDER
1/4 teaspoon IODIZED SALT
3 each EGG WHITES, for frosting
1 1/2 cup GRANULATED SUGAR, for frosting
2 teaspoons LIGHT CORN SYRUP, for frosting
1 teaspoon VANILLA, for frosting
3 1/2 ounces WATER, for frosting
Cooking Instructions
Beat butter and sugar until light and creamy. Add the eggs, one at a time, beating well after each addition. Fold in the honey and flour until combined. Portion the batter using a 1/4 cup scoop into paper lined muffin pans. Bake cupcakes for approximately 18 ? 20 minutes at 325F or until a skewer comes out clean when inserted into the center of the cupcakes.
To make the marshmallow frosting, combine the egg whites, sugar, corn syrup, pinch of cream of tartar, and water in a heatproof bowl. Sit the bowl over a saucepan of simmering water, making sure the bowl doesn't' touch the water. Stir constantly until mixture reaches temperature slightly above body temperature. Do not let egg whites cook! Transfer to a mixing bowl and beat until light and fluffy, about 10 minutes. Add the vanilla and continue beating for another 5 ? 6 minutes, or until stiff peaks form. Add yellow food coloring, drop by drop to achieve pale yellow color.
Pipe the frosting in circles around the cake to resemble a beehive.