Posted to: Recipes by Donna Levy on May 1, 2018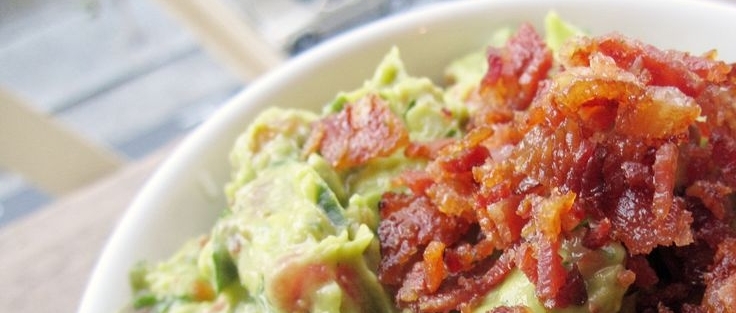 Guacamole with Bacon, Grilled Scallions, and Roasted Tomatillos
Recipe by Donna
Yields 4 servings
4 ounces TOMATILLOS, husked, rinsed, cut half crosswise
2 each ONION, GREEN, large or 4 small
1/2 tablespoon OLIVE OIL, for brushing onions
1/2 each JALAPENO PEPPER
2 ounces BACON
2 each AVOCADO
1 tablespoon LIME JUICE
2 tablespoons CILANTRO, chopped
Cooking Instructions
Heat a gas grill to medium or light a charcoal grill and let it burn until the coals are medium hot and covered with gray ash. Lay the halved tomtatillos cut side down on a rimmed baking sheet or metal baking pan and slide onto the grill. Brush the green onions with oil. Lay them directly on the grill, along with the jalapneo (no oil needed). Grill the onions and jalapeno, turning occasionally, until soft and richly browned.
Cook the tomatillos about 3 to 4 minutes, until soft and browned on one side, then flip them over and cook the other side. Cool all. While the vegetables are cooking, cook the bacon in a single layer in a large skillet over medium heat, turning every once in a while until browned and crispy, about 10 minutes. Drain on paper towels, then chop into small pieces.
Finely chop the green onions and jalapeno, then add to a large bowl. Chop the tomatillos into small pieces and combine them with the onion mixture. Then scrape in any juice that remains on the baking sheet.
Cut the avocados in half, running a knife around the pit from top to bottom and back up again. Twist the halves in opposite directions to release the pit from one side of each avocado. Remove the pit, then scoop the flesh from each half into the bowl with the tomatillos. With an old fashioned potato masher, a large fork, or the back of a large spoon, coarsely mash the avocado with the tomatillo mixture. Stir in the lime juice, one tablespoon cilantro and half of the bacon. Taste and season with salt. Cover with plastic wrap pressed directly on the surface of the guacamole and refrigerate until you're ready to serve.
When ready to serve, place the guacamole in a serving dish and sprinkle with the remaining bacon. Garnish with remaining cilantro.