Posted to: Recipes by Donna Levy on Sep 21, 2018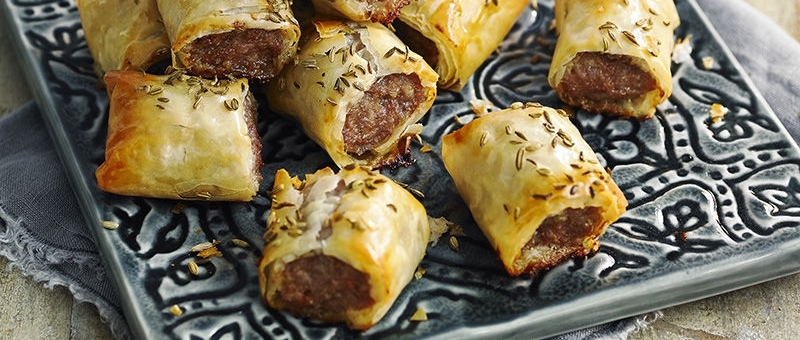 Mini Sausage Strudels
Recipe by Donna Levy
Yields 35 each
4 tablespoons UNSALTED BUTTER
1 1/4 cups LEEKS, rinsed, drained, and thinly sliced
1 tablespoon GARLIC, chopped
1/2 pound KIELBASA SAUSAGE, diced small
2 each GRANNY SMITH APPLES, peeled and cut into 1/2 inch dice
3 tablespoons GOLDEN RAISINS
2 tablespoons WHITE WINE
1 tablespoon WHOLE CARAWAY SEEDS
6 ounces CHEDDAR CHEESE, shredded
1 tablespoon FRESH SAGE, minced
10 sheets PHYLLO DOUGH
4 ounces BUTTER, melted for phyllo dough
1 teaspoon SALT
1 teaspoon BLACK PEPPER
Cooking Instructions
Make strudel filling: melt unsalted butter in a medium skillet over medium high heat. Add the leeks, garlic, and saute, stirring constantly, for 10 minutes. Stir in the diced sausage, apples, raisins, wine, and caraway seeds. Reduce the heat to medium and simmer, stirring occasionally, for 10 minutes. Remove from heat and let cool for 15 minutes.
Stir in the cheddar and sage. Season to taste with salt and pepper.
For assembly: lay one sheet of phyllo dough out and brush lightly with melted butter. Layer with another sheet and lightly brush with butter. Cut crosswise into 2 inch wide strips. Keep remaining dough covered with a damp towel to prevent it from drying out.
Place a heaping teaspoon of filling at the end of the strip and roll up tightly like a scroll. Repeat with remaining sheets of phyllo and filling. Brush with butter and bake seam side down on a parchment lined baking sheet for for 15 minutes at 350* or until golden brown.