Posted to: Recipes by Lorin Laxton on Jul 13, 2017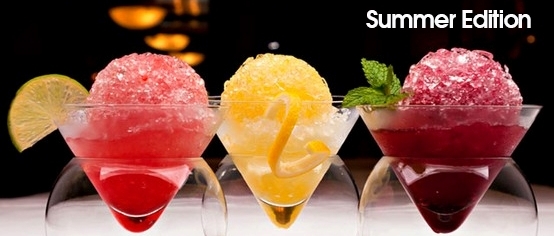 Dirty T:
One part each: Tequila, peach puree, peach syrup*

The Burbs:
One part bourbon + Yuzu syrup,* 1/2 part hibiscus syrup*, muddled basil

Blue Ginger:
One part each: Blue Curaco, vodka, ginger syrup*

Blackberry Beret:
One part each: Rum, lemon syrup, blackberry puree, 1/2 part hibiscus syrup,* muddled blackberries

Carnival Ride:
One part vodka, Cointreau, lemon syrup,* lime syrup,* [or juices], muddled raspberries topped with a stinger of Dirty Shirley syrup*

Scoop, Shake, Spoon, Sip:
To make the Burbs | Blackberry Beret | Carnival Ride:
Muddle fruit or herbs into the glass first. Scoop crushed ice into a ball shape into a glass or paper cone. Add remaining ingredients to a cocktail shaker with ice cubes and shake well, strain contents atop the snow cone, garnish as desired and serve with a spoon, straw or strewn.
Carnival Ride calls for a "stinger" of Dirty Shirley Syrup, which is simply a dash added at the end to the center of the cone (recipe below).
*Simple Syrup Recipes:
Simple syrup is made by combining equal amounts of sugar and water, then reducing it over heat. Bring 1 cup of water and 1 cup of sugar to a boil, then turn the heat down to a simmer and allow the mixture to reduce to about ¾ of a cup. Cool the syrup then fold in the flavor component.
Hibiscus Syrup:
Make a very strong cup of Hibiscus Herbal tea and allow it to cool leaving the tea bag in the cup.
Add ½ cup of strong tea to ¾ cup simple syrup.
Yuzu Syrup
This is a very strongly flavored citrus juice. Add 1/4 cup of Yuzu juice and ¾ cup simple syrup.
Ginger Syrup:
Add a whole ginger root to the simple syrup blend. Once it's reached a boil, allow to steep on the stove for 30 minutes or so.
Remove the ginger root before serving.
Lemon Syrup:
Add ½ cup lemon juice to ¾ cup simple syrup.
Peach Syrup:
Add peach puree (blended peaches, canned or fresh) to the cooled simple syrup, or by adding fresh cut peaches to the water and sugar mixture ahead of time, bringing it to a boil and simmering to create the syrup reduction.
Dirty Shirley Syrup:
1/8 cup maraschino cherry juice to the cooled simple syrup.