Posted to: Events by Lorin Laxton on Oct 22, 2013
We were recently contacted by one of our regular clients regarding a "Mad Men" theme party. Jill went to work creating a delicious retro style menu; comfort foods presented with an upscale spin. Catering Works is excited to be hosting this party on October 23rd! The sit down dinner menu will begin with an Iceberg "wedge" salad (with apple smoked bacon, grape tomato, green onion, blue cheese crumbles and our homemade Balsamic vinaigrette), Chicken Kiev (Frenched chicken breast stuffed with Tarragon herb butter, breaded and pan fried), Five-Cheese Mac N Cheesarole (Cheddar, Asiago, Fontina, Gruyere and Manchego need we say more, oh noodles, baked... delish), Green Bean Almondine (Garden green beans sauteed with garlic, shallots, olive oil and toasted almonds) and cornbread and herb biscuits with honey and butter. It is a lot of fun to put these kinds of menus together, and the crowning glory for this one is the dramatic dessert presentation of perhaps one of the most vintage desserts known - Baked Alaska! After researching this interesting recipe, I found references of it's inception dating back to the 1700's, with claims of origin by the French, Chinese and Americans. About the only fact that seems consistent among sources was that it got it's name from Delmonico's restaurant in NYC in 1876, and was a celebration of the newly acquired Alaska territory. Variations of the dessert include different shapes, ice cream flavors and styles of cakes all encased in either hot meringue or pastry. Baked Alaska can also be known as Glace au four, omelette à la norvégienne, Norwegian omelette or omelette surprise. Pastry Chef Anthony Calcagno was more than up to the challenge, and as this is a rarely featured dessert, I thought you might be interested in seeing the process.
He started with our basic yellow cake recipe, then softened Strawberry, Chocolate and Vanilla ice creams and layered them on top of the cake placed in a plastic wrap lined / loaf pan (so the cake becomes the bottom crust). He set the pan in the freezer for an hour, and prepared our basic meringue recipe. After turning out the frozen confection onto the presentation platter, he tops it with a generous portion of meringue.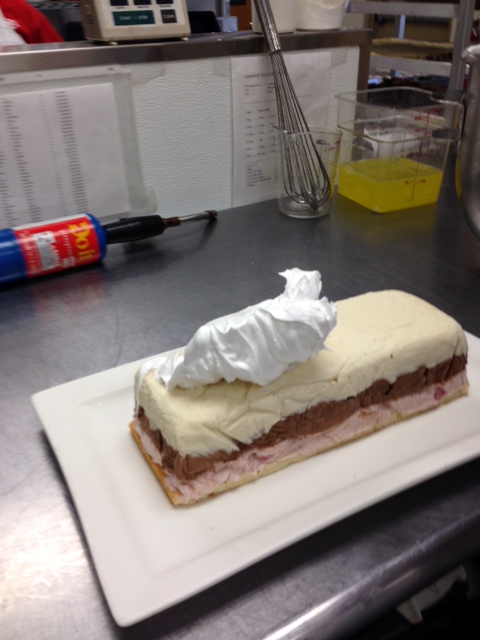 Then he evenly spreads the meringue around the cake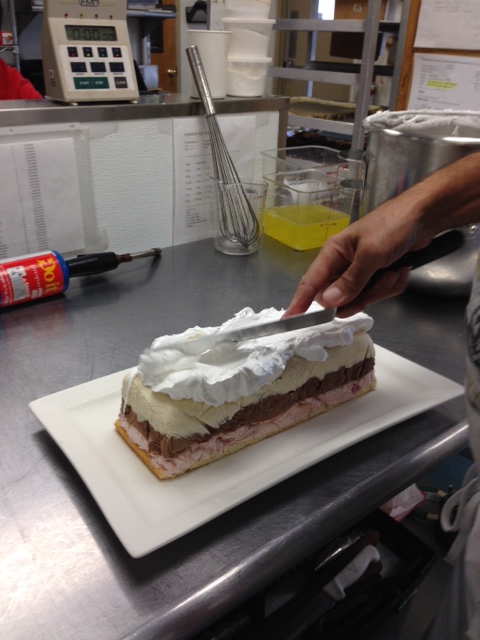 He also ensures that the meringue will completely cover all sides of the cake and cover it to the base of the platter, sealing it in. This is an important step in preserving the frozen nature of the cake, as the air space in the meringue acts as an insulator for the ice cream.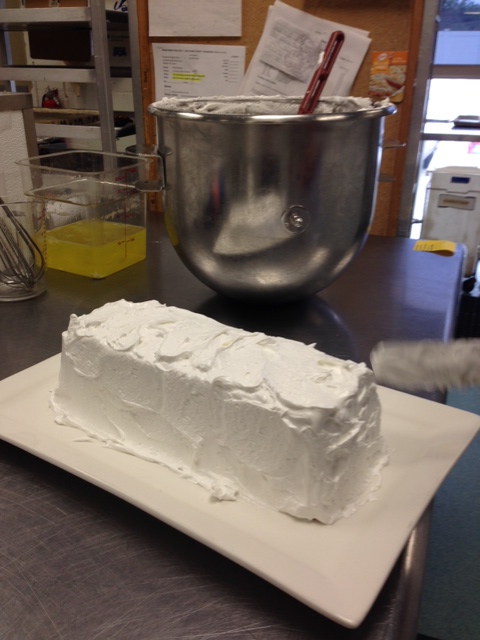 Once the entire dessert is covered, he'll use a propane torch to brown the meringue. The scooped icing technique that can form the meringue into peaks will be highlighted with the browning process. (Some important SAFETY TIPS when using propane or creme brule torches -
gas torches are highly flammable and should be kept away from heat, open flame, and prolonged exposure to sunlight. They should only be used in well-ventilated areas. Children should never use a torch without adult supervision
.)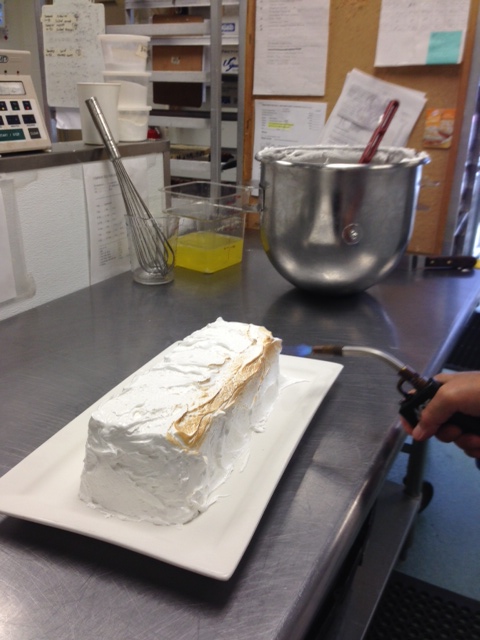 He starts out on the edges and works his way down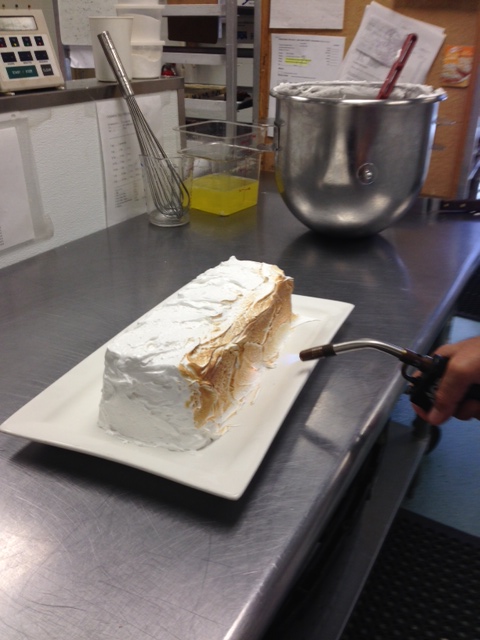 Once all sides have been browned, this cake can actually be frozen until it is ready to be presented tableside in the classic fashion - flambee! When preparing a dish like this for 100 guests or more, freezing the cakes is necessary and doesn't impact the flavor or quality of the meringue (great thing about meringue, it is sturdy and long lasting). Each table will be presented with one cake that will be sliced into 8 servings each. In order to execute the flambee on site at the event, a foodsafe container that can stand flame is needed. This is done with two broken and emptied egg shells. The shells are placed at both sides of the cake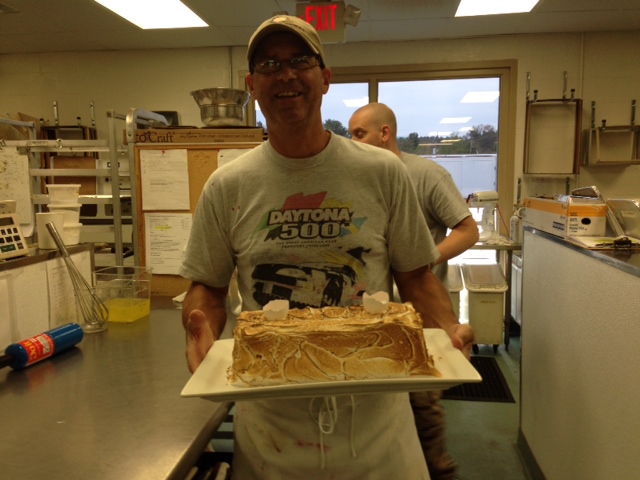 (Pastry Chef Extraordinaire, Anthony Calcagno!)
Once on site, the egg shells are filled with Bacardi 151 and set aflame at each table during the dramatic presentation of this vintage classic!
I'll post the rest of the story after the event, so you can see how it all turned out!