Posted to: Recipes by Lorin Laxton on Apr 14, 2015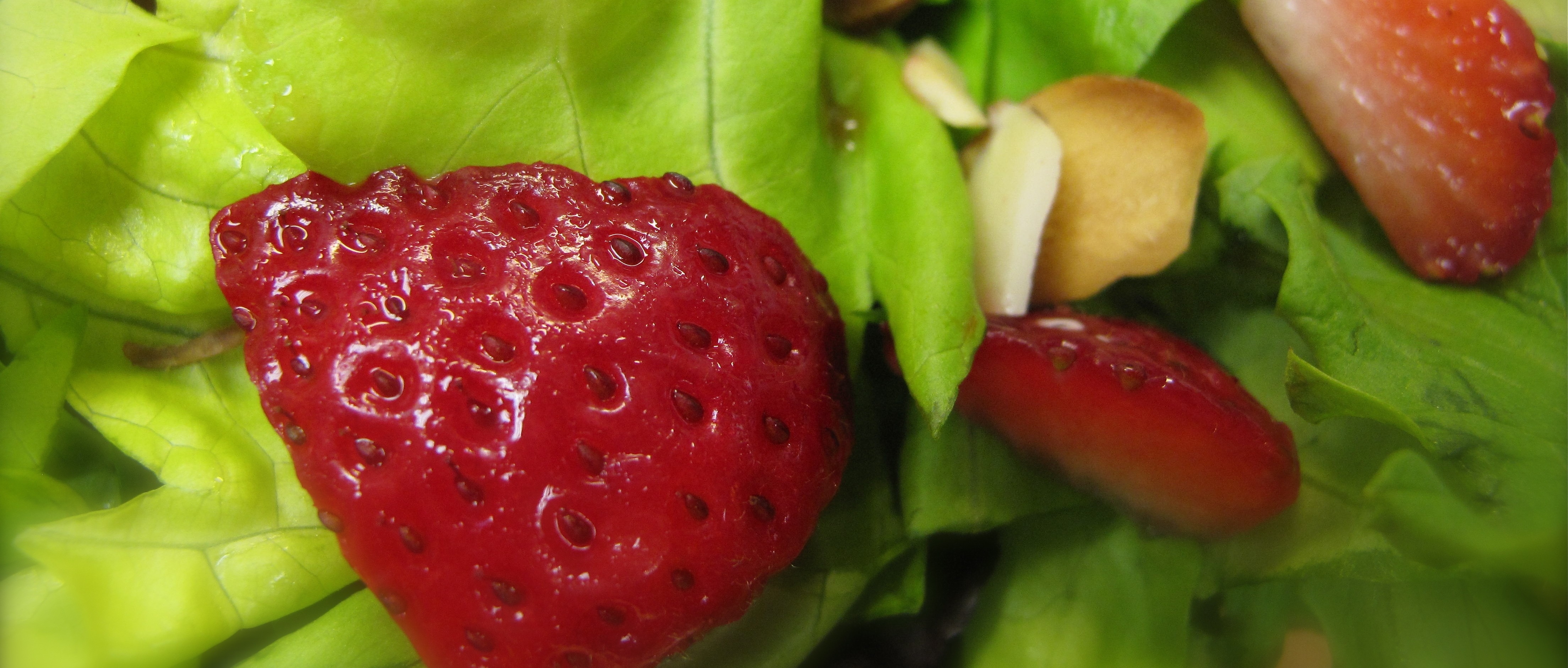 Recipe By: Jill Santa Lucia
Salad Ingredients
Bibb Lettuce
Radicchio, sliced
Goat Lady Dairy Chevre, crumbled
English Cucumber, sliced
Fresh Strawberries, sliced
Candied Pecans
1 cup white sugar

1 teaspoon ground cinnamon

1 teaspoon salt

1 egg white

1 tablespoon water

1 pound pecan halves
Salad Dressing
1/4 cup white or red balsamic vinegar
1 tablespoon minced shallot
1 teaspoon Dijon-style mustard
1/4 teaspoon kosher salt
1/4 teaspoon freshly ground black pepper
2/3 cup extra-virgin olive oil
TO CANDY THE PECANS:
Preheat oven to 250 degrees F (120 degrees C). Mix sugar, cinnamon, and salt together in a bowl. Whisk egg white and water together in a separate bowl until frothy. Toss pecans in the egg white mixture. Mix sugar mixture into pecan mixture until pecans are evenly coated. Spread coated pecans onto a baking sheet.
Bake in the preheated oven, stirring every 15 minutes, until pecans are evenly browned, 1 hour. Cool. Extra candied pecans may be stored in an air tight container.
TO MAKE THE SALAD DRESSING:
In a medium-size bowl, whisk together vinegar, shallot, mustard, salt, and pepper. Drizzle olive oil in a thin stream, whisking constantly, until an emulsion forms. Set aside and refrigerate, re-whisk before dressing the salad.
TO MAKE THE SALAD:
Gently remove and tear the leaves of the Bibb Lettuce. Cut the head of Radicchio into quarters, then slice the quarter into bite size wedges. Mix the lettuces. Add sliced cucumber, sliced strawberries, crumbled goat cheese and candied pecans. Gently toss all ingredients, dress before serving.