Posted to: Recipes by Donna Levy on Dec 31, 1969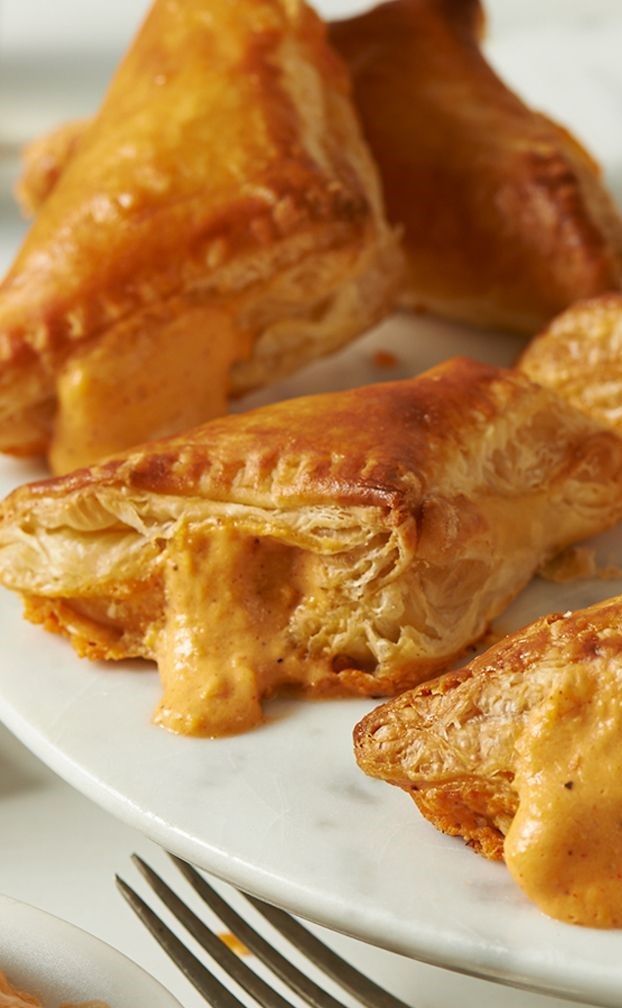 Bourbon Beer Cheese Puffs
Yields 18 puffs
2 ounces BOURBON
8 ounces SHARP CHEDDAR CHEESE, shredded
2 ounces CREAM CHEESE
1/4 cup BEER
1 teaspoon PAPRIKA
1 teaspoon DIJON MUSTARD
1 (17 ounce) package FROZEN PUFF PASTRY, thawed
1 each EGG, beaten
1 tablespoon WATER
Salt and Pepper to taste
Cooking Instructions
Preheat the oven to 425. Line a half sheet pan with parchment paper.
In a food processor, pulse the cheddar, cream cheese, beer, bourbon, paprika, and mustard until smooth, scraping the bowl occasionally. Season to taste with salt and pepper. Transfer to a large resealable plastic bag or piping bag.
Unwrap and unfold the puff pastry sheets. Cut each sheet into (9) 3‑inch squares. Snip a 1/2‑inch hole in the corner of the bag containing the cheese mixture. Pipe the cheese mixture onto one half of each pastry square, leaving a 1/2‑inch rim.
In a small bowl, beat the egg with 1 tablespoon water. Brush the egg wash on the rim of a pastry square. Fold the pastry in half to form a triangle, press the edges to seal and then press with the tines of a fork. Repeat with the remaining pastries. Transfer to the prepared pan, spacing 1/2 inch apart. Brush the tops of the pastry with the egg wash.
Bake until golden brown, about 20 minutes. Transfer to a wire rack to cool, leaving behind any cheese that may have oozed out of the pastry. Serve warm or at room temperature.