Posted to: Events by Lorin Laxton on Feb 26, 2015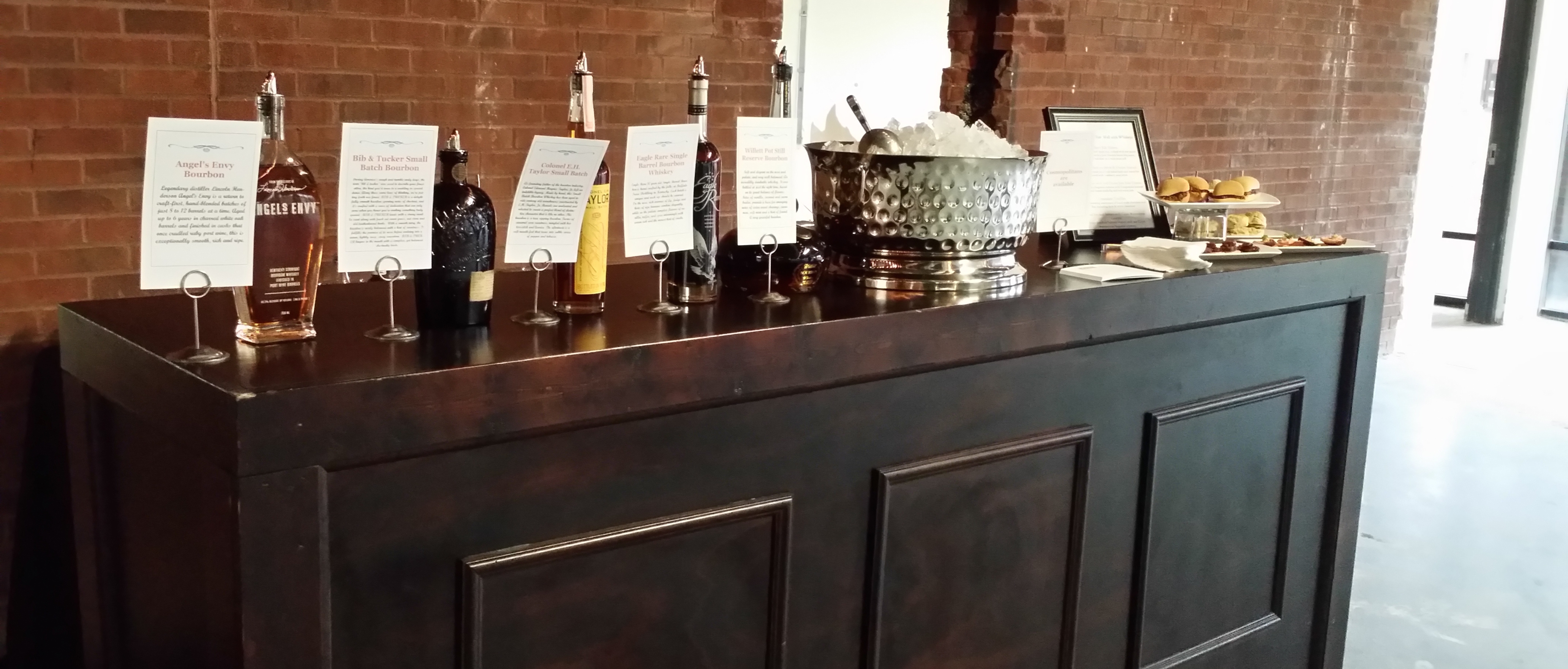 Food is only half of the equation when it comes to planning a delicious event. We are finding more and more that our clients are looking for the perfect pairing; specialty wine, craft beer, or liquor, which compliments the cuisine and creates a unique "gastronomic" experience. "Farm to Flask" liquor distilleries are popping up everywhere lately, producing hand crafted small batch liquors with regional influence or other unique ingredients. Vintage cocktails have become very trendy in recent years, and we've served plenty of them, from a Bee Sting made with home made local honey liqueur, the Moscow Mule served up in the traditional copper mug (recipe created in 1941), the Sazerac with it's roots in New Orleans, and a variety of interpretations of the Old Fashioned (and as the name implies - very vintage indeed, dating back to the late 1800's). Of all of these, nothing says the South more than Bourbon does! Hands down, we think of it as the go-to liquor for both formal and informal occasions alike. We have worked extensively with Eric Mullen of Pour Bar Services, a full bar and bartending service for special events, so when one of our clients requested a Bourbon Tasting Party, we knew exactly who to call. Carefully selecting the brands and styles of bourbon to pair with the menu Kelli from Catering Works and Eric came up with a 'knock your socks off' event plan, much enjoyed by the guests. Here is the line up featured:
BBQ Short Rib Sliders - Slow roasted boneless beef short ribs, rubbed with our secret spices and combined with a Jack Daniels bacon bbq sauce, topped with red slaw on a mini yeast roll.
Roasted Chicken on Herb & Onion Biscuit - Roasted chicken breast on a fresh baked herb and onion biscuit served with cranberry pear relish.
Beef Filet Bite with Red Onion Jam Blue Cheese - Filet of beef on a baguette crouton with Gorgonzola mousse and our house made fig and red onion jam.
Chocolate Truffles - A mouth-watering assortment of hand made chocolate truffles, including dark & white chocolate!
Wood Smoked Salmon with Cajun Mayonnaise Crostini - House smoked Salmon topped with our Cajun mayonnaise baguette crouton.
NC Local Cheese Table - A fabulous display of local and North Carolina Artisan cheeses from the Farmers Market: Hoop Cheddar, Looking Glass Creamery: Pack Square, Ellington, Goat Lady Dairy: Crottin, Smoked Round and Camembert, Chapel Hill Creamery: Carolina Moon Brie, Smoked Farmers and Calavander, Cultured Cow Creamery: Red Heifer Cheddar.
Spicy Cheese Straws & Marcona Almonds
And for the Spiritous Spirits....
Angel's Envy Bourbon
Legendary distiller Lincoln Henderson Angel's Envy is a return to craft-first, hand-blended batches of just 8 to 12 barrels at a time. Aged up to 6 years in charred white oak barrels and finished in casks that once cradled ruby port wine, this is exceptionally smooth, rich and ripe.
Willett Pot Still Reserve
Soft and elegant on the nose and palate, and very well balanced. An incredibly drinkable whiskey. It was bottled at just the right time, based on its great balance of flavors. Notes of vanilla, coconut and creme brulee, provide a base for emerging notes of cedar wood shavings, cinna- mon, soft mint and a hint of fennel. A very graceful bourbon.
Eagle Rare Single Barrel Bourbon Whiskey
Eagle Rare 10 year old Single Barrel Bourbon is hand crafted by the folks at Buffalo Trace Distillery in Kentucky. Each batch is unique and each sip should be savored. On the nose, rich aromas of fig, fudge and hints of ripe banana combine elegantly, while on the palate complex flavors of va- nilla, toffee, and spice intermingle with warm oak and the merest hint of smoke.
Colonel E.H. Taylor Small Batch
As founding father of the bourbon industry, Colonel Edmund Haynes Taylor, Jr. left an indelible legacy. Made by hand, this Small Batch Bourbon Whiskey has been aged inside century old warehouses constructed by E.H. Taylor, Jr. Barrels are evaluated and selected to create a perfect blend of distinctive character that is like no other. This bourbon is a true sipping bourbon. Tastes of caramel corn sweetness, mingled with butterscotch and licorice. The aftertaste is a soft mouth-feel that turns into subtle spices of pepper and tobacco.
Bib & Tucker Small Batch Bourbon
During America's rough and tumble early days, the term "bib & tucker" was used to describe your finest attire, the kind you'd wear to a wedding or special dance. Along those same lines of thinking, we're putting forth our finest. BIB & TUCKER is a delightfully smooth bourbon sporting notes of chestnut, and it's crafted with a sense of dedication that can only come when you know you're making something truly special. BIB & TUCKER leads with a strong vanilla scent along with fresh cut sweet grass, wet stone and old leather bound books. With a smooth entry, the bourbon is nicely balanced with a hint of sweetness. It fulfills the promise of its nose before evolving into a warm, lightly crisp, spicy sensation. BIB & TUCKER lingers in the mouth with a complex, yet balanced chestnutty taste.