Posted to: Recipes by Lorin Laxton on May 25, 2015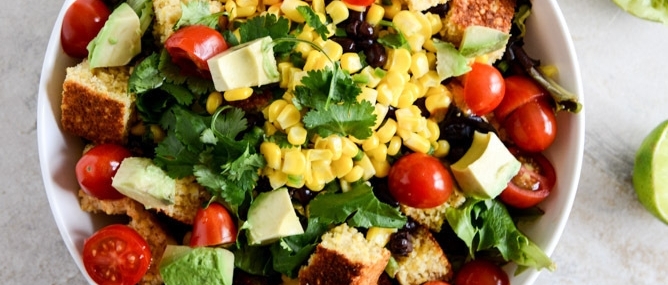 Recipe By: Donna Levy
Serves 8
2 Cobs of corn, husks removed
1 9 x 9 pan of cornbread, your favorite recipe
1/2 Cup Scallions, thinly sliced
1 Jalapeno, minced
1 Avocado, peeled, pitted & diced
1 Cup Cherry Tomatoes, halved
1 Cucumber, peeled, seeded & diced
1/3 Cup Shredded Monterey Jack Cheese
1/3 Cup Shredded Cheddar Cheese
4 TBSP Lime Juice
5 TBSP Virgin Olive Oil
1 tsp Garlic, chopped
2 TBSP Cilantro, chopped
1 TBSP Honey
Directions:
Heat oven to 350. Cut cornbread into 1 inch cubes. Place on a baking sheet and toast in oven till golden brown and crisp, about 15-20 minutes, turning bread cubes once. Remove from oven and cool completely.
Heat grill to high. Rub ears of corn with 1 tablespoon olive oil. Grill, turning frequently, until corn is charred and heated through, about 10-12 minutes. Remove from grill and cool. Cut kernels from cobs and reserve.
To make the dressing, in a small bowl, whisk together, the lime juice, olive oil, garlic, cilantro and honey. Season with salt and pepper. Set aside.
In a large salad bowl, combine the corn, cornbread, green onions, minced jalapeno, avocado, tomatoes, cucumber, and cheeses. Drizzle dressing over the salad and toss well. Serve immediately.