Posted to: Recipes by Lorin Laxton on Jan 30, 2015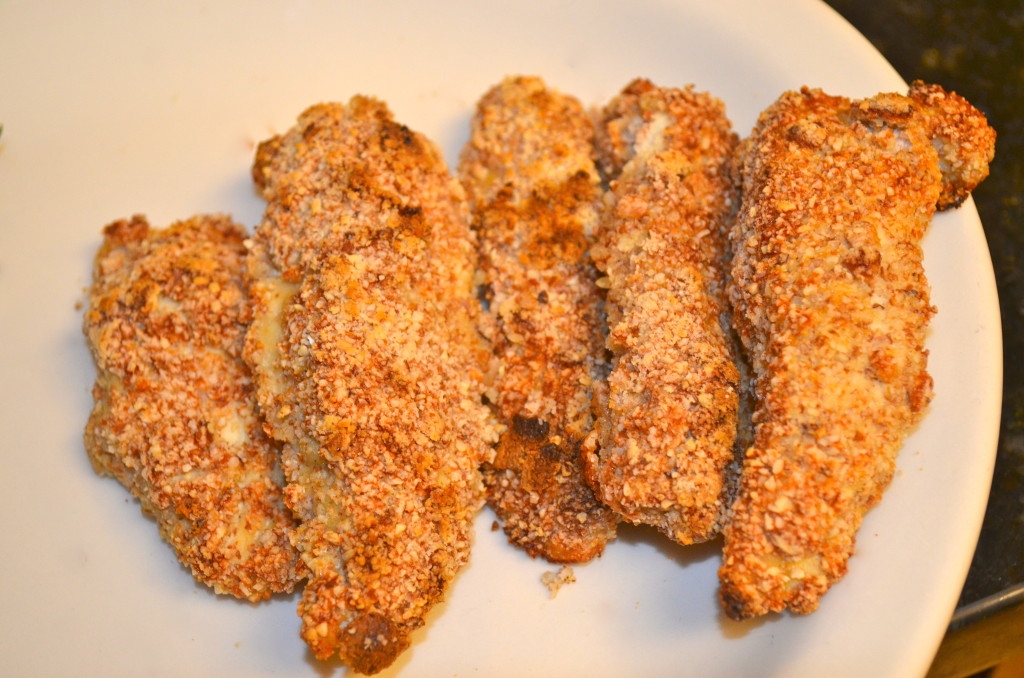 Recipe by Jill Santa Lucia
Suggested Big Boss Beer pairing: High Roller IPA
Makes 24 tenders (12 Servings)
---
2 Pounds Boneless Chicken Breast, cut into 1 x 3" strips
FOR MARINADE:
1 Pint BUTTERMILK
1 Cup KIKKOMAN SOY SAUCE
1/4 Cup HONEY
2 Teaspoon KOSHER SALT
1 Teaspoon CRACKED BLACK PEPPER
FOR CRUST:
10 ounces CRUSHED POTATO CHIPS CHIPS
1 Cup JAPANESE BREADCRUMBS (Panko)
2 Sprigs FRESH ROSEMARY, about 4 TBSP minced
1/4 Teaspoon CRACKED BLACK PEPPER
FOR DIPPING SAUCE:
6 Tablespoon DIJON MUSTARD
4 Tablespoon HONEY
2 Tablespoon SOY SAUCE
2 Tablespoon APPLE CIDER VINEGAR
---
Preheat oven to 375*
Cut chicken breast into one inch wide by three inch long tenders. Place chicken tenders into a medium sized bowl.
Combine buttermilk, 1 cup of soy sauce, ¼ cup of honey, sea salt and pepper. Marinate for at least 2 hours in the
refrigerator.
Prepare the crust and bake the chicken:
In a half or full hotel pan or bowl combine the hand crushed potato chips with the Panko and 3 TBS Rosemary, season
with salt and pepper and mix well. Take chicken strips out of buttermilk marinade and roll into the crust mixture coating
evenly. Place tenders on sheet pan that has been sprayed with Pam. Bake for 15?20 minutes until slightly golden and internal temperature is 160*
Prepare Sauce:
Combine Dijon mustard with honey, soy sauce and apple cider vinegar.
Mix well.
Serve tenders hot with sauce for dipping