Posted to: Recipes by Donna Levy on Jun 30, 2019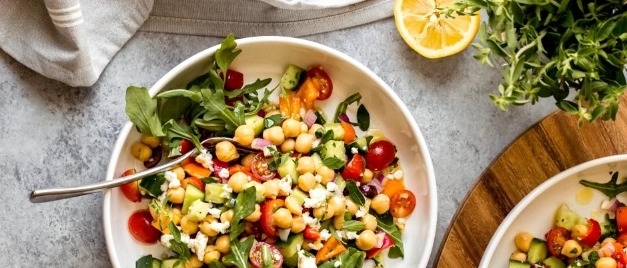 Roasted Chickpea Avocado Salad & Feta Vinaigrette
Recipe by Donna Levy
Serves 4
30 ounces GARBANZO BEANS, rinsed and drained
2 tablespoons OLIVE OIL
2 teaspoons SMOKED PAPRIKA
1 teaspoon GARLIC POWDER
4 ounces ARUGULA
1 each ENGLISH CUCUMBER, sliced
10 ounces GRAPE TOMATOES
1 each AVOCADO, diced
1/2 each YELLOW ONION, sliced 1/4" thick
2 teaspoons KOSHER SALT
3/4 teaspoon PEPPER, GROUND BLACK,
13.00 Tablespoon OIL, VIRGIN OLIVE OIL,
1.00 teaspoons LEMON JUICE,
0.50 Cup VINEGAR, RED WINE,
0.50 Tablespoon BASIL, FRESH,
1.00 Teaspoon THYME, FRESH,
0.25 cup CHEESE, FETA,
2 tablespoons DIJON MUSTARD
6 each GARLIC, cloves
2 each FRESH SHALLOTS, thinly sliced
1 tablespoon FRESH OREGANO
Cooking Instructions
Preheat oven to 350F. In a large bowl, mix together the chickpeas, olive oil, paprika, and granulated garlic. Spread the chickpeas in a single layer on a sheet pan. Bake for 25‑30 minutes or until chickpeas are crisp.
Dressing: Preheat grill. Brush onion slices with olive oil and season with salt and pepper. Place onions on grill and cook, turning, until tender, 4 to 5 minutes. Transfer to a small bowl; drizzle with 1 tablespoon of olive oil and lemon juice. Toss to combine. Transfer onion to the bowl of a food processor along with vinegar, basil, thyme, feta, mustard, garlic, shallots, oregano; pulse to combine. Season with salt and pepper to taste. With the processor running, slowly drizzle in 3/4 cup olive oil until dressing is smooth; season with salt and pepper.
To assemble the salad, place arugula on individual plates or serving platter. Top with cucumber, tomatoes, avocado, and roasted chickpeas. Drizzle with feta vinaigrette.