Posted to: Recipes by Lorin Laxton on Mar 29, 2015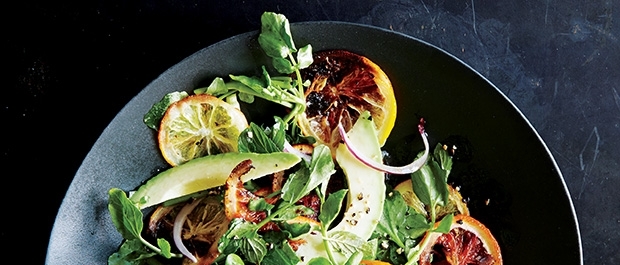 Roasted Citrus & Avocado Salad
Recipe by: Epicurious
Ingredients
1 blood or Valencia orange, sliced 1/8" thick, seeds removed
1 Meyer or regular lemon, sliced 1/8" thick, seeds removed
4 tablespoons olive oil, divided
Kosher salt, freshly ground pepper
1/4 small red onion, thinly sliced
2 tablespoons fresh Meyer or regular lemon juice
1 bunch watercress or arugula, thick stems trimmed
1/2 cup fresh mint leaves
1 avocado, cut into wedges
Directions:
Preheat oven to 425°. Toss orange and lemon slices with 1 tablespoon oil on a rimmed baking sheet; season with salt and pepper. Roast citrus, tossing occasionally, until lightly charred in spots and starting to caramelize, 10-15 minutes. This makes the citrus flavor more complex. Let cool.
Meanwhile, combine onion and lemon juice in a large bowl; season with salt and pepper and let sit 5 minutes (onion will soften a bit and get slightly sweeter and less harsh).
Add roasted citrus to bowl with onion along with arugula and mint. Drizzle remaining 3 tablespoons oil over; season with salt and pepper and toss everything to combine and coat.
Add avocado and very gently toss until lightly dressed (you don't want to crush the avocado).