Posted to: Recipes by Lorin Laxton on May 25, 2015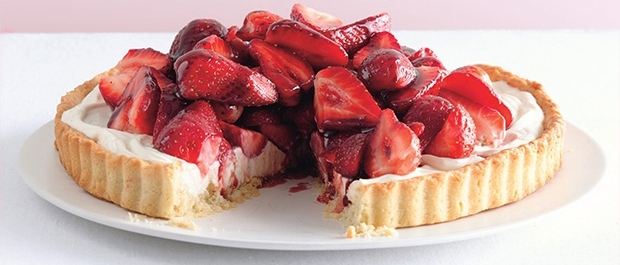 Recipe By: Donna Levy
Serves 8
1 1/4 Cup All Purpose Flour
3 TBSP Sugar
1/4 tsp Salt
7 TBSP Unsalted Butter
1 Egg Yolk
1/5 tsp Vanilla
1/4 tsp Lemon Juice
3 TBSP Cold Water
FOR FILLING:
3 Pints Strawberries, trimmed and halved lengthwise
1/3 Cup Sugar
3/4 Cup Port Wine
1 LB Mascarpone Cheese
1/4 Cup Powdered Sugar
1 tsp Lemon Juice
1/5 tsp Lemon Zest
3/4 tsp Vanilla
Directions:
For tart shell:
Blend together flour, sugar, salt and butter in a bowl with your fingertips or a pastry blender (or pulse in a food processor) just until mixture resembles coarse meal with some roughly pea-size lumps. Beat together yolk, vanilla, lemon juice, and water with a fork, then drizzle over flour mixture and stir with fork (or pulse) until mixture comes together.
Gently knead with floured hands on a lightly floured surface until a dough forms, then gently knead 4 or 5 times. Press into a 5 inch disk. Place in center of tart pan and cover with plastic wrap. Using your fingers and bottom of a flat-bottomed measuring cup, spread and push dough to evenly cover bottom and side of pan. Prick bottom of tart shell all over with a fork and freeze until firm, about 10 minutes.
Preheat oven to 375 with rack in middle.
Line tart shell with foil and fill with pie weights. Bake until side is set and edge is pale golden, about 20 minutes. Carefully remove foil and weights and continue to bake until shell is deep golden all over, about 20 minutes more. Cool in pan, about 45 minutes.
For filling:
Stir together strawberries and granulated sugar in a bowl and let stand, stirring occasionally for 30 minutes. Strain in a sieve set over a small saucepan reserving berries. Add port to liquid in saucepan and boil until reduced to about 1/4 cup, 10 to 15 minutes. Transfer to a small bowl to cool slightly.
Meanwhile, whisk together mascarpone, confectioners sugar, lemon juice, zest, vanilla, and a pinch of salt until stiff.
To assemble:
Spread mascarpone mixture evenly in cooled tart shell, then top with strawberries. Drizzle port glaze all over tart.