Posted to: Events by Lorin Laxton on Jul 27, 2015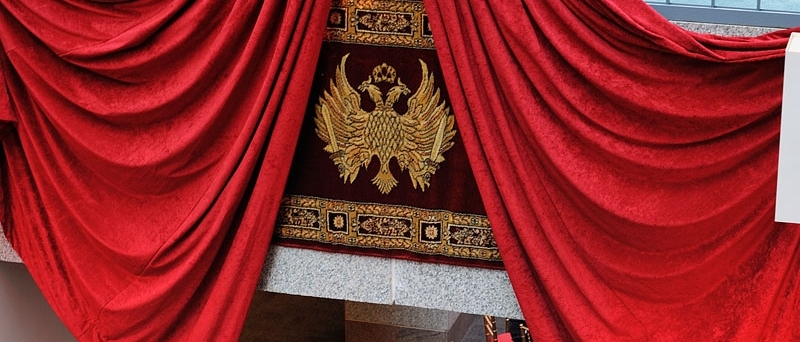 The North Carolina Museum of History, one of our featured venues, was lucky enough to be on the national tour for The Tsar's Cabinet traveling exhibition. We were so excited to create a menu around this beautiful exhibition which featured amazing works of art! The Russian themed menu was well received!
On The Menu
---
Caviar Bar
Caviar pairs with iced Vodka. This station features North Carolina sustainable aquaculture Osetra Caviar served with blini, toast points, lemon wedges, served with garnishes: chopped hard cooked egg whites and yolks, minced red onion, fresh chives, dill and creme fraiche.
Raw Bar and Shrimp Cocktail
Oysters on the Half Shell, Scallops and Jumbo shrimp displayed on shaved ice with a trio of sauces: Mignonette, Green Goddess and Siracha Cocktail sauce, Tabasco and crackers
Borscht Shooter Station
Classic chilled Russian beet soup with sour cream and dill.
Gravlax with Blini
Russian hors d'oeuvre of cured salmon served on a blini with sour cream, capers, finely diced red onion and fresh dill.
Mushroom Strudel Phyllo Cup
Savory mushroom cream filling in a mini phyllo cup served warm.
Mixed Greens with Fennel, Endive, Oranges
Mixed Mesculin greens, thinly sliced fennel, endive and oranges drizzled with a orange honey vinaigrette.
Chicken Kiev
Frenched chicken breast stuffed with Tarragon herb butter, breaded and pan fried.
Brown Rice and Apricot Pilaf
Brown Rice scented with Cinnamon and studded with sun dried apricots and toasted almonds.
Beef Filet with Grilled Crimini Mushroom Demi
Six ounce beef fillet grilled and topped with a Crimini Marsala demi glace.
Mashed Potato Pancake with Smoked Gouda
Mashed Idaho potatoes combined with grated Smoked Gouda cheese,
buttermilk and Panko. Oven fried to golden perfection.
Asparagus Roasted with Lemon and Fresh Baked Rolls with butter
Russian Tea Cakes
Pavlova Meringue shell with Chantilly Cream & Fruits
Exhibition Summary
---
Organized by the Muscarelle Museum of Art at the College of William & Mary, the exhibition highlights more than 200 years of decorative arts under the Romanovs during the 18th and 19th centuries. Most of the works were designed for use by the tsars and members of their families, while others illustrate prominent styles of the period. Comprising objects ranging from porcelain services, glassware, enamel, silver gilt, and decorated eggs, the exhibition is a comprehensive and inclusive collection demonstrating the majesty and luxury of the Romanov reign.
Many of the items are grouped by tsar, which helps to illustrate major social or political trends of each tsar's reign. For example, Peter the Great and the engagement of the west; Catherine the Great and the Enlightenment; and Alexander and the defeat of Napoleon, among others. The objects and their styles reflect the political forces that shaped each tsar's regime. Each grouping of objects shows the tastes and attitudes of the Romanov family through the magnificent items they owned and commissioned. The exhibition puts these important artistic objects in context, to connect the viewer to the individuals and events that shaped the history of Russia.