Posted to: Recipes by Lorin Laxton on Jan 30, 2015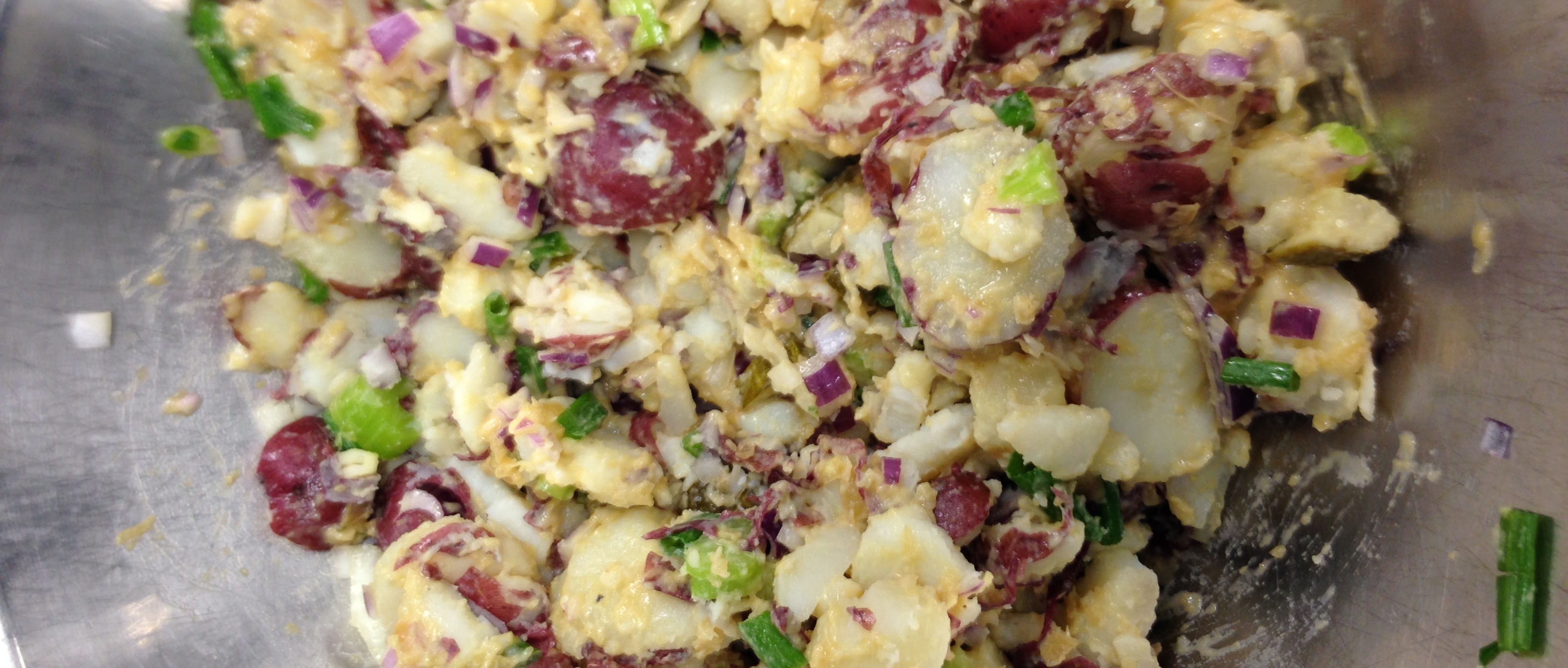 Serves 8
---
3 Pounds of Red Potatoes
1/2 Cup Red Onion, finely chopped
1/4 Cup Green onion, thinly sliced
1/4 Cup Celery, chopped
1/4 Cup Parsley, chopped
1/4 Cup Dill Pickles, chopped
2 oz. Beer (Bad Penny Brown Ale, or a light Lager will work)
2 TBSP Apple Cider Vinegar
FOR DRESSING:
1/4 Cup Olive Oil
3/4 Cup Yellow Onion, chopped
6 oz. Beer (Bad Penny)
2 TBSP Apple Cider Vinegar
1 tsp Sugar
3/4 tsp Salt
Pinch Black Pepper
2 TBSP Dijon Mustard
2 TBSP Olive Oil
---
Place potatoes in a saucepan, cover with water and bring to a boil. Reduce heat and simmer 25 minutes or until tender. Drain and cool briefly. Cut potatoes into 1/4 " slices. Combine potatoes, red onion, green onion, celery, parsley, dill pickles,, beer, and 2 TBSP Apple Cider vinegar, toss gently.
Prepare the dressing by heating olive oil over medium heat, add 3/4 cup onion to the pan and saute for about 3 minutes or until tender. Add 6 oz. of beer, 2 TBSP Apple Cider vinegar, sugar, salt and black pepper. Cook until reduced to 1/2 cup (about 6 minutes). Place mixture in a food processor and add Dijon mustard. While processor is running, slowly pour 2 TBSP of olive oil into the processor, blend until smooth. Pour warm dressing over potato salad, toss gently and serve immediately.