Posted to: General News by Lorin Laxton on Jan 30, 2015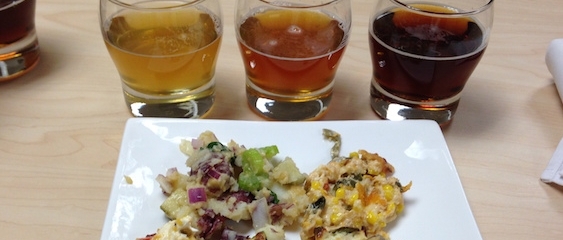 Superbowl Sunday Menu & Beer Pairing
Our recent cooking class featured a Superbowl Sunday menu with beer pairings provided by Big Boss Brewery
One of the most popular classes we have held incorporated some simply and delicious football fare with our favorite neighbor's Big Boss! Alan from Big Boss Brewery came on site to pour samples and talk about how the beer can really enhance the experience when paired with the right recipe. We had a great time, learned a lot and of course, really enjoyed the menu and the beers
| | |
| --- | --- |
| Boneless breast of chicken marinated in a buttermilk and soy sauce marinade with a touch of local honey, encrusted with Potato, Panko (Japanese bread crumbs) and Rosemary, oven baked until golden and crisp, drizzled with a Dijon Honey Soy glaze. | HIGH ROLLER American-Style IPA is brewed with whole Northwest hops and balanced with pale and caramel malts. We add hops to this beer three times to build a deep, complex hop profile. This is our example of a unique American twist on a British classic. 6.7% abv |
| | |
| --- | --- |
| Delicious, creamy & spicy poppers with a touch of tartness from the Granny Smith Apples. | BLANCO DIABLO Wit Ale is a traditionally spiced wit, brewed with orange peel, coriander and fermented with a traditional Belgian wit yeast. It has a dry, thirst quenching finish, perfect for summer in North Carolina. ABV: 4.5% |
| | |
| --- | --- |
| Sweet Corn combined with onions, jalapenos and red peppers,with Cheddar, Jack and Cream cheese and baked. Served with tortilla chips for dipping. | ANGRY ANGEL Kölsch-Style Ale is a refreshingly pale German style Ale. It is cold-fermented and cold-conditioned to achieve a beautiful balance between biscuit malt flavors and floral hop notes. It is light-bodied and finishes somewhat dry to enhance its easy drinking nature. ABV 4.5% |
| | |
| --- | --- |
| Red Potato Salad served warm with a delicious beer & Mustard Dressing | BAD PENNY dark brown ale is slightly sweet with a caramel and dark fruit finish. A show case of fine English malts, floor-malted the old way. We use pale, chocolate and crystal malts to produce a complex but easy drinking dark ale. Very reminiscent of northern English ales. ABV 5.5% |
Chef Donna Levy reviewed the menu for the evening, and all the ingredients and tools for preparing these delicious recipes were provided. We started out with the Hot Corn Dip and Angry Angel in the kitchen, then once the other recipes were prepared, Alan from Big Boss provided some expert pairing advice and knowledge of the different beers.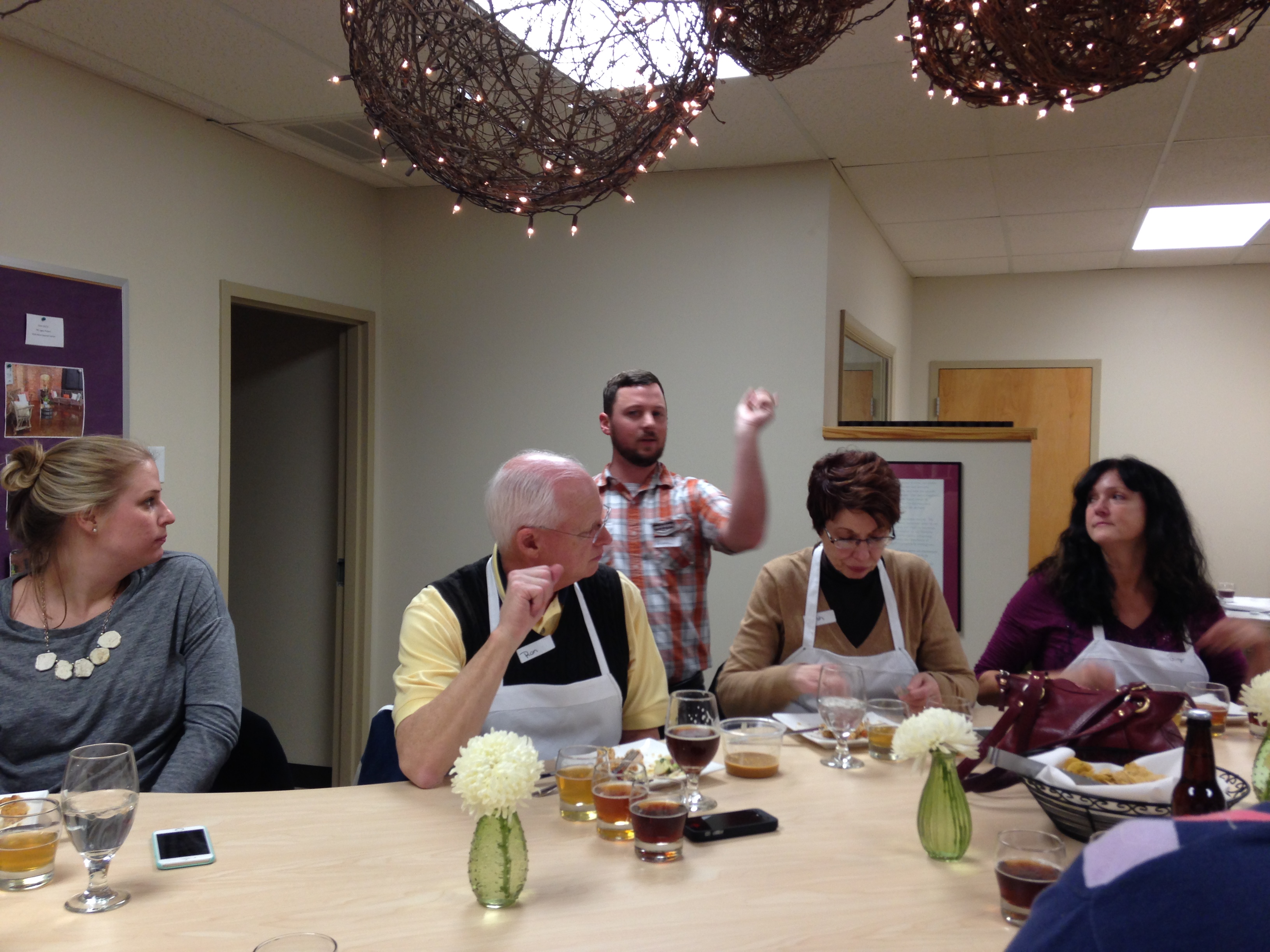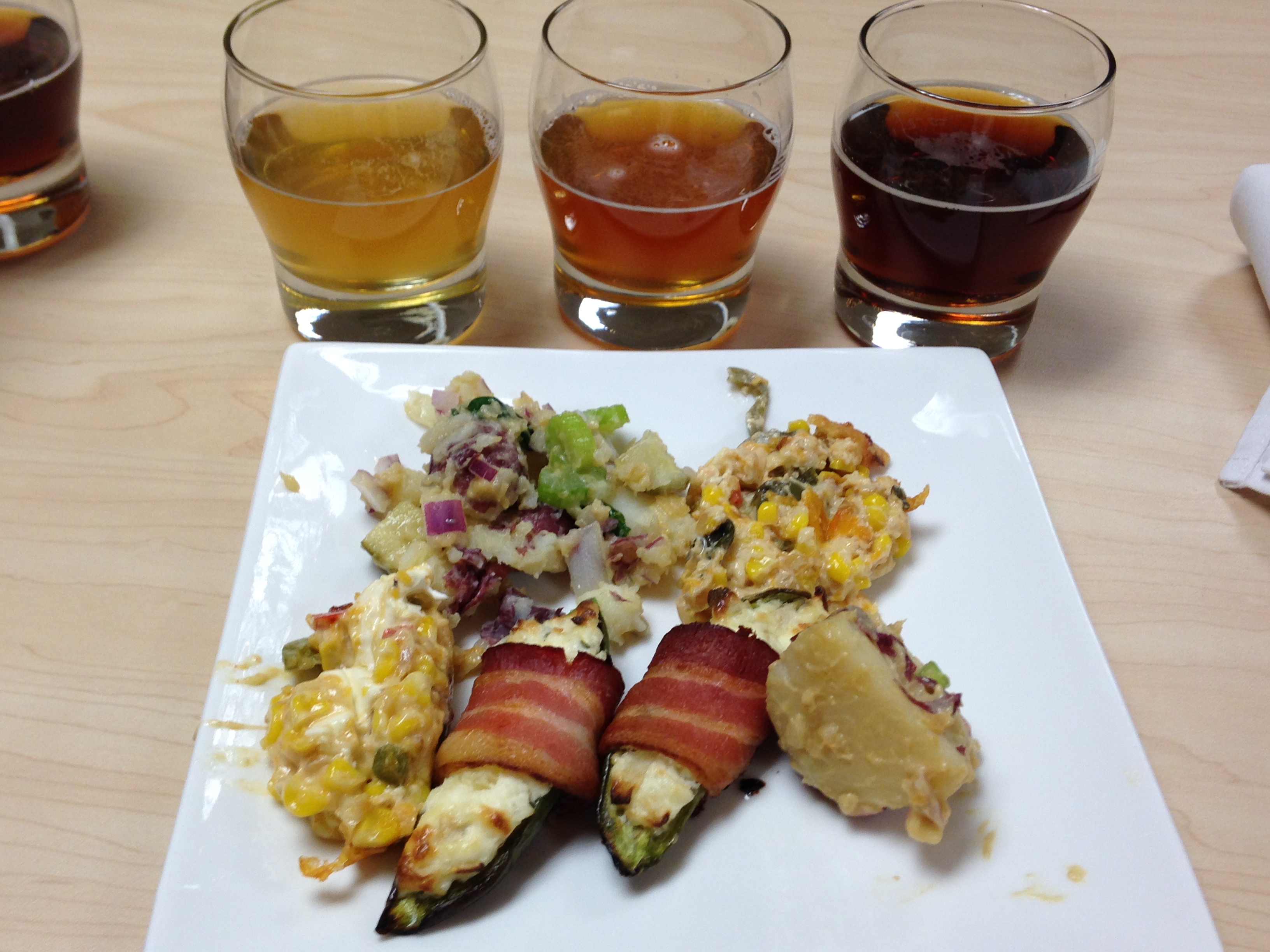 As a sweet finish, Alan presented Ates & Aces and we paired it with chocolate brownies and cocoa dusted almonds. The coffee extract and rich flavor was a great match with chocolate!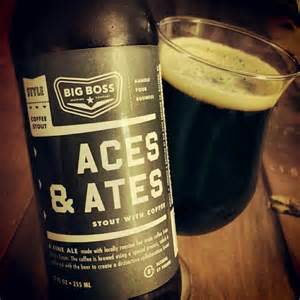 Alan offered to take us on a private tour of the Big Boss Brewery. We sampled some American Style Tavern Ale and saw the workings of this awesome craft brewing operation. Big Boss offers brewery tours the 2nd Saturday of every month. This is definitely a worth while adventure!